Mexico Mango and Traveling Fruits
by Nancy Dorrans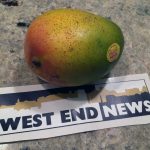 This week I ate the most delicious Mango… It was perfectly ripe, perhaps a tad over ripe, colorful, juicy, sweet and tangy. Absolute perfection as far as I'm concerned. I love fruit and mangos are high on my list along with peaches, plums, cherries, strawberries, blueberries, pineapples…This is my favorite time of year for fruit and that sweet Mexico mango made my day.
I realize there is an emphasis on locally grown and locally sourced food in many restaurants and markets. This movement is intensifying here in Portland.
"We should all be eating more local food," I hear from friends and farmers at the farmer's market.
It just makes sense. So, this year I'm doing a bit of local growing. A few friends of mine and I started a garden in the West End. So far we've enjoyed a delicious bounty of peas, turnips, beats, radishes, lettuce and now the peppers and tomatoes are coming in. Soon we'll have lots of squash and pumpkin. It feels good to grow your own and tastes great too!
There are plenty of delicious fruits that are native to our land. Plums at one time grew wild from New England to Florida. Pineapples were said to be discovered by Columbus on the Island of Guadeloupe. The papaya is native to the West Indies and Mexico. Strawberries, blackberries and raspberries are all native to America as well as other parts of the world. Cranberries are grown from Canada to North Carolina. These crops travel to get to Portland, but probably not as far as my mango did.
I'm intrigued with the travels of my mango. The sticker declares, "From Mexico," but what of the journey of my Mexico mango?
The traveler in me wants to know more. Where was the tree it grew on? Was it grown on a small farm in a village in central Mexico, or on a large plantation along the coast? Who picked it? How old were they? How did it travel? How many times was it moved? Who handled it, transferred it and in what vessel(s)? Who built the boxes it came in? Who put the sticker on it? How many days did it travel before it got to my grocery store in Maine?
Should I feel guilty for eating a mango that took so much time and energy to get here? A mango that is not native to the United States?
I'm sorry. I love Maine's sweet wild blueberries, but I love my mangos too! Am I spoiled?
According to the US Department of Agriculture, I am not alone.
"U.S. consumers demand variety, quality and convenience in the foods they consume. As Americans have become wealthier and more ethnically diverse, the American food basket reflects a growing share of tropical products, spices, and imported gourmet products."
Americans now import more than we export, according to Renée Johnson, Specialist in Agricultural Policy from the Federation of American Scientists.
"Over the last decade, there has been a growing U.S. trade deficit in fresh and processed fruits and vegetables. Although U.S. fruit and vegetable exports totaled more than $7 billion in 2011, U.S. imports of fruits and vegetables exceeded $18 billion, resulting in a gap between imports and exports of $11.2 billion…. As a result, the United States has gone from being a net exporter of fresh and processed fruits and vegetables in the early 1970s to being a net importer of fruits and vegetables today."
That's quite a gap!
Let's appreciate the bounty of local fruits and vegetables during the growing season in Maine. And remember how spoiled we are during the other seasons. Next time you have a mango from Mexico, take a moment to think about how much time and energy it takes to get our food.
Nancy Dorrans is a West Ender and an independent travel agent at Adventure Marketplace.