A Saving Grace for Women in Recovery
By Melissa Skahan
Substance Use Disorder is a crisis that affects all of us—directly or indirectly. In fact, it's a disease that claimed the lives of more than 64,000 Americans last year.
We know that Maine is not immune to this national epidemic. In fact, our state has seen an increase in fatal overdoses and a rise in homelessness, especially among women, families, and children.
Unfortunately, recovery programs for mothers with young children can either be difficult to find or filled to capacity due to increasing demand. Women are too often forced to choose between treatment and keeping their family together, experiencing shame and fear that their children will be taken away.
Mirroring the rise of substance use disorders, the rate of children entering Maine's foster care system has increased dramatically.
Fortunately, there is a one-of-a-kind, lifesaving program in Portland for women with children seeking recovery, family reunification, and success. Founded by the Sisters of Mercy more than three decades ago and operated by Northern Light Mercy Hospital, McAuley Residence is Maine's only comprehensive two-generational program with housing for women with children seeking recovery in a safe, supportive, and sober community.
McAuley Residence has remarkable outcomes, with 80 percent of women remaining clean and sober and a 95 percent rate of family reunification. All residents are enrolled in school, have part-time jobs, and are engaged in mental health and substance use disorder services. Those with children have individualized parent coaches and play therapy opportunities.
Mother Catherine McAuley
The McAuley Residence model draws on the works of Mother Catherine McAuley, who used her considerable resources to assist homeless women, teach young people, and provide skills training for those she ministered to in Dublin, Ireland. As one of its founders, Sister Miriam Therese Callnan once described McAuley Residence as "based on a model of personal growth within a supportive environment, with the expectation that a woman take the steps and gives her best effort to realize her full potential."
In 2013, Mercy Hospital partnered with Community Housing of Maine to expand McAuley Residence into a fifteen-unit residence. The services and programs were redesigned into a holistic, evidence-based model to combat substance use disorder in light of the epidemic. At the heart of the McAuley model are intense, highly structured phases, coordinated to ensure individual and group progress, with family reunification, independence, housing, and sobriety as outcomes.
Limited Space – Hope on the Horizon
There is still far more demand than capacity for women seeking a program that allows them to stay with their children during recovery. Every year, McAuley Residence receives over 1,600 requests from women desperately seeking admission. Unfortunately, we cannot accommodate the overwhelming majority of requests because of limited space.
But there is hope on the horizon that this model will be brought to scale to serve more in need. Earlier this year, the Maine Legislature unanimously passed a bill to expand the successful McAuley Residence treatment model.
As we reflect on the 30 years that McAuley Residence has been in the community, we are humbled to have guided and empowered so many remarkable women to change their lives and take hold of their families' future. And we are pleased to see the successful model recognized and supported by our great state.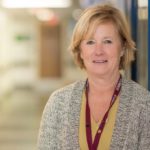 Our hospital and our programs will always be guided by the Sisters of Mercy's founding mission of providing compassionate care to all. As Mercy celebrates 100 years of serving the greater Portland community, we look forward to building on that legacy and providing support, comfort, and hope in our next century of care.
Melissa Skahan
Melissa Skahan is Vice President of Mission Integration at Northern Light Mercy Hospital and oversees McAuley Residence.
Content provided by Northern Light Mercy Hospital.