Maine Craft in a Time of Corona
An Interview with a Maine Craft Artist
By Rosanne Graef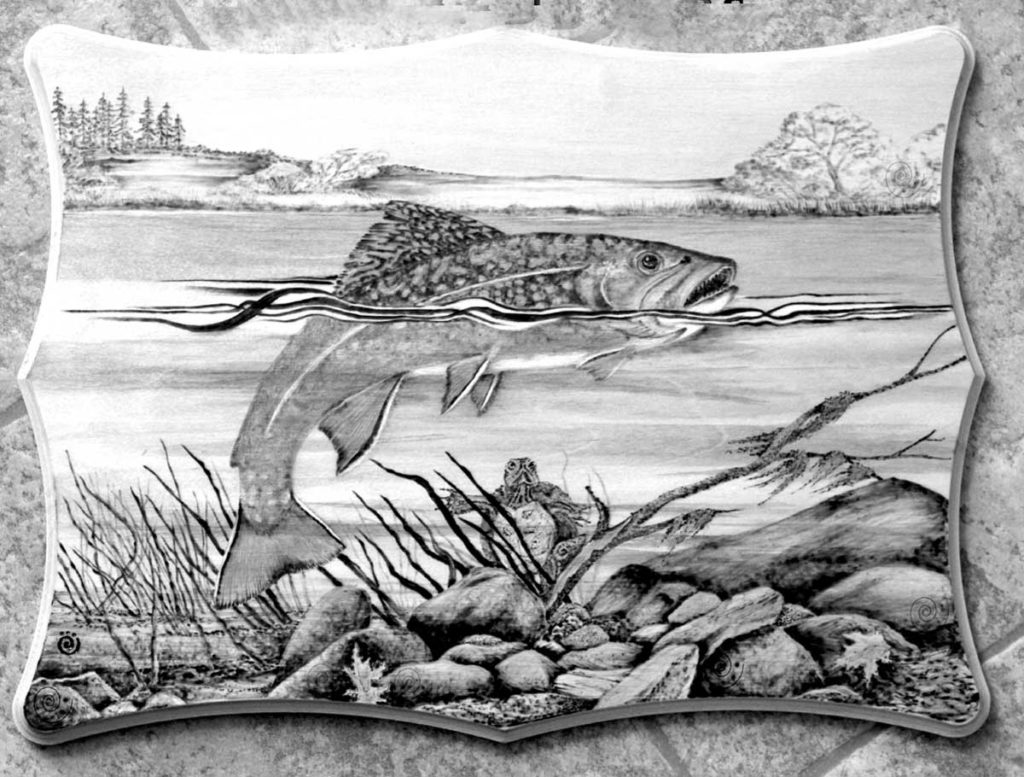 My usual summer-time habit is to get ahead of a year's worth of holidays, birthdays, and one-off gift-giving events. I scour newspaper calendars for festivals, powwows, and shows where folks from near, and occasionally far, gather to sell their useful, whimsical, clever, decorative, and skillfully done crafts and art works.
What to do now that the pandemic has put the kibosh on these events? Gone, the pleasure of the hunt to discover something novel or exquisitely lovely. Remaining, my need to find just the right gift, as well as the creators' needs to make a living or supplement their income.
Like others, they may be working from home, but without the vending venues, how are they coping? I contacted a friend who's active on the craft scene to find out.
Maine craft artist Laurie Babineau lives in rural Hartford, Maine, and has been creating and selling fine crafts and art for years. The past four years, under the name Wood B. Designs, she regularly attended at least a dozen events, mostly in the summer.
Pyrography, the art of wood burning, is how she creates functional pieces such as her best-selling wooden spoons. She also does watercolors and combines pyrography and painting in fine art, as well as utilitarian pieces. Colder months find her offering crocheted items as well, mostly hats.
I asked her a few questions about how things have changed:
Marketing?
"I've always had a website, but most customers are through Facebook. Vending at fairs and festivals is my best marketing tool. Advertising in publications is expensive and I never got much out of it. Being able to talk to people in person builds customer relationships, it's a more personal connection ending with repeat sales and custom orders."
How's business?
"The pandemic has shut down my wholesale accounts. Those places are not open. No product is selling, so no orders for new items are being placed. All events I was vending at are cancelled—a huge loss of income. Most refunded my vending fee, yet some are holding it for next year. It's a little tricky. I could use the money now but am glad I'm good for 2021 in terms of paying the fees. One of the events had to reschedule their first date and then cancel their second. I will most likely pay my vending fee a second time. I'm ok with that for these folks as they do a lot for community and raise money for kids to get art supplies. I know that they lost a lot more money than I did."
Adjustments?
"I'm more aggressive posting my work on as many Facebook pages as possible. At the start of the pandemic I was running deals and contests. I gave a lot of work away to build up my customer base. Taking a good look at what is open for business helped me as well. Medical Marijuana Dispensaries have been open, so I am using that to my advantage, and it is helping. I started doing wood burnings related to medical use and that has covered the loss of my wholesale accounts. So far, my efforts are paying off. My overhead is much lower without the cost of doing events."
Supporting Maine craft artists?
"Find out who they are! Most have websites and pages on Facebook and Etsy. Ask your friends! Word of mouth is the best selling tool. Local shops are opening up and they tend to sell product made by local crafters and artists. Shop local, it helps everyone. I know money is tight for many people, so it doesn't hurt to ask about bartering, I just got a wonderful painting in exchange for a sign."
Anything else?
"There are crafters' organizations like United Maine Craftsmen and The Society of Southern Maine Craftsmen, both have a list of their members. Etsy has a list of Maine crafters and artists and Facebook has many groups. Funny…I don't belong to any of these, but I have friends who do. We pass our support to each other because we know the value in what we do and how hard it is to make a living at it."
Reach Laurie at:
Facebook: https://www.facebook.com/unique.pyro.art
E-mail: wood.b.stone@gmail.com
Website: woodbdesigns.com
---
Rosanne Graef is a West End resident and volunteer contributor. Read her monthly column, "La Vida Local: Irregular Notes on West End Life." Readers may reach her by email at lavidalocalwen@gmail.com.