By Tony Zeli
Even before the Covid-19 pandemic, interest in local foods was burgeoning. According to the U.S. Department of Agriculture interest in local food in Maine has seen a steady increase since the early 1990s. That interest has intensified, as the pandemic revealed the fragility of national distribution chains. In fact, Hannaford said their supermarkets saw a 27 percent increase in sales of produce from local farms in March 2020 compared to the same period in 2019.
Yet, meeting the demands of the consumer was never easy for local, independent farms. It only became more difficult as the pandemic brought shutdowns, social distancing, stay at home orders, and the greatest barrier… fear.
From a flower farm in Buxton that shifted production to edible produce, to a cheesemaker in Waldoboro who spearheaded the Maine Farm and Seafood Products Directory, we look at ways Maine farmers have innovated. Local farms have proved that a pandemic cannot stop them from bringing healthy local food safely to our tables.
We also look at a Portland food market and a farm stand in Cumberland to see how consumers safely access local food through retail models. We begin with the local green grocers.
A NEW WAY – VOLUNTEER SHOPPERS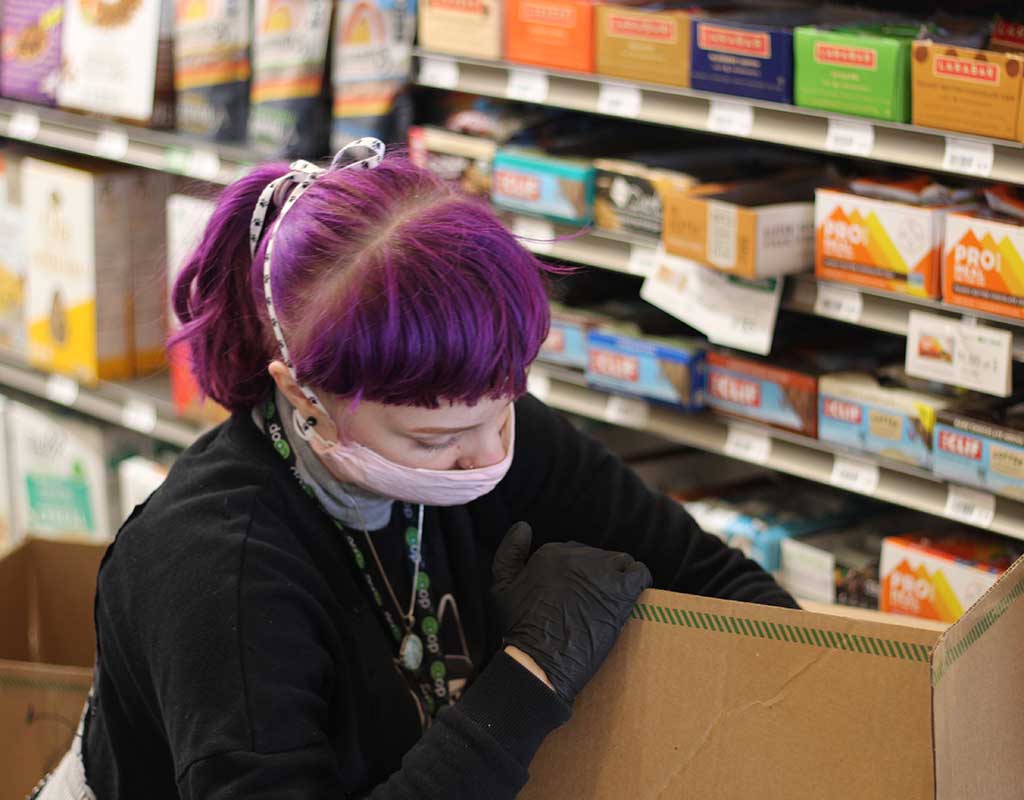 At the Portland Food Co-op, they immediately recognized a need to help shoppers who were at high-risk of coronavirus complications. In response, they developed the Substitute Shopper Program. This program connects volunteers that can offer shopping services with those in need of groceries.
Since it began in April, the Substitute Shopper Program has served people throughout Portland, as well as South Portland, Westbrook, Falmouth, Scarborough, Gorham, Cumberland, Falmouth, Cape Elizabeth, Saco, and the islands of Casco Bay. So far, the Portland Food Co-op has successfully matched every shopper with a need to a volunteer who can help.
"We've had an overwhelming response from our community offering volunteer shopping services," said Nicole Byrne from the Food Co-op. "We have volunteer shoppers standing by, ready to assist the entire Greater Portland area and some beyond – even as far as Hiram/Cornish!"
Byrne shared a particularly heartwarming email from a member-owner:
"I can't thank you ALL enough for providing what feels like such a safe, sane, responsible place right now. Staff have been remarkably upbeat & welcoming, even as they face the public for hours every day… every day we remain so grateful that this community persists in supporting and connecting us all, and particularly in these current hellish conditions."

-Portland Food Co-op member-owner
In addition, the Co-op has been working with Brigada de Víveres (Food Brigade) by donating food that can no longer be sold. Brigada de Víveres distributes food directly to the doorsteps of low-income people. They specifically help those who are unable to access other forms of aid or assistance. The brigade is affiliated with Presente Maine.
THE OLD-FASHIONED HONOR SYSTEM
Meanwhile, there is the example local farms like Pine Ridge Acres. For seven years they have offered self-serve honor system shopping at their Cumberland farm stand. It's a simple system: grab what you want, write it down, leave the money. No contact and no crowds. Pine Ridge never intended the honor system as an alternative to grocery shopping during a pandemic. But it did happen to offer a no-contact method to get your groceries.
Operator Michael Cianchette noted the farm stand has seen huge growth over the years as people focus on knowing where their food comes from. [Discloser: Michael Cianchette is related by marriage to publisher-editor Tony Zeli]
"We ask that people follow the steps, let us know what they've purchased, and leave cash or a check in the box, or a credit card payment online," said Cianchette. "We don't have the ability to make change, so it is a great opportunity to do some shopping for some products you might not normally purchase."
And like the Portland Food Co-op, Pine Ridge Acres wanted to rise to the moment and help those in need. They donated proceeds from purchases of reusable branded grocery bags to Full Plates, Full Potential to fight hunger in Maine.
"Since we are a self-serve store, our customers bring their own bags. But when we saw that some folks were looking to have 'Pine Ridge Acres' bags to show their support, we saw an opportunity to partner with a great local non-profit. Farmers love feeding people, and making sure kids get enough to eat is critical. We donate a dollar from every bag we sell and are closing in on the $100 mark so far. We've had some customers leave 'extra' in the cash box and ask us to pay it forward to Full Plates, Full Potential. It is a great example of community coming together," said Cianchette.
MAINE FARM & SEAFOOD DIRECTORY
Of course, local farms from across the state are innovating. Allison Lakin of Lakin's Gorges Cheese in Waldoboro, recognized early that the pandemic would severely impact her business. She saw an immediate need to reach a much larger audience than before.
"I needed to pretty quickly come up with a way to change and adapt to the situation," said Lakin. So, she spearheaded the Maine Farm and Seafood Products Directory resource, which UMaine Cooperative Extension now hosts as an interactive map.
Starting with free software, Google Sheets, Lakin set to work building a database of local food producers. She included such details as their available food and alternative pick-up options. The idea was to attract more business, not just to Lakin's Gorges Cheese in Waldoboro but also to all the other farmers. So many find themselves in similar situations.
Indeed, Allison Lakin was not alone. Within the first thirty days, 300 people signed on. It became a large project, and an unwieldy document, especially for Lakin who admitted she'd never used Google Sheets before. But the UMaine Cooperative Extension also recognized the need and took on management of the resource.
Lakin said the directory fulfilled a need that had long been missing and she hoped it will continue to evolve. To date there are several hundred listings on the directory – a success. But there are about 7,000 farms in Maine. Lakin admitted there is much to do to raise the visibility of the smallest producers. Also, it is important to highlight a diverse offering of products for the most economic impact. She was grateful the Cooperative Extension took on the resource.
FROM FLOWERS TO PRODUCE
Nancy Stedman at Little River Flower Farm in Buxton had been attending online video meetings with the Cooperative Extension early in the pandemic and learned of the need for local food to fill grocery shelves. Little River acted and shifted their greenhouse production to grow more fresh produce.
Little River had been growing about 35 percent produce and herbs and 65 percent flowers, mostly for weddings and some pick-your-own. But during the pandemic they reversed production and grew much closer to 65 percent produce. A win-win for the supplier who had fewer weddings for their flowers and for the markets who needed the extra produce. Particularly, this was a boon for the Portland Food Co-op. The market needed the extra greenhouse produce in the early spring when it was still cold out.
Little River has been turning out cucumbers, zucchini, summer squash, hot peppers, eggplant, swiss chard, collard greens, kale, culinary herbs, and more. You can find their produce locally at Rosemont Market, the Portland Food Co-op, and Solo Cucina Market in South Portland.
And if you need fresh cut flowers, Little River started a CSA-style flower share. There will be Tuesday pick-up of fresh bouquets at the Portland Food Co-op and the option to pick-up at the farm.
"Don't expect a crowd," said Nancy Stedman, "There's plenty of space to spread out…"
---
Tony Zeli is publisher and editor. Reach him at thewestendnews@gmail.com.