LAYNE'S WINE GIG
FLYING UNDER THE RADAR
By Layne V. Witherell
Our oddest Sunday brunch experience ever (and we go out almost weekly) occurred a few years ago when we decided at the last minute to try to book a table at Piccolo. This is usually an impossibility on short notice, as it was one of Portland's finest dining experiences. We not only got the hallowed window seat, but the place was hauntingly empty for such a great local restaurant. The three of us, me, my wife Judy, and our waitperson, looked down Middle Street and there was a block long wait for the hot little hipster place of the moment.
There are days when I think that there are a small group of restaurant reviewers who land here for a few days and make nice-nice with about five establishments. They then head back to their "big cities," feeling content with having bestowed their blessing. So, today, we will do a little flying under the radar and see what they have missed in our fair "little city."
Sadly, the deliciously great Piccolo is no more. We gladly would have waited in a long line.
CBG, 617 Congress St., Portland
In the day… The problem is when you hear the phrase, "in the day," that it harkens to a place that favored the participation of a small group of older males in their worn Carhartt's, sitting at the bar, nursing their lukewarm PBR's for hours on end. Probably while mumbling to themselves.
Another problem is that the Congress Bar and Grill has turned into a virtually indiscernible acronym. CBG is the brainchild of the team which brought us the Roma Café and Bramhall Pub, bestowing on it a much-needed breath of new life.
In addition to transporting their swanky lounge chairs to the sidewalk of Congress Street and creating a comfy vibe, they have added delicious food, welcoming service, and a coolness way beyond lukewarm PBR's.
They update the food menu frequently, featuring satisfying familiar favorites with a fresh twist. The extensive drink menu is a cornucopia of classic and modern cocktails as well as thoughtful beer and wine selections.
Outside, nothing beats a lounge chair, their mushroom risotto, a glass of their un-expectantly lovely little German sauvignon blanc, and getting to be a witness to the ongoing pageantry that is Congress Street.
Inside, the repurposed décor of your grandparent's basement den combined with an iconic mural from "The Big Lebowski" lend a sense of rustic elegance. Something to contemplate over several of their cocktails.
Then you can proceed to genuflect over their Duck Hash with root vegetables, duck confit, and potato rosti. All accompanied with the perfect Sunday morning beverage: a glass of their well-chosen Cotes du Rhone.
Or try the eggs benedict with a little 15% alcohol. This fourth-generation hipster Sebastiani family, Lodi old vine zinfandel Plungerhead offers a wallop of raspberries and roses in a glass.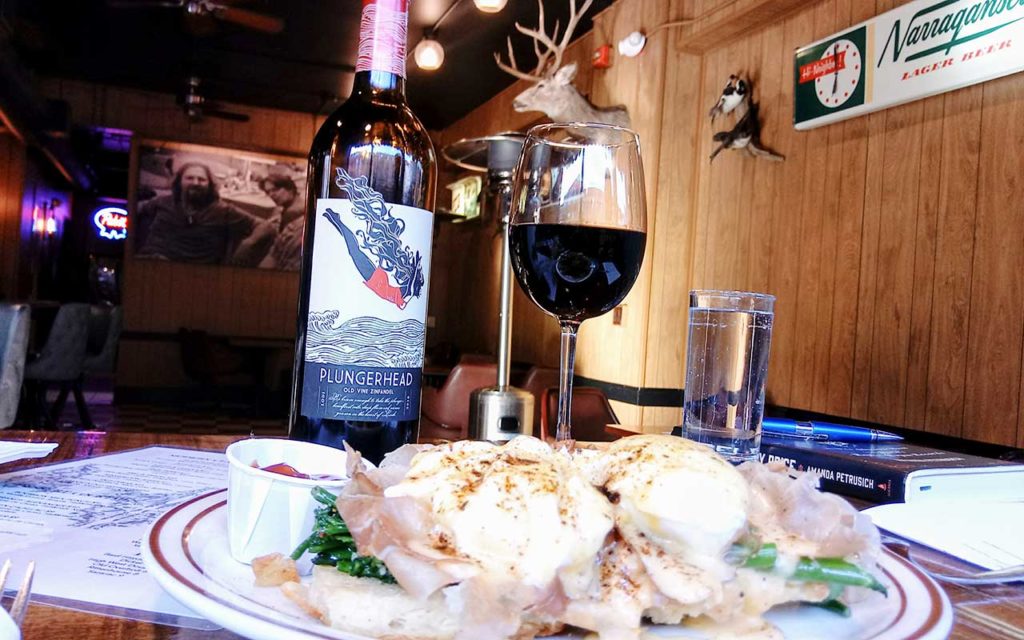 To end your meal, ask Michael to suggest a tasty Amaro, you will not be disappointed in his expertise.
Their brunch menu is up and running alongside the big screen T.V. featuring muted classics like Airplane. The soundtrack is chosen by Pandora herself, featuring a little Bob Dylan, or a jam band.
Call ahead for days and hours as things change, but currently 11 a.m. to 9 p.m., daily.
LOCAL 188, 685 Congress St.
Yeah, I know, they have been serving up fine Spanish victuals longer than the Carhartt people were sucking up their PBR's just down the street. Added to that, they have included a handy repertoire of provisions such as toilet paper and groceries to go.
You must admit that their Gazpacho is authentic. And is perfect when paired with the Allagash 16 Counties Ale at a comforting 7.5% alcohol. Their main event is the paella, a dish perfected by them for decades. Try a bottle of Torii Mor pinot noir from Oregon to round out the lusciousness of it all.
This brings me to the real reason that I am writing this. Unfortunately, Portland was dubbed "the loveliest small city in the foodie universe." This label not only paved the way for a small group of die-hard aficionados to anoint and pass judgment on their chosen few, but also prevented them from looking around to discover a world of arts and music that exist here as well.
Local 188 is ground zero for the beginning of such a quest. This place is loaded with the work of Pat Corrigan, commissioned by the owner Jay Villani. Corrigan is a satiric and brilliant local artist. There are no Instagram lighthouse or paella photos. You can find those elsewhere.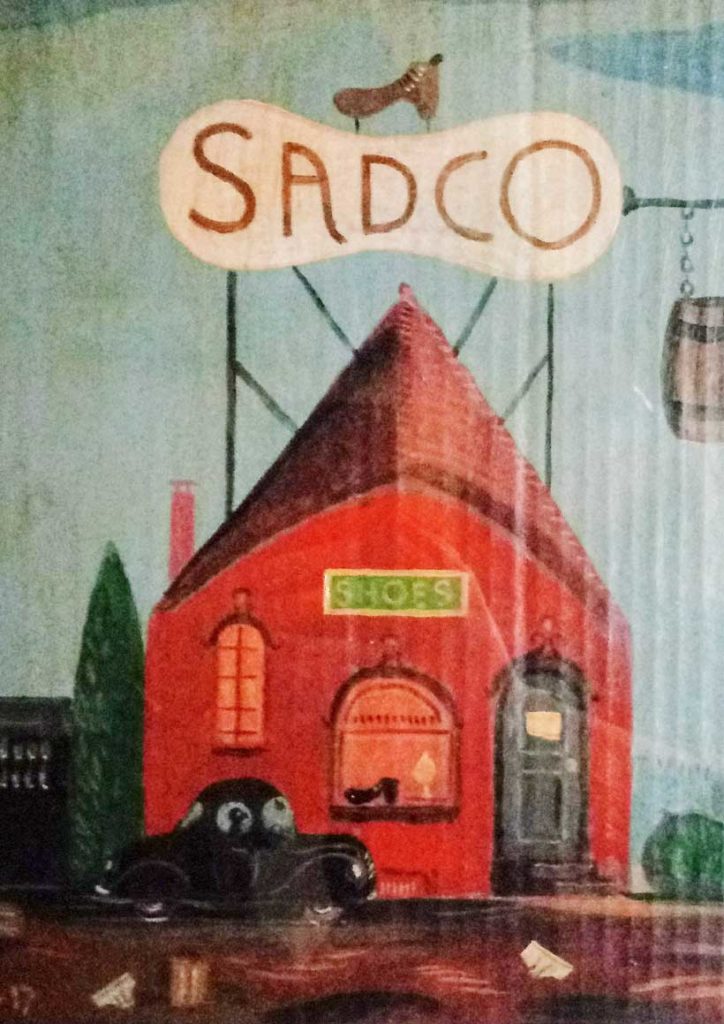 These two of Pat's pieces above, from our collection of local art. They pretty much sum up the brilliance of what is in store for you if you just care to look past your plate. Welcome to Portland.
The 'Flying Under the Radar' Wine Award 2020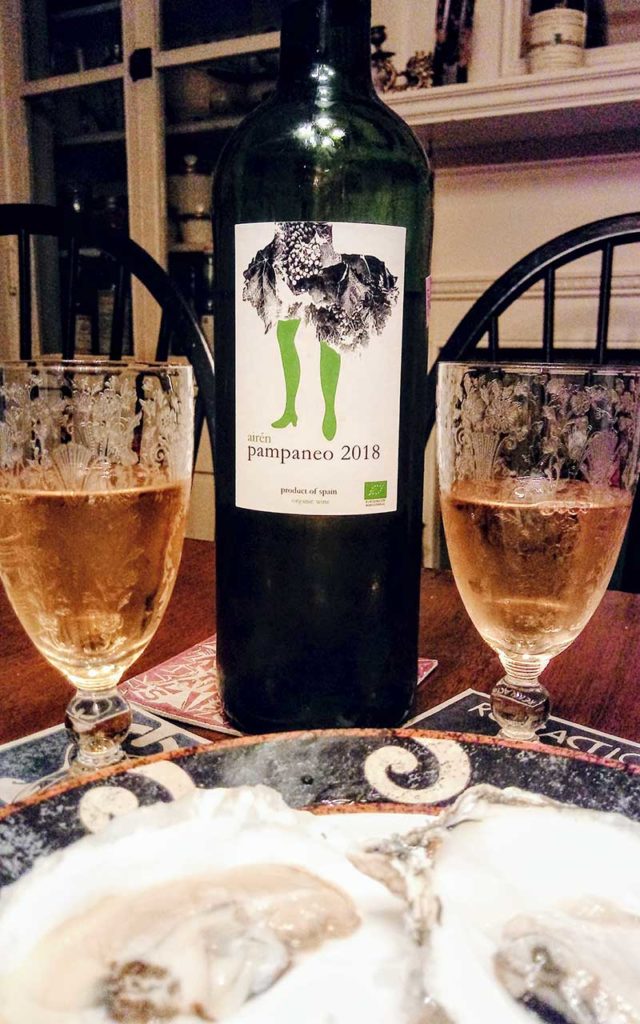 The Flying Under the Radar wine champion for 2020 goes to Pampaneo Airen, Castilla, La Mancha, 2018, $13.99 retail. A white wine that is unrefined, unfiltered, spontaneously fermented, and strange beyond belief. This is a "natural" winemaker's dream come true.
They plant the airen grape in the vast La Mancha region (500,000 acres of it, this is not a typo) because it has found a comfortable home being transformed into local brandy. The Spaniards love their brandy.
It is not at all strange that this totally undistinguished grape is made into a "natural" wine. Land is cheap, the grape plentiful in yield, and there is an audience for a reasonably priced wine that is "natural" because the audience is there for adventure not uniformity.
The real reason that I was intrigued and gave it the flying under the radar status is how it tasted initially. It was God awful. I decided to take the opened bottle and stick it in the fridge for a few days before dumping it down the drain.
Then, a miracle happened. It emerged as a miraculous metamorphosis. Time to hit the books. The magic wine making word was reductive. It just needed some air to come alive and come alive it did.
We immediately ran out, got some oysters, pulled out the engraved glasses and enjoyed. You never know. It isn't over till the fat lady sings.
---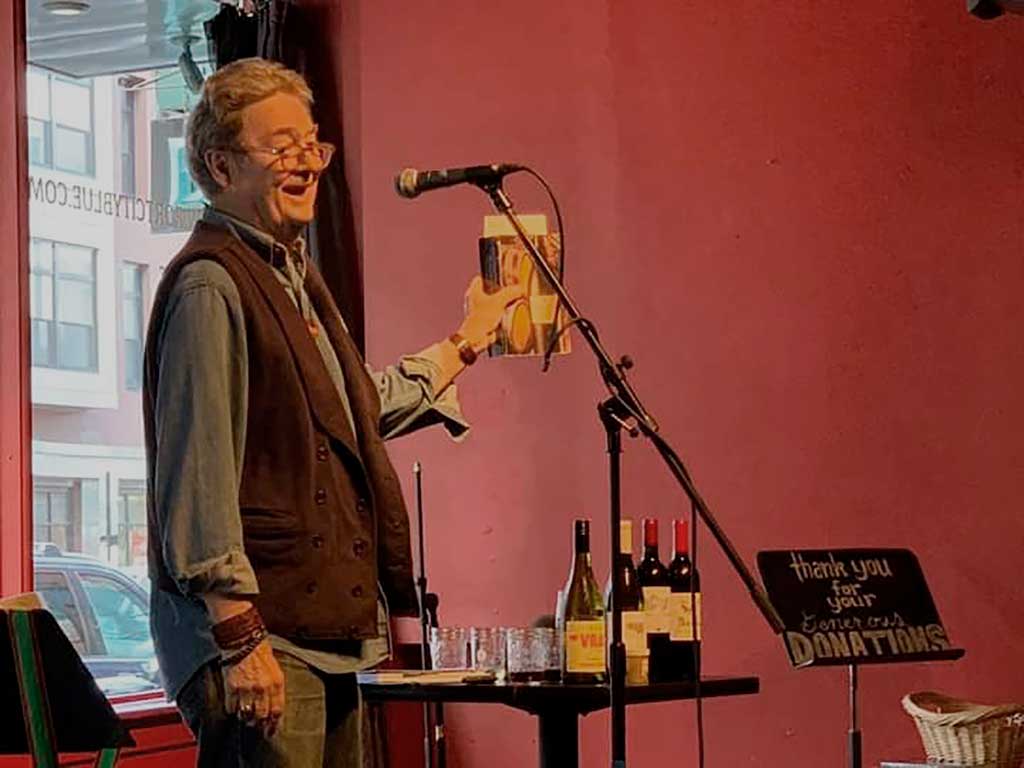 Layne V. Witherell has been a professional in the wine business for many decades as a teacher, importer, writer, competition judge, and winery CEO. He was awarded the Master Knight of the Vine for his pioneering work in the Oregon wine industry.
Read more from Layne at http://winemaniacs.wordpress.com/blog.