July First Friday Art at Peloton: Julie Laukkanen
Every Month PelotonLabs founder Liz Trice catches up with a Peloton member. This month Liz interviewed Julie Laukkanen, the artist featured by Ocean House Gallery at PelotonLabs for July through September.
Tell me about your work.
I am an abstract painter and I enjoy creating art that is abstract with recognizable imagery. Most of my work is inspired by nature so there may be parts of trees or flowers that are noticeable in my paintings. But I am really trying to capture the essence of something rather than depicting it realistically.
In "Maine Woods" for example, I use a lot of greens to represent the trees but there are no tree trunks or even branches in the painting. Instead I focused on the movement of the evergreens in the wind. That's the beauty of abstract painting and why I never run out of ideas to paint. I can paint a tree, but I find it more interesting to capture the falling leaves, or the texture of the bark, or how I feel standing under a giant tree. Limitless possibilities!
What's special about painting with acrylics?
They're easy to clean up – you don't need special solvents. They're quick to dry – I didn't have the patience to wait for oils to dry. I wanted the immediate gratification of working fully with the painting in the moment.
Where are you at in your career as an artist?
I'm an artist full-time, but I'm not running in circles. I'm very fortunate that I can pursue art on my own timetable. I'm ten years in, maybe 6 years seriously. I've decided that I'm not going to make myself crazy and pursue every opportunity available. I want art to be a creative journey for me. If my work sells that's wonderful, but I'm really creating art for me.
What's special about these paintings?
This collection of paintings is representative of my style of abstract painting. I like to have a seed of recognition. "Spring in Vermont" is spring flowers growing in a meadow, and it's pretty clear that that's the subject matter, but none of the flowers are representational. I'm just trying to show color, movement, texture, and light.
I most want people to notice the color in my art. I think I work well with color, and sometimes people are afraid of it – to put it in their homes, or work with it as an artist – but to me it's really important, because it brings us joy and it affects our mood. Whether it's pastels, blues or greens that can be calming, or if you need to perk up, a pop of color is really important.
People in Maine tend to be outdoorsy people, and that inspires me. I want to be up at sunrise, and I want to be out walking at sunset. Being out in nature grounds me, and I try to paint a picture of that experience, hoping that it will instill that same calmness or joy with others.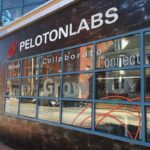 Julie's art opening is Friday July 6, 2018 5:30-7:30 at PelotonLabs, 795 Congress Street. Visit http://www.laukkanenstudios.com.
PelotonLabs
PelotonLabs is a coworking space in the West End of Portland, Maine with a mission to connect and encourage people so they can improve their lives and contribute to the world around them.