THE PORTLAND PALATE
Hot Suppa Southern Kitchen & Bar
703 Congress Street – 207-871-5005 – www.hotsuppa.com
(Reservations taken for dinner only)
Lunch & Breakfast: Mon – Sat. 7am – 2 pm
Sundays: 7:30 am – 2pm
Dinner: Tues – Sat. 5 – 9:15 pm
( $1.50 raw oysters on the half shell, served during dinner )
Take-Out: limited menu for breakfast and lunch; full menu for dinner, minus oysters
Review and photos by James Fereira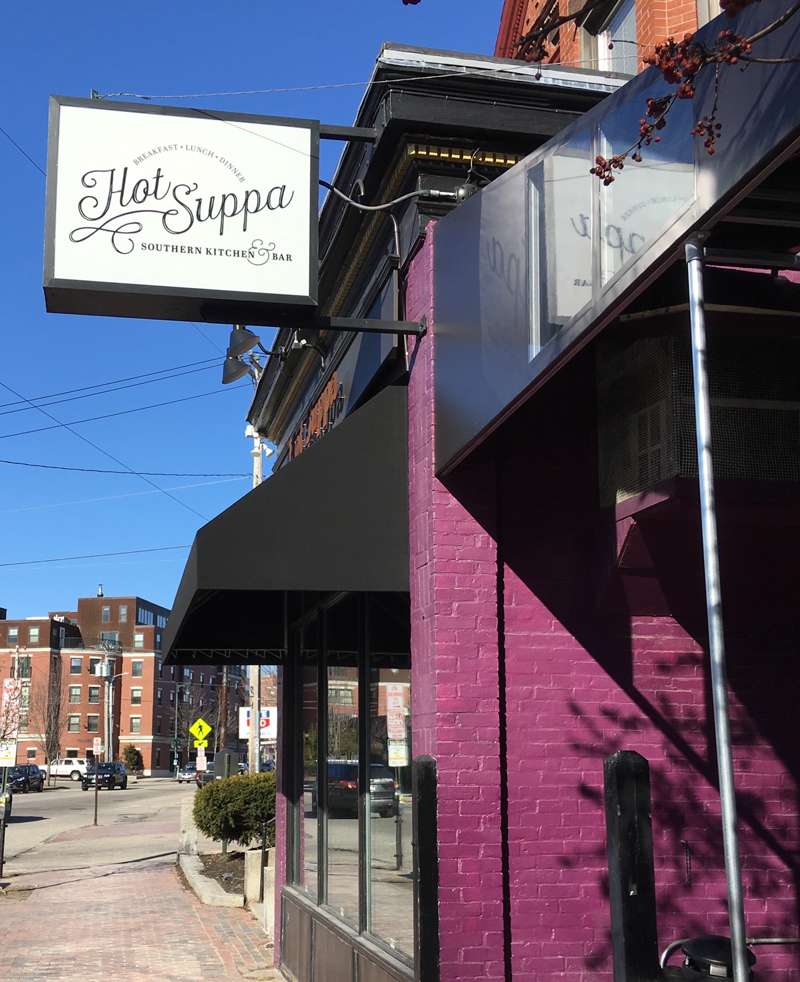 Paraphrasing their own account, the story of Hot Suppa starts in 2004, when brothers Alec and Moses Sabina of Portland embarked on a food pilgrimage: noshing their way across America's diners, barbecue joints, fish fries, and soul food haunts. They sojourned south, from one eatery to the next, seeking simple perfection in familiar provincial dishes served in establishments where food is still made with love.
Their goal? To learn how a good neighborhood restaurant evolves into a food phenomenon – the type of place who's reputation spreads by word-of-mouth, because it's that good. Hot Suppa is that kind of place. The many prior reviews attest to it.
AMERICAN COMFORT
Established in 2006, Hot Suppa opened its doors for breakfast and lunch in this 1860 brick Victorian building in Parkside, where the Friendship Cafe used to be. It features high ceilings and exposed brick walls, and the character of the interior adds a flattering backdrop for a menu replete with American comfort food, much of it inspired by homestyle southern cooking.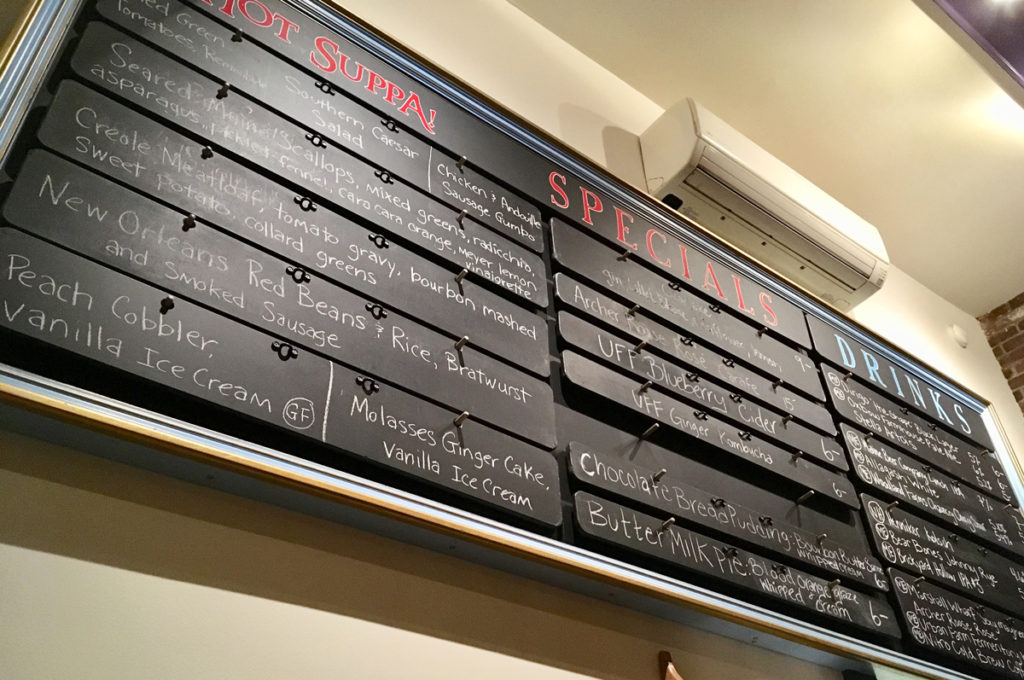 I'm talking about dishes like fried chicken and buttermilk waffles, shrimp and grits, pulled pork mac n' cheese, catfish tacos, black-eyed pea falafel salad, and poutine (hey, how'd that get in there?). Then there are classics served… like their famous corned beef hash and eggs, and a variety of eggs Benedicts, and of course burgers.
Everything here is made from scratch with quality ingredients, with a focus on "buy local." Items are primarily sourced from eighteen Maine food vendors.
Expanding its hours in 2010 to include dinner, Hot Suppa now features a full beverage menu. This includes hot and cold coffee and coffee-based drinks and chai, hot tea, hot cocoa, maple sweet iced tea, maple lemonade, soft drinks, milk, chocolate milk, juices, kombucha, cocktails, beer, and cider.
RESTAURANT WEEK MENU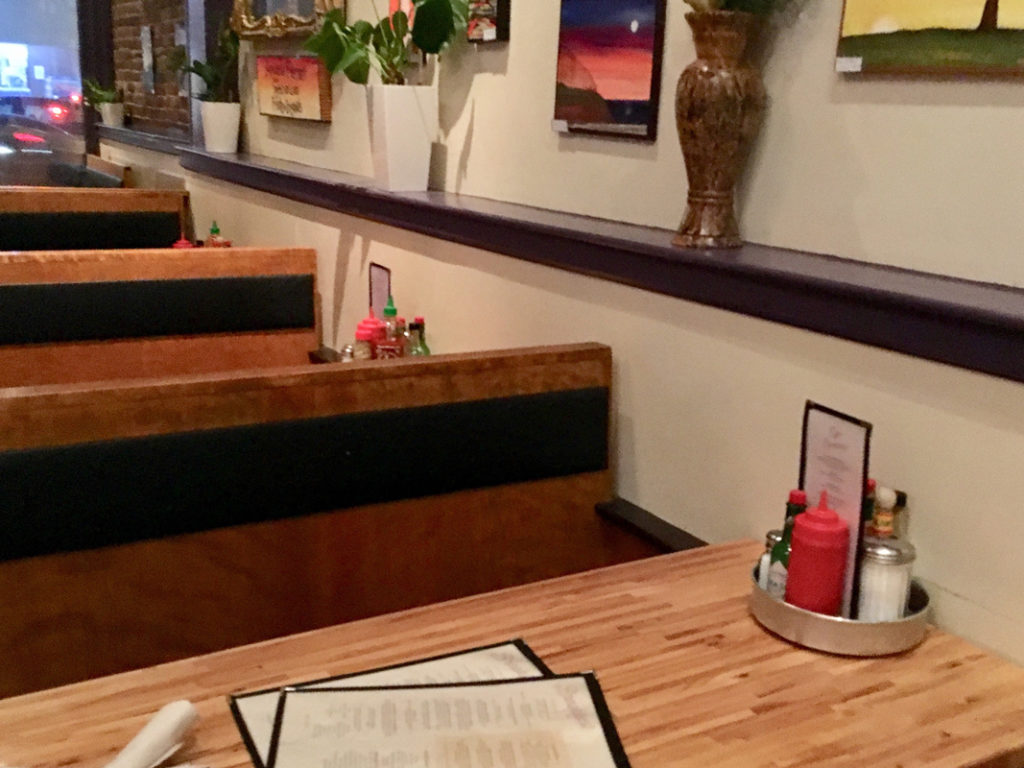 My friend Alex and I visited Hot Suppa for dinner (our first time, though we've both been before for breakfast and lunch). It was during Maine Restaurant Week, with their prefixed and priced three-course menu.
We got a corner booth in the rear of the small dining room, near the kitchen and across from the four-seat bar. We each ordered an adult beverage. A Dark and Stormy for Alex, who said it was standard but satisfying. I tried The Hurricane. It came in a Pina Colada-style tall glass: light and dark rum, fresh lime, passion fruit juice, dash of Grenadine, over ice. It was refreshing…. but overly sweet and short on the booze, more like a zephyr than a storm.
We had a hard time making choices on the food. While the offerings on the special menu were scant, they all sounded excellent, and most were gluten-free.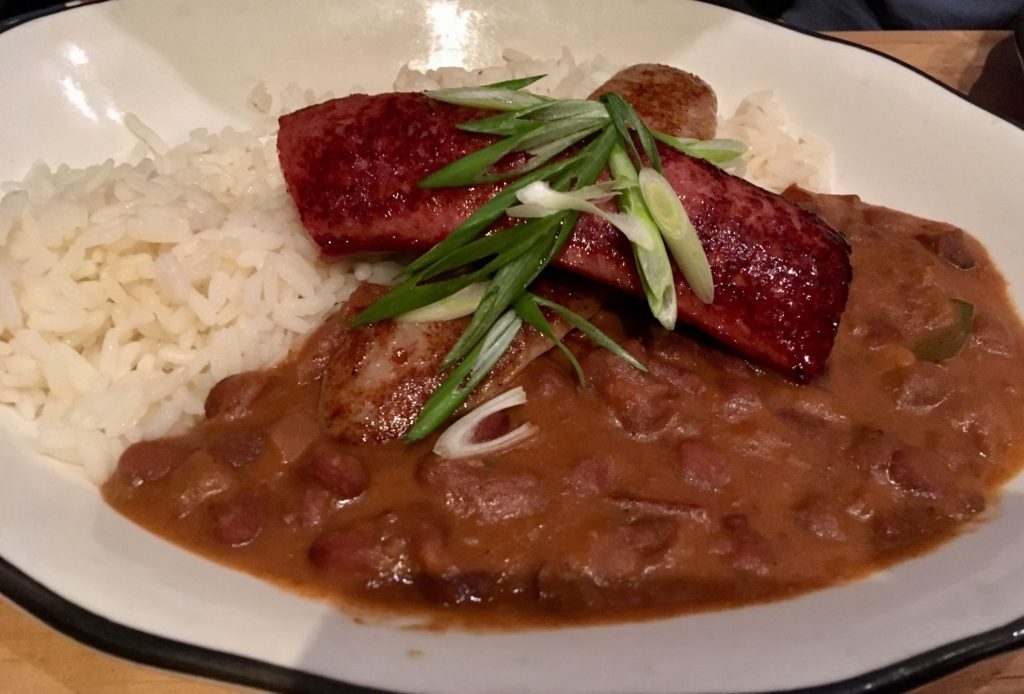 Alex's entree was the New Orleans Red Beans and Rice, with Bratwurst and Smoked Sausage. The beans and rice were a bit dull until he indulged them with the spicy bite of the meat.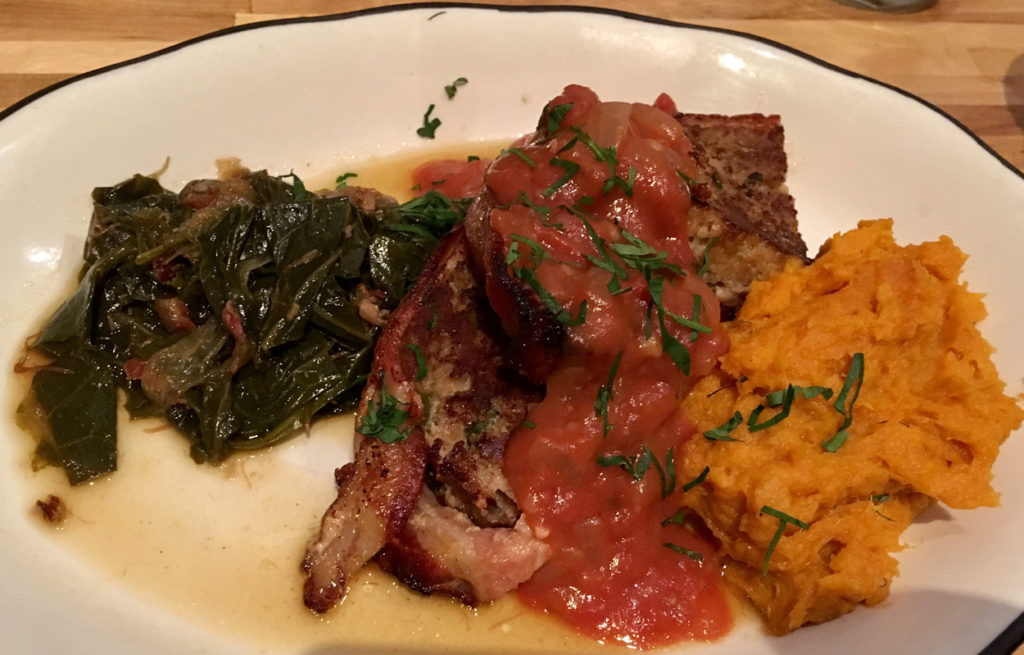 I fared a little better with Creole Meatloaf, with Tomato Gravy, Bourbon Mashed Sweet Potato, and Collard Greens – a burst of Cajun spices.
For starters Alex had the Fried Green Tomatoes with Remoulade, perfectly fried and paired well with savory dipping sauce. For me it was an outstanding Chicken & Andouille Sausage Gumbo. Neither of us could get enough of it (especially him, since it was intended for me). I'd wished it was a bowl and served as a main entrée. It was that good!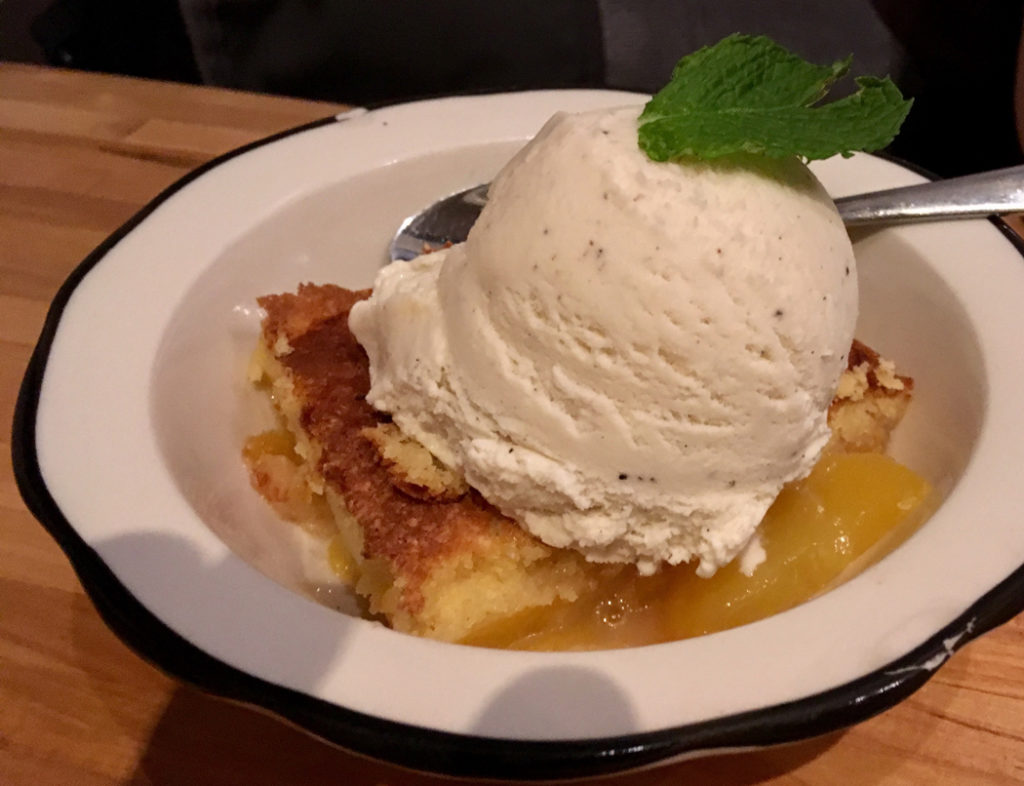 Desserts were a pleasing Peach Cobbler and a Molasses Ginger Cake, both served with ice cream, which was difficult to discern as vanilla, though apparently it was.
HOT SUPPA: IT'S ALL IN THE NAME
The only real problem with this meal was the plating of the food. It did not look pretty and was presented sloppily and without attention. Fortunately, we really liked our friendly server, and enjoyed Hot Suppa's choice of music: Santana, and Lyle Lovett, even the tuba. And it was a nice touch that Moses, brother/owner and head chef, came over to say hello and to check on us.
For $94.00 including tax and gratuity, we felt we'd overall been given a very good meal at a fair price, with generous portions. Generally, I think the breakfast prices are slightly higher than at comparable places in town, but at a margin they seem to be able to get away with because of excellent food quality and good service. Lunch and dinner prices square more evenly.
Beware car drivers, there's on-street parking only. Fortunately for us, it's a short walk across the street from the West End. If taking the METRO bus, you can find a stop nearby on Congress Street on the #1, #8, or #9 routes.
It's popular here, especially during breakfast and lunch rush. The restaurant only seats about 40, so leave extra time and be prepared to possibly wait for a table. You'll hopefully find that the bright, quirky, welcoming staff and vibe here make it worth your while.
ACCOLADES
Down East Magazine has called it "one of Maine's best breakfasts: a New England diner crossed with a southern roadside cafe." The Portland Phoenix has awarded it with "Best Brunch," and Yankee Magazine declares "Best Breakfast." Other accolades hail from media platforms like Maine Sunday Telegram/Portland Press Herald, Thrillest, The Bollard, and Bon Appetit, as well as several food blog sites.
I will return. Hot Suppa is reliable, and it is accessible both on foot and for its menu of delicious comfort food – three meals a day!