THE PORTLAND PALATE
West End Hospitals: The Affordable Food Alternative Part 2
by James Fereira
My friend Fran and I set out on a quest to check out institutional eateries right in our midst that are not usually recognized – hospital cafeterias. Our first stop was Pavilion Grill Coffee Shop at Maine Medical Center. Catch up and read it here: PART I: Pavilion Grill Coffee. Next up…
Impressions Cafeteria, Maine Medical Center
For our next meal, Fran and I visited Maine Medical's Impressions Cafeteria for breakfast. A digital "flip" style menu board greets you at the entrance. From here you navigate a complex array of food stations in this expansive cafe.
Breakfast stopped at 9:30 a.m., which seemed early to us. We waited for the 10:30 lunch commencement but noticed that most stations were not open by then. There seemed a steady pace of lunch-ers, even at this early hour.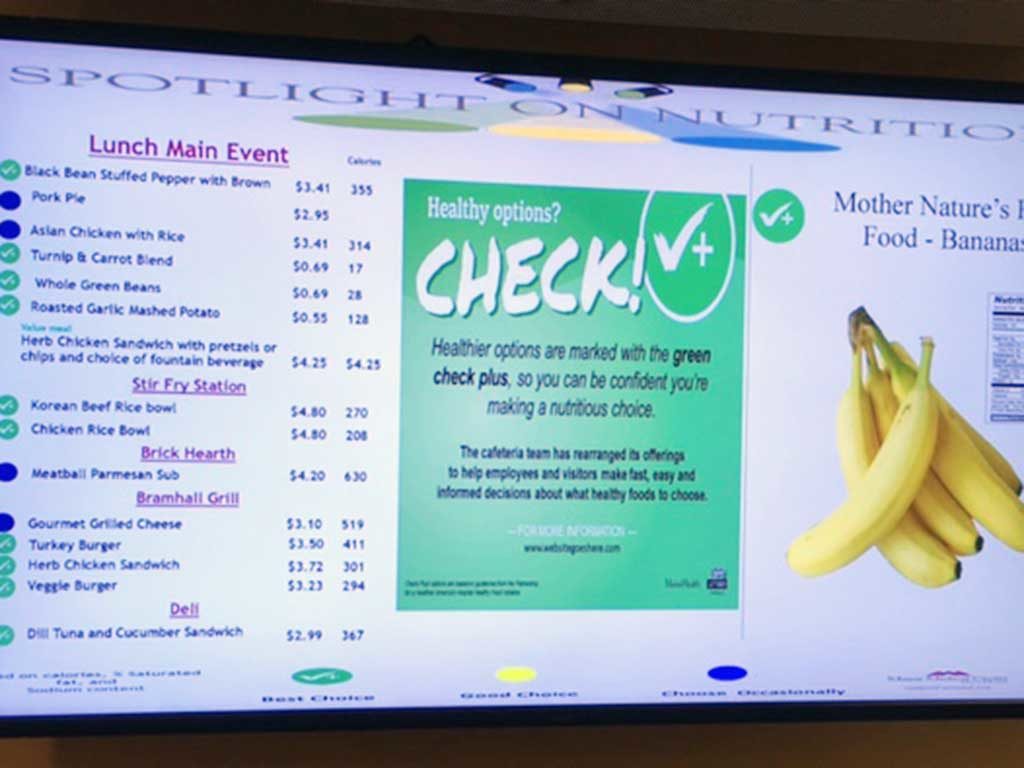 We grabbed our trays and utensils. Then Fran stood in a short line for her ample serving of pot roast with gravy and real mashed potato. She said it was tender and flavorful, despite the gravy tasting just okay.
I decided on the soup and sandwich combo, figuring-out that I had to get the soup at one station and the sandwich at another. The corn chowder was salty but hearty, and its temperature was hot, as hot soup should be.
A pleasant young man at the sandwich counter made my turkey on honey wheat bread with cheese, lettuce, tomato, mustard, mayo and by-request side pickle spear. I had to get the mayonnaise packet myself, which he opened and applied for me. Sitting down I noticed the cheese was missing, but I didn't bother returning for it.
Our meal, including a chocolate milk, cost under $9.00.
A single cashier seemed overwhelmed with a growing line of customers at the register: her demeanor was abrupt. Tap water was nowhere to be found, and nary a kitchen worker was around to ask. So Fran grabbed a glass with ice and poured her bottled water over it.
A group of gabby medical staff gathered nearby, but we wanted quiet and privacy, so we moved. Then a team of interns came to sit close by: quieter and more respectful than the previous group.
A nifty system for tray disposal operates behind a mystery wall where a conveyor belt whisks trays into the kitchen for washing and sanitation: easy. I was amused by it.
Impressions Cafe is reached from MMC's main or south entrances. Their hours are 6:30 a.m. to 2:00 a.m., 7 days/week.
Mercy Hospital Cafeteria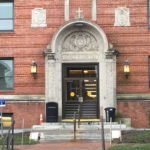 Our final destination was to Mercy Hospital's cafeteria, 144 State Street, for lunch. Fran and I arrived on a weekday, accessing the cafeteria on the lower level via the front entrance.
Being a Catholic hospital, Jesus is ubiquitous here. This can be a good thing, yet for some, bring pause for thought or perhaps even shock, especially if you're an atheist. A dilapidated Jesus effigy, better suited as a lawn ornament, greets you inside the front hallway first floor.
This modest cafeteria is small. As such, it is also easier to get around, with less stations and fewer choices. A dry erase board gives the menu du jour.… no modernization here.
Tray-in-hand, Fran grabbed a pre-made chicken salad wrap from the cold case, adding a cup of fish chowder from a self-serve bar. I got a bowl of the chowder along with pan-fried haddock cakes (two, each about 5 ounces) with basmati rice. Tap waters were easy to find and come by.
This meal was the most expensive of our three, totaling just under $21.00, inclusive.
Fran enjoyed her wrap, and the fish chowders were outstanding: hot, rich, delicious and chock-full of fish, potato and spices, but not too salty. On the other hand, the haddock cakes and rice were disappointing: tepid, bland and not especially fresh. I had to cut them with a knife versus using just my fork. The only thing that saved them was a prayer to Jesus and a generous dose of in-house made tartar sauce.
The atmosphere here was quiet, almost too much so. A stark departure from our MMC lunch experience.
Mercy's cafeteria hours are Monday through Friday, from 6:30 a.m. to 3 p.m. They're closed on evenings and weekends. There is on-street metered and signage parking, and a hospital lot for vehicles is located on Spring Street, right near the METRO #8 bus stop. Or you can make the short walk from downtown in less than 10 minutes.
In Conclusion…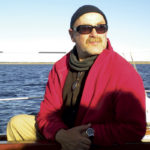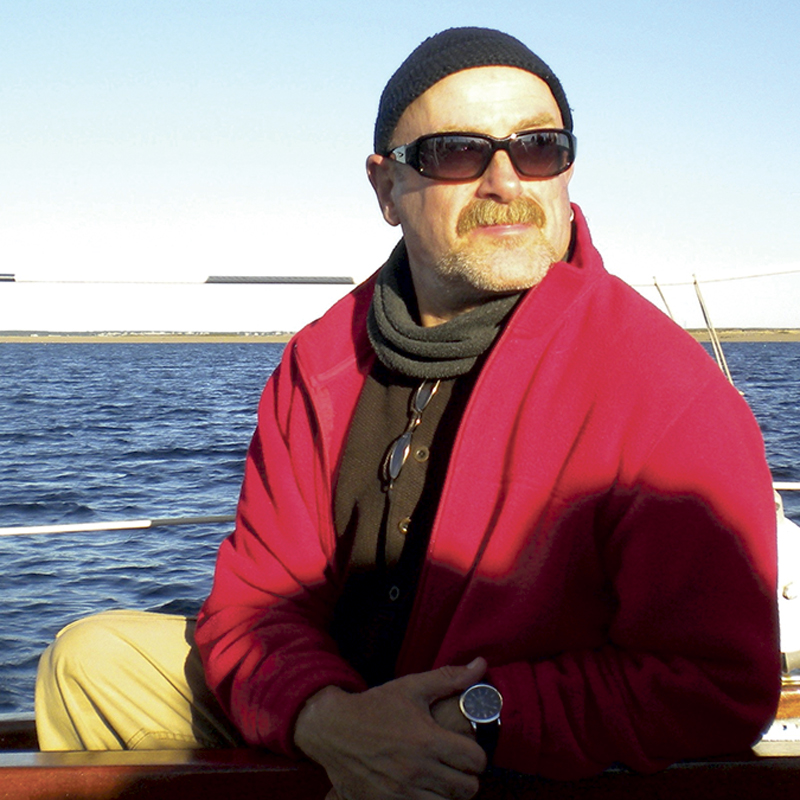 The eateries at MMC and Mercy Hospitals offer a relatively healthy dining-out option. These are not the stale, industrialized lunch rooms of yesteryear, but have morphed into state-of-the-art, modern entities. Hospital cafeterias, it seems, have entered the 21st century. Yet they remain a viable, affordable alternative worthy of a visit – perhaps even more than one.
James Fereira
James has a background in social activism, snow boarding and discovering waterfalls.  In his spare time he enjoys having a good cry over the peril of the planet and questioning authority.  James can be reached at ThePortlandPalate@gmail.com