By Pamela Shaw
The morning after the Harbor View Park Spring Work Day this year, two mallard ducks turned up, checking out the watercourse just above the new orchard. We're hoping the ducks, like the peaches, blueberries and butterflies that appeared last summer, are signs that the park is becoming an ever more welcoming place.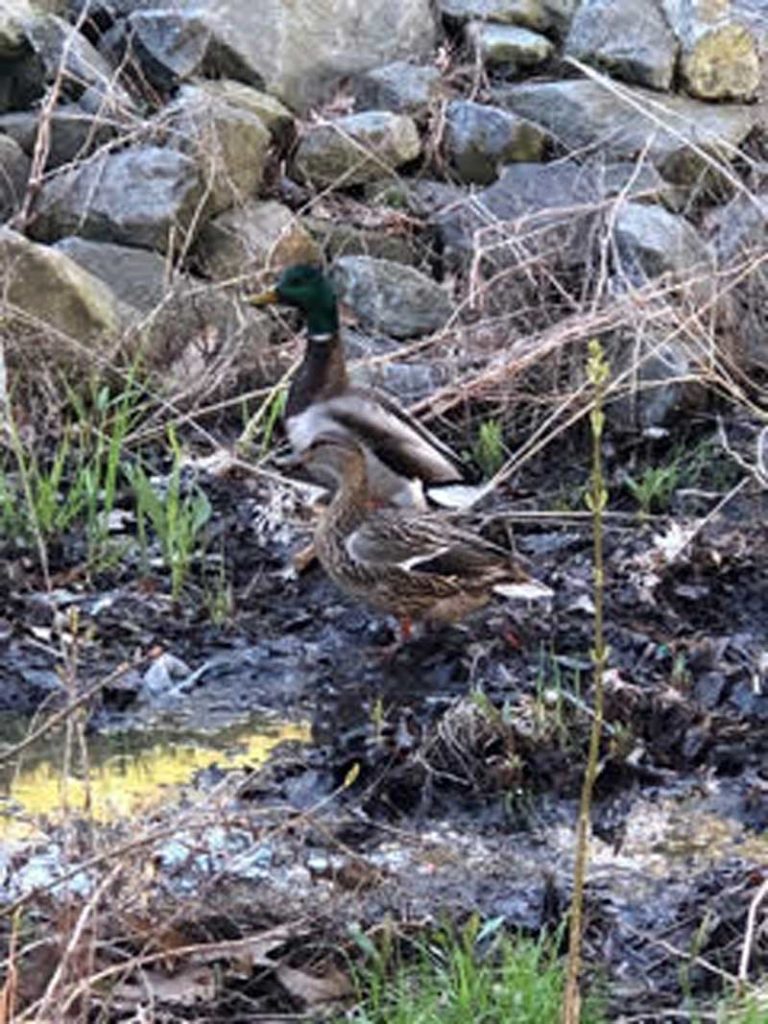 Harbor View Park is in the midst of a transformation. This summer it will receive the attentions of volunteers from across the city, have a new orchard and a meadow, and host a community celebration for the West End. It's all part of the Harbor View Park Project, sponsored by the West End Neighborhood Association (WENA) and the City of Portland.
Our season started with the Harbor View Park Spring Work Day, when volunteers: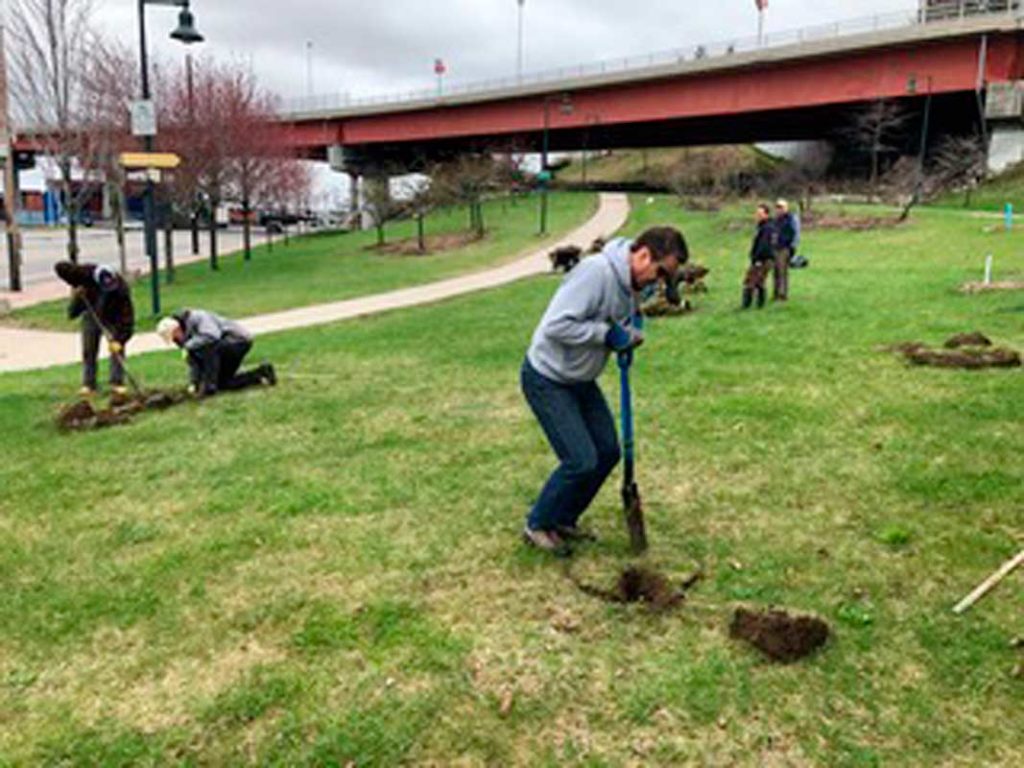 Planted a peach orchard down near Commercial Street at the eastern end of the Park, right next to Angelo's Acre (one of the two sites being considered for the new emergency homeless shelter).
Created a meadow between the paths going up the hill by fencing off a patch of lawn that will no longer be mowed, beginning its transformation into a meadow of native wildflowers and grasses for birds and bees. We are doing this in collaboration with Heather McCargo and the Wild Seed Project.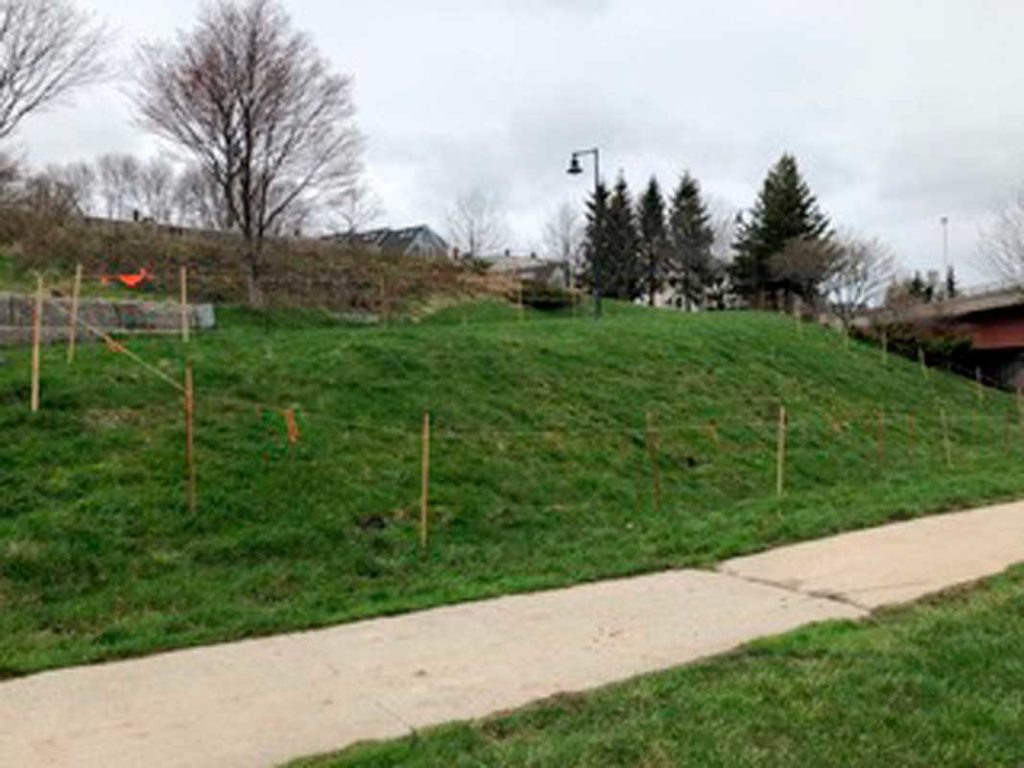 Learned how to graft scion twigs of Asiatic pears on to the stumps of an invasive species of pear that we cut down on a scrubby hillside. Guided by Aaron Parker of Edgewood Nursery, this was an eye-opener for those of us who had never done it before. Amazingly easy, and just plain amazing to think that in two years those little twigs may start to bear edible fruit.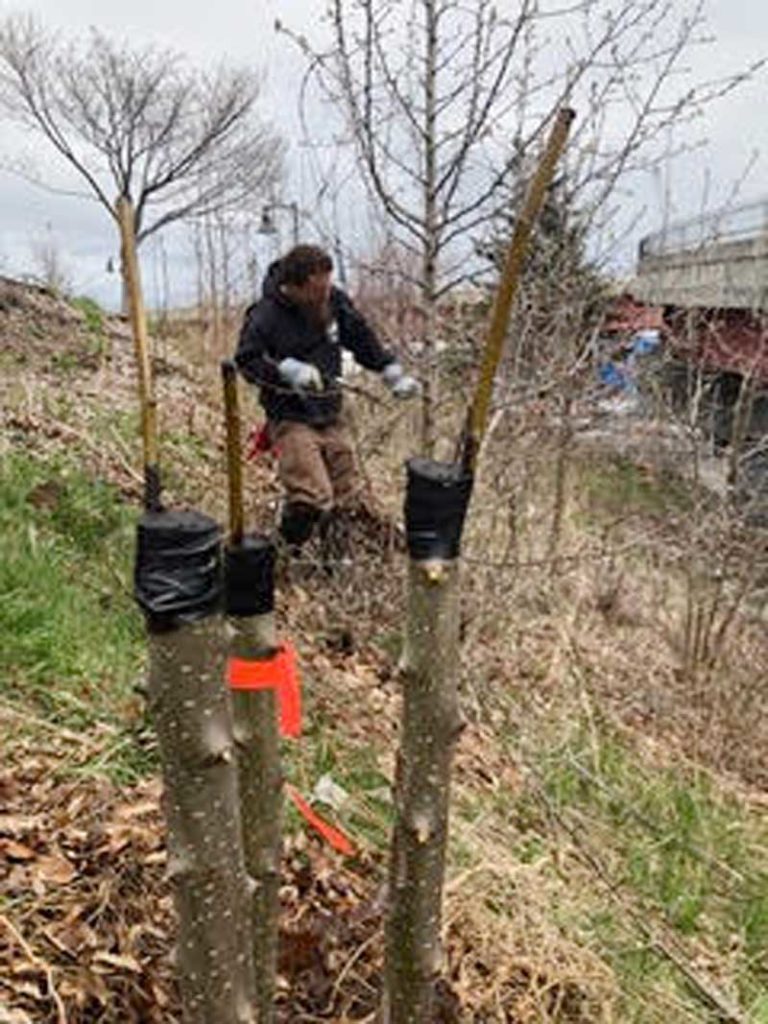 It's a PermaBlitz! And you're invited.
On Saturday June 1st, Harbor View will host a PermaBlitz at the park. Permablitzes are a bit like barn raisings, except they're community work parties for landscapes and gardens. Twenty to thirty volunteers from Portland's permaculture community organized by the Resilience Hub will come build a shed and create new beds at the park.
The Resilience Hub was one of the winners of this year's Source Awards from the Press Herald. Permaculture is a method of land management that designs, plants, and manages landscapes using methods that build resiliency. We have been using permaculture methods in our plantings at the park.
On the 14th of August, WENA will host a Summer Picnic at Harbor View. This will be a community celebration for West End residents of all ages to listen to music, share food with others, and enjoy a summer evening in Portland.
If you'd like to get involved, come to the Permablitz on Saturday June 1st. We always need volunteers to help water our new little trees and plants, and to keep cutting back Japanese Knotweed and Black Swallow Wort, two highly invasive plants that we found in abundance at the park. Contact us at hello@wenamaine.org.
And of course, we welcome contributions – anything from $10-$50 to help purchase plants, to $100 to help pay for the invaluable guidance and constant work we receive from our landscaping gurus, to $5000 for the vine covered arbor with a picnic table we want to build on the top lawn in the little grassy amphitheater overlooking the bay! You can contribute by card or PayPal at www.wenamaine.org/harborview.
To find out more, go to www.wenamaine.org/harborview, or write hello@wenamaine.org.
This is your park. Come see what's happening!
Pamela Shaw is a West End resident and volunteer contributor for the West End News.