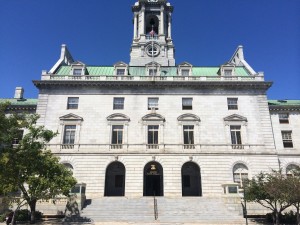 The Mechanics Hall at 519 Congress Street hosted Portland's first Mayoral debate on September 30th. It was a beautiful and historic venue, and the debate was fairly orchestrated, with former State Representative Herb Adams moderating.
All three candidates were available: Michael Brennan, incumbent Mayor; Tom MacMillan, chair of the Portland Green Independent Party; and Ethan Strimling, CEO of West End nonprofit Learning Works and political pundit.
There were no shockers. Starting with what the candidates agreed on: homelessness is bad, parks and green spaces are good, immigrants should be welcomed, and the city needs more affordable housing. The three liberal candidates could all agree on those basic premises.
The real differences came out in policy details and debate on leadership styles.
Mike Brennan touted his liberal tenure and made sure to list accomplishments like raising the minimum wage and securing $20 million to build the Hall School in the Nasons Corner area.
Mike did admit to "bumps in the road," and lamented the difficult task of being a liberal mayor that has to deal with Governor Paul LePage.
Ethan Strimling criticized Mike's leadership style, and said Governor LePage cannot be used as an excuse, "We have to solve our problems ourselves."
Tom MacMillan agreed, "We aren't going to have a new Governor anytime soon."
But Tom focused not on leadership style, but on policy. He shared a lot of progressive ideas that the other candidates seemed unwilling to touch: reforming the police department to end racial profiling, instituting citizen groups to steward public parks (like Friends of Congress Square Park), and changing the City Charter so that the public can elect the Planning Board members.
Meanwhile, Ethan mostly spoke in platitudes, and often attacked Brennan for not being a strong enough leader. He implied that the Mayor was at fault for the city being divided on crucial issues.
"There is a reason we have begun to governor by referendum. People feel like they're not being heard," Ethan said, referring to local referendums such as Questions 1 and 2 on this year's ballot, to increase the minimum wage and protect scenic views, respectively.
Brennan disagreed that the city was divided. He had examples, and in an almost passionate moment he actually seemed offended. He defended his role in securing funds for General Assistance for asylum seekers.
"I worked diligently with other Councilors," Mike said, "to make sure we didn't have 800 people, including women and children, living on the streets."
The campaign season has officially started. If the first debate is the standard bearer, voters can expect Mike Brennan and Ethan Strimling to continue to argue leadership style, while the dark horse, Tom, tries to advance the agenda.