Off the Beaten Path
Finding Warmth (and Learning to Spell) in Iceland
By Nancy Dorrans
Once or twice a year Adventure Marketplace goes "off the beaten path" and leads a small tour group to lands far and away – in terms of distance, history, culture and climate. These adventures often take us to other continents, landing in cities, towns and villages where unique people and places always seem to warm our hearts.
Even when the trip is over, the good memories remain. We carry them all the way back home to our Portland enclaves. These are the kind of trips you never forget and cause you to remain in touch with your fellow travelers, and with the folks who make our adventures so special along the way. This is getting easier as even those in the far corners of the globe go online.
These off the beaten path excursions are uplifting and full of adventure: unique faces, art, culture, people, tastes and natural beauty.
In 2016, Adventure Marketplace led a small group of 10 for a 10-day excursion to South Africa and Zimbabwe. Earlier this spring, another group this size visited Namibia and Botswana. And, in early September of 2017, a dozen adventurous travelers voyaged to Iceland, land of Laplanders where Vikings once sailed.
We landed in Iceland's largest city Reykjavík from where we set off with our local guide Elly to explore the Northwest coast and Grabrok Crater in search of Iceland's "hidden people," the elves of folklore.
Don't Worry About the Spelling…
We spent our first night on the quiet Snaefellsnes (which we fondly dubbed "Snagelpuss") Peninsula. We realized that it was going to be enough to spell, let alone pronounce, all the spots listed on our travel itinerary. No matter, we forged ahead…
After leaving "Snagelpuss," we ferried further along the north coast of Skagafjörður and Eyjafjörður for a whale watch and journey through Heoinsfjorour, the deserted fjord valley. Even Icelanders themselves have yet to visit this spot.
Further north off the Tröllaskagi Peninsula we passed sod houses and joined trolls along the streets of Akureyri.
Waterfalls, Lava craters, Trolls and More!
We stood in awe at the power of Goðafoss, the Waterfall of the Gods. And then continued hiking along the pseudo craters of Skútustaðagígar. These spectacular sites were formed by gas explosions when boiling lava flowed over the wetland. Our trek culminated in a well-deserved soak in the Myvatn Nature Baths / Jarðböðin við Mývatn, a mineral hot spring.
We took a hike through the Trolls' Dimmuborgir village. The powerful Dettifoss waterfall took our breath away. And we saw the Ásbyrgi, the mythical horse hoof-print left in the vast lava field. We felt like characters in a sci-fi novel who had journey back in time.
Continuing south across the Highlands between Langjökull and Hofsjökull glaciers, we passed through seemingly endless vastness to Hveravellir hot springs. There we came across an annual sheep herd that stopped traffic for hours, before a visit to Gullfoss Waterfall.
Down the South Coast to  the greenhouses and horses at Friðheimar. They were mystic and spectacular.
Walking behind Seljalandsfoss, we were caught under the Skógafoss rainbow and mesmerized by blue sky above Hekla (what the Heck-la) and the awesome Eyjafjallajökull volcanoes.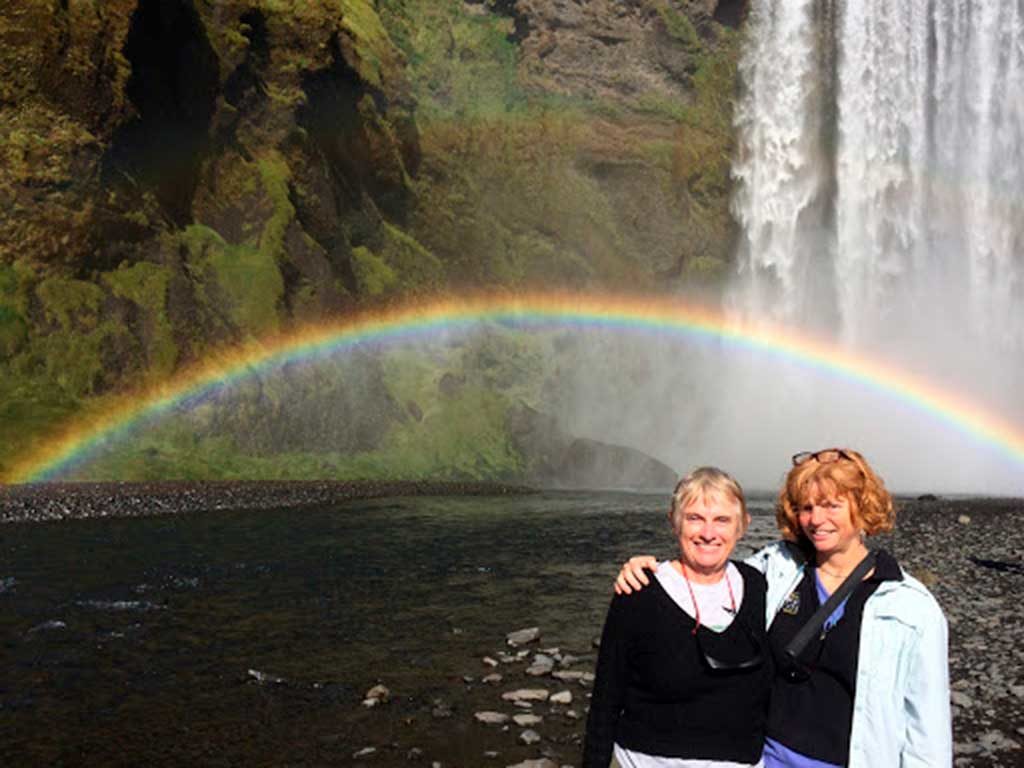 We ended our day at Reynisfjara Beach & Basalt columns. The Northern Lights made a subtle appearance on our last night before we headied back to Reykjavík. Of course, there was time for one last stop at the Bäkkäri bakery.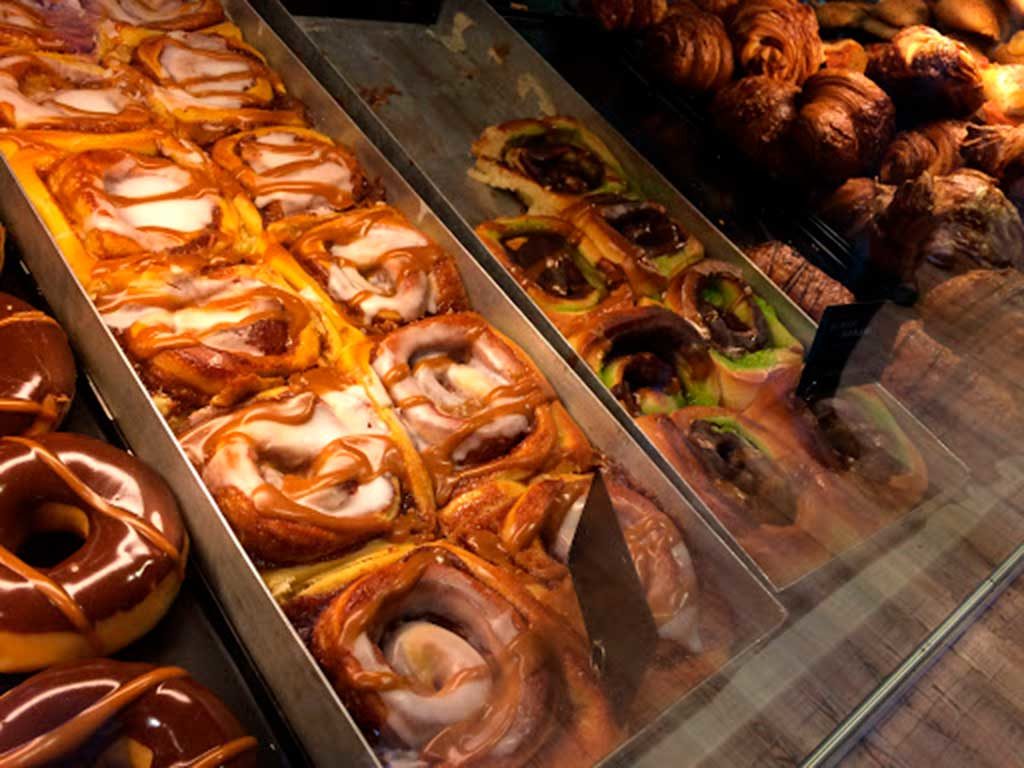 The Icelandic Highlands are rich in history, outlaws, mystery, sheep, horses, beauty and intrigue. Sort of like Portand, but not quite the same. In the land of fire and ice we took the road less traveled and that made all the difference.
Power of Travel
Upon returning from Iceland, I heartily second what our South African friend (and bartender) Ramasodi "Happy Juice" Morak expressed in his Facebook message to me this morning, "…I wish my arms were big enough to hug you all at the same damn time."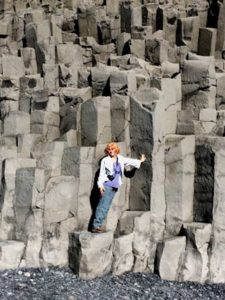 Besides a fun-filled adventure, travel is a transformative experience that expands horizons, educates, informs, and lands us home with fresh perspectives about the world we live in some new friends in our global community.
I'm looking forward to going "off the beaten path" again soon!
Nancy Dorrans
Nancy is a Certified Travel Counselor (CTC) founder and CEO of Adventure Marketplace, a Portland Maine travel consultancy that plans and leads individual and group travel for vacation, business and adventure.