Exploring the Val d'Orcia on Foot
By Nancy Dorrans
Outside is forever where I'd rather be. A hiking adventure in the Val d'Orcia region of Italy is sure to always provide beautiful views, exquisite food, wine, culture, and passionate locals. In 2018, it was my good fortune to experience this region of Italy for six days prior to attending the Adventure Travel Trade Association World Summit 2018 in Montecatini Terme, Tuscany. 
There were several Pre-Summit Adventures (PSA) to choose from and I chose the PSA #3 – EXPLORING THE VAL D'ORCIA ON FOOT.  Upon arrival, a dozen or more adventurous souls – tour operators, guides, journalists, advisors, and entrepreneurs from around the world – jumped in the transfer van and bonded quickly. 
Cycle Europe, a tour operator based in Tuscany was our host. Operated by sisters Monica and Maria Elena, and Monica's husband, Michele, Cycle Europe's primary mission is to help others slow down and experience the world through active travel. "And yes, we do more than cycle!"
I was ready!
Arguably one of the most beautiful parts of Italy, the UNESCO World Heritage Site of the Orcia Valley, has a multitude of layers to be discovered. As you walk along the famous "white roads/gravel roads" of Tuscany, you will be met with stunning views and warm greetings from the people working and living on the surrounding land. Along the way meet female wine makers – a rarity in Italy, the largest family run saffron farm in the country, and second-generation leather makers. Cultural visits to the Monte Oliveto Maggiore Abbey and the towns of Montalcino, San Quirico d'Orcia, and cheese making Pienza round out this adventure that is sure to awaken your taste buds and relax the soul."

https://www.adventuretravel.biz/
Oh, the wine!
Our first meal in Tuscany was at the hillside village of Chiusura with a big bowl of Ribollita! Oh, and then there was wine! This was after our visit to the impressive Benedictine Abbey of Monte Oliveto Maggiore. Built in the 13th Century the cloister and its beautiful frescoes are still home to Benedictine monks. We had a leisurely three-hour walk on rolling country roads before lunch. And later that evening we visited Montalcino, the town famous for the Brunello wine.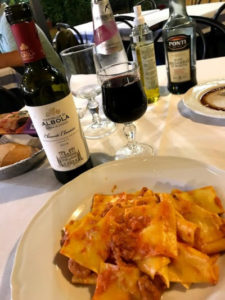 The next morning's walk led us to Casato Prime Donne winery, an all-female winery run by Donatella Cinelli Colombini. Her ancestors first owned land in the Montalcino area in the 16th century. Donatella's winery has since become a powerful voice for female led companies all over Italy. After another scrumptious lunch, we met a two-generation leather maker where we made our own embossed leather bracelets.
The day winded down at our lovely villa Podere Salicotto, with hosts Silvia and Paolo, a wine tasting with a local wine maker, a buffet of apericena (or aperitifs), much laughter, new friends, and the most brilliantly golden evening light!  We were under the Tuscan sun!
Pecorino Cheese and Truffles
Our days were spent wending along the sweeping vistas across the Orcia Valley with its clay hills lined with cypress trees. We wandered into the intriguing town of Bagno Vignoni and had an overnight in Pienza, known as the home of Pope Pius II and for its ever-present aroma of pecorino cheese. We visited Crocus Brandi (family) Saffron Farm and ventured out on a truffle hunt with two guides, four dogs, and a puppy. Later we dined on a pasta dish made using our truffles, herbs, and other locally grown ingredients. Oh, and then there was always more wine!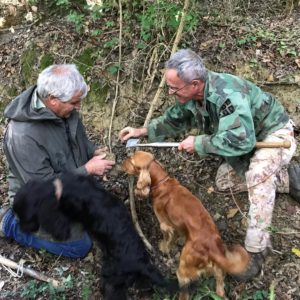 One more fascinating hilltop town, Cortona offered more amazing views and narrow streets full of colorful buildings and people. We learned (or watched) the art of bread-baking, from pizza to focaccia, baguettes as well as the Pici, a local pasta!
Thanks to Cycle Europe, our off the beaten path Val d'Orcia itinerary was a perfect blend of activity and calm. Many of the adventurous people I met are still friends. The lessons I've learned and the food and wine I savored are delicious memories.
There is a land where time seems to stand still, is a caress for the soul.

–Silvia from Podere Salicotto
Oh Tuscany, you stole my heart. I'll be back for it one day!
PS: My notes from the Adventure Travel Trade World Summit 2018 in Tuscany: 
When we travel, the experience changes us and our perspective of the people around us.
The power of community equals huge impacts.
Travel transforms lives. Perceptions change, stereotypes are challenged.
Self-determination is a powerful path to happiness and success.
Adventurous travelers respect cultures, community, and focus on sustainability and conservation.
Let's make a plan to "Go Places" that are off the beaten path and be more conscious about sustainability and conservation!
Nancy Dorrans is currently working as a Dedicated (in school) Substitute Teacher at Deering High School. She figured she could do something meaningful while we wait for travel to be safe again.