LA VIDA LOCAL
Irregular Notes on West End Life
Ever Onward: The Important Dates of December from Earliest Sunrise to Winter Solstice
By Rosanne Graef
There are some exciting events coming up in December that you won't want to miss (actually you can't miss them). Good news is that there's no ticket or cover-charge! December 9, 21, and 28 are the dates to circle on your calendar. You'll also need to set your clock alarm to remind you of the exact times: 4:03 p.m. on the 9th, 5:02 a.m. and noon on the 21st, and 7:14 a.m. on the 28th.
Those of you who are attuned to the outdoors here at 43.6591° N should have already figured out the noteworthiness of these days and times, but in case you haven't here are the reasons to pay attention.
These events are all related to the big trip all of us take every year, mostly without realizing we're going anywhere. This excursion, of course, is Earth's 584-million-mile yearly journey around the sun, and we get to go along for the ride, and the sights, and experiences through which it takes us.
The jolt from the return of Eastern Standard Time in early November should have made you notice how early it becomes dark outside and how much that makes you feel like getting into your pajamas before supper. On December 9th, if you begin to feel some stirrings that enable you to press on and stay awake, it may be because the earliest sunset has occurred at 4:03 p.m., and happy hour has begun its march towards coinciding with "News Hour."
Remember this illustration from your school days? It shows the Earth on the Winter Solstice for us here in the Northern Hemisphere.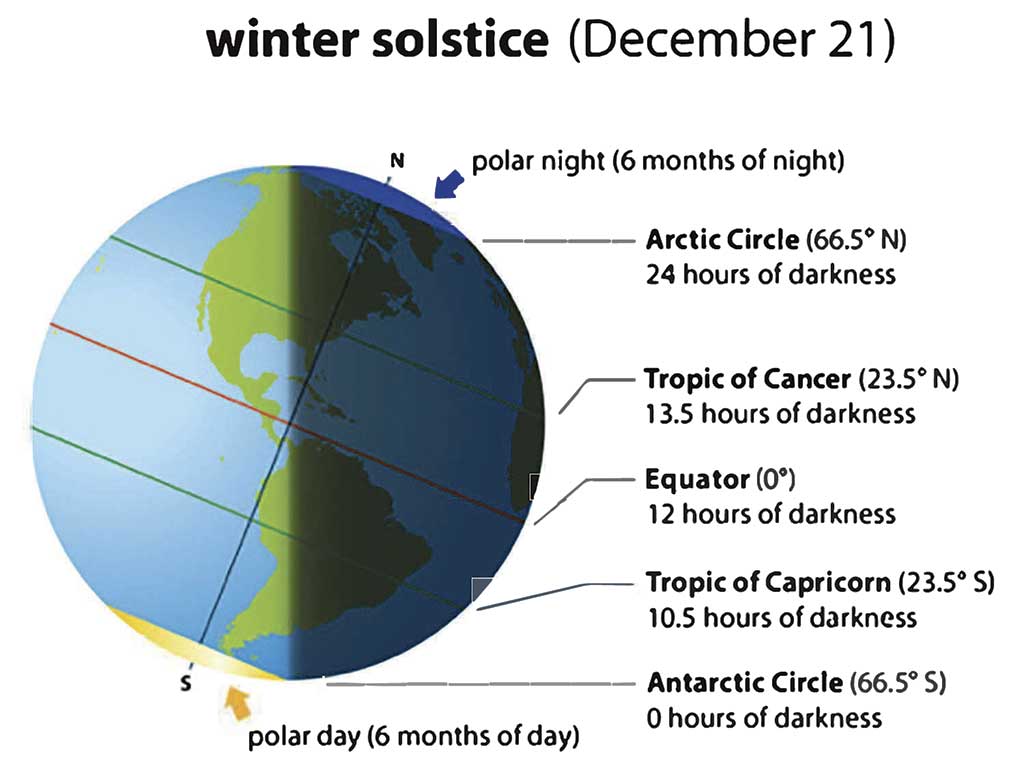 Although we commonly think of the winter solstice as lasting a day, it is, in fact, the point in time when the sun will reach the Tropic of Capricorn and begin its return to the Tropic of Cancer. Of course, it is Earth's tilted posture that creates this phenomenon, but isn't it much more picturesque to imagine Ol' Sol at 5:02 a.m. on December 21st, announcing, "I've come this far and will not go one step further"?
If you don't feel like getting up and celebrating at 5:02 a.m. on the 21st, not to worry. If the weather's cooperating and the sun is shining, you can just wait until noon, go outdoors, and see your longest noontime shadow of the year! How's that for some excitement?
Things start to pick up and perk up as the days lengthen, although it's not until 7:14 a.m. on December 28th that we'll see the latest sunrise. By then we'll have made it through the darkest evenings and be ready to see out this annus horribilis and, with luck and pluck, welcome an annus mirabilis.
Thanks to timeanddate.com and The Farmer's Almanac for the astronomical data.
Rosanne Graef lives in the West End and is a regular volunteer contributor and author of the long-running La Vida Local column. To reach Rosanne, email lavidalocalwen@gmail.com.