Escape to the Great Smoky Mountains
By Nancy Dorrans – Originally published in the July 2020 Edition
Spending three months in E. Tennessee with my family (while unexpected) has been loaded with special moments and memories, and I remain grateful. However, I was also literally itching to get outside, hike, and explore a bit more of the area, with proper precautions of course.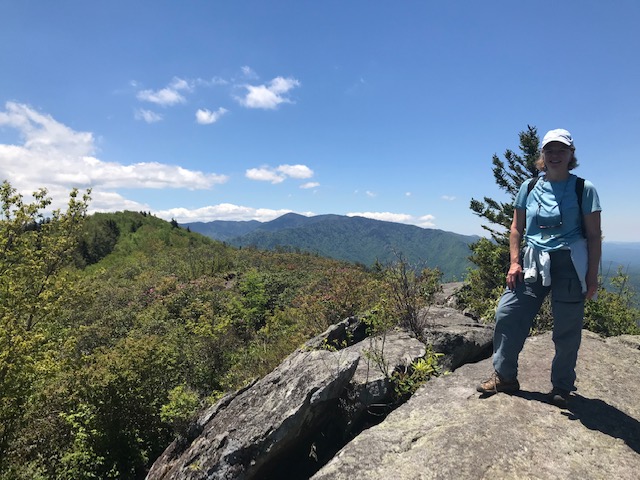 On May 9th, The Great Smoky Mountains National Park (a one to two hours' drive from where I was staying) began reopening. The first phase included many roads and trails within the park.
Since hiking in the National Park was now permitted, and to get a bit of relief from the pandemic, I borrowed my father's car and headed out on a three-day solo road trip. I purposely avoided the craziness of Pigeon Forge and Gatlinburg and drove a bit further east to less crowded trails and the quiet mountain rural town of Cosby, Tennessee.
Starting with a list of "16 Must-Do hikes" within the park (Outdoorproject.com), I began to loosely plan out my trip. I booked an Airbnb cabin in Cosby for two nights and chose three hikes nearby: Albright Grove Loop Trail, Mount Cammerer, and Ramsey Cascades.
BAXTER CABIN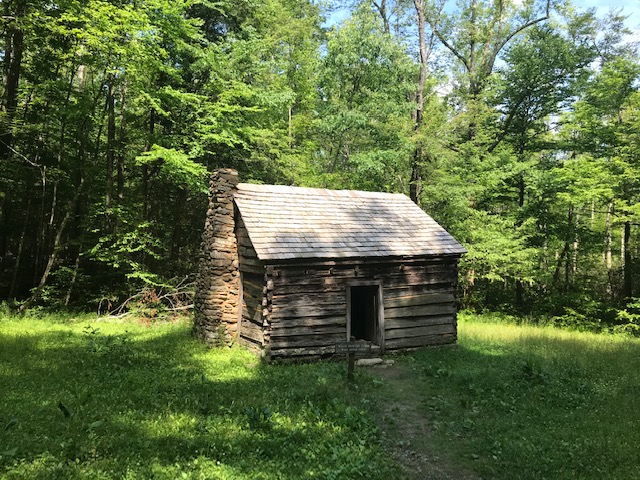 To get to the Albright Grove I took the Maddron Bald trail that was built by the CCC (Civilian Conservation Corps) in the early 1930's. I soon passed a one-room log cabin known as the Baxter Cabin. Built in 1889 by Willis Baxter, the cabin was a wedding present for his son, constructed from one single giant chestnut tree. Could Willis be related to Percival Baxter? The thought crossed my mind.
OLD-GROWTH FOREST
I passed only two hikers and their dogs on the way up Maddron Bald. Just past the trail junction to the Albright Grove Loop I came upon a group of four older gentlemen staring up into the giant trees. Not bird watching but tree gazing! They offered to let me pass. I decided to stay with them and listen and learn what they knew about these towering giants.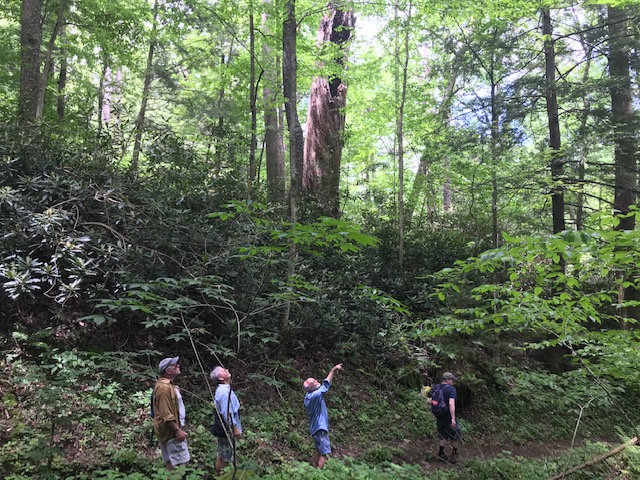 Albright Grove is an excellent example of an old-growth cove hardwood forest, containing some of the oldest and tallest trees in the park. They pointed out massive Eastern Hemlocks, Tulip Poplars, Basswood, Beeches, Maples, Magnolias, and what they believed to be the huge trunk of a toppled American Chestnut tree. What a truly magical day. Add dendrophile to my pandemic personal descriptive.
The Small Sky Hollow Cabin was the perfect spot for my getaway. Surrounded by mountains and plenty of fresh air, Jim and his sweet dog Eddie were excellent hosts along with the nearly full moon, fireflies, and sounds of the "frogs in yonder pond."
HIKING & HIKERS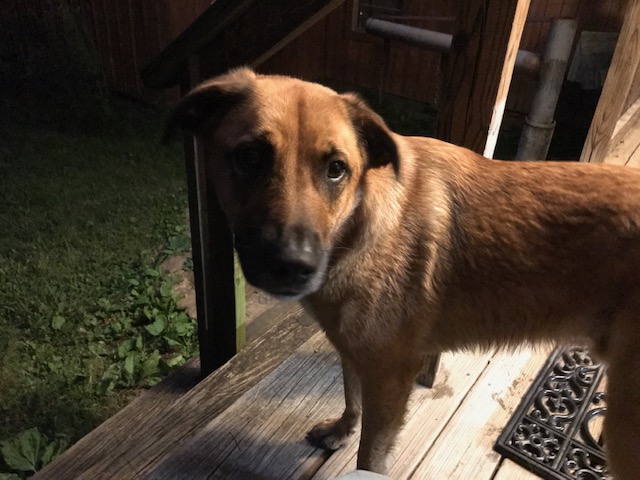 The next day, via the Low Gap trail and the Appalachian Trail, I reached the panoramic 4,928-foot summit of Mount Cammerer: total elevation gain 3,045, highest elevation 5,054. The third day on my way home I hiked up to Ramseys Cascades.
Over the three days I met hikers from nearby and from away. Ohio, Michigan, Florida, and Alabama to name a few. We all practiced social distancing. It seemed everyone was just happy to be outside, hungry for and engaging in conversations about the trail, trees, and these times, and wishing each other the best.
ROAD TRIPS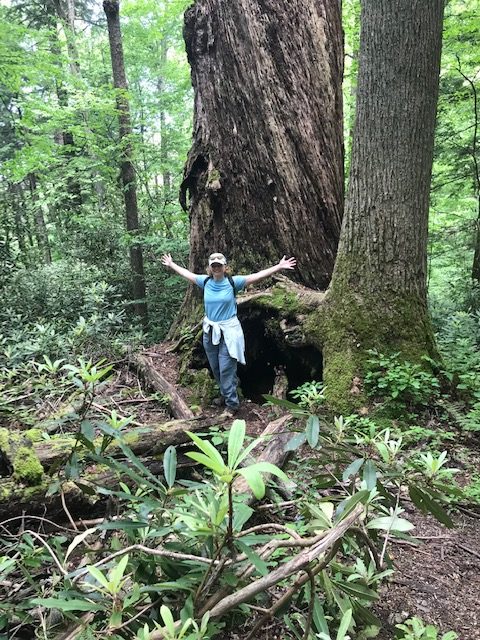 Will road trips become the next phase in travel? I think so. It is already starting. My solo road trip to the Smoky Mountains was liberating! "Right now, a road trip means freedom – freedom from stay-at-home orders, freedom from the daily routine, and freedom to get a bit of that travel bug met."  (https://kiowacountypress.net/content/safety-tips-solo-road-trips-during-covid-19)
While there were no black flies to bother me in Tennessee, I did get bit by ticks, stung by bees, and had chiggers and poison ivy.  Oy Vey!  Ironically, I am still embracing and itching my travel bug!
Postscript
It wasn't until my drive back from Cosby that I became aware of the death of George Floyd and the erupting global protests. Thank you, to all of you for what you are doing to help make change locally. Please be safe, take good care, and be kind.
Nancy Dorrans is an independent entrepreneur, volunteer, painter, outdoor enthusiast, dendrophile, traveler, and travel advisor at Adventure Marketplace. She is a resident of the West End … back in Maine as of June 23rd.