Eric Kalala: Interview with owner of Chez Castel
Every month PelotonLabs co-founder Liz Trice interviews a local community member. This month, Liz caught up with Eric Kalala, the owner of Chez Castel, an African specialty food store. Before coming to Maine, Eric was the Co-Founder & General Secretary of the National Chamber of Commerce of the Democratic Republic of Congo.
Tell me about your store, Chez Castel. Why did you choose that name and what do you sell?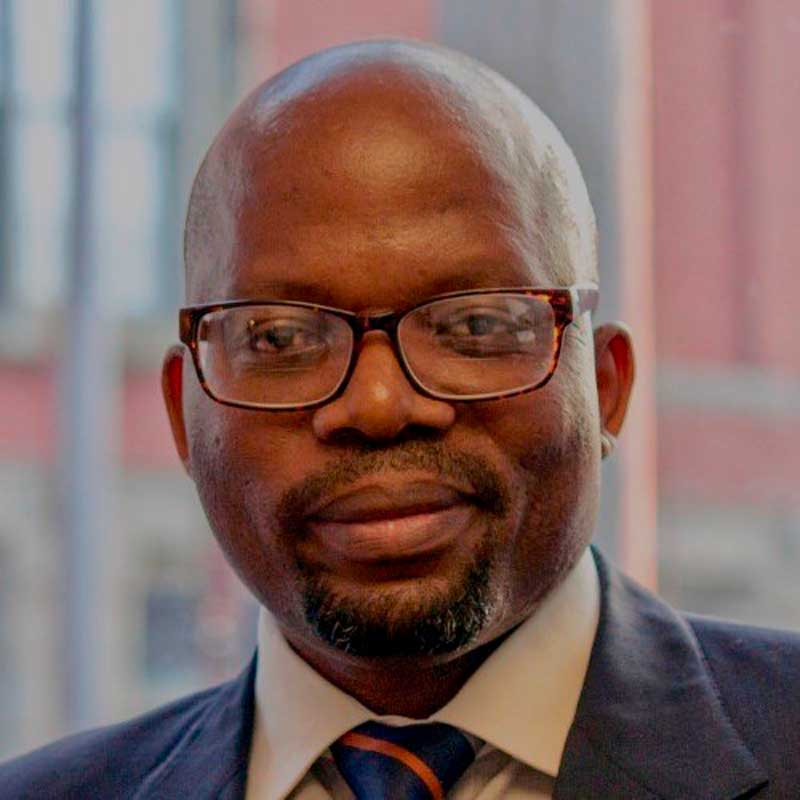 My birth name was Muteba Kalala. When I was baptized, I got a Christian name, Eric Castel. People call me Eric Kalala for short. My friend Stefanie Trice Gill, Founder of IntWork, suggested I call it "Chez Castel" which is French for "Castel's Place." It's not just a store, it's also a place for community members to meet and connect and feel at home.
At Chez Castel, you can experience a bit of African culture – African music and languages, clothes and sandals, and taste the flavors of Africa. When we learn from each other, it brings inclusion and understanding. You stop seeing the other as a stranger, but as a brother or sister. Love of culture is one of the keys that brings people together.
Gastronomy is one of the things that defines populations. You are the fruit of what you eat.
I bring in food, clothes, shoes, and cosmetics that Maine residents from Angola, Rwanda, Burundi, Nigeria, Cameroon, Gabon, Congo Brazzaville, Congo Kinshasa are looking for. Some specialties include misili – a Congolese vegetable (fougère [fern] in French), dried fish and eel, fresh fish, goat with skin, bitiyo, a variety of fresh vegetables, and bulk grains.
When I first got my work permit in the U.S., I worked days installing dish networks and nights caring for people with disabilities. But I was longing to be an entrepreneur again – that freedom, I missed it! When the opportunity came to open a store, I jumped at it. We opened on January 27, 2020, just as Covid-19 was just starting – less than ideal timing! But now the business is taking off. I'm busy now, some days serving over 100 customers per day. I'm enjoying the growth, but it brings new challenges, such as people asking for new specialty food items that are expensive to import from Africa.
And you also led the Chamber of Commerce for Congo, right?
Yes. I earned a Bachelor's Degree in Electrical Engineering then I moved to Johannesburg, South Africa, for ten years, starting two business computing centers and a restaurant.
After returning to DRC, I discovered that many people were trying to start businesses, but there was no government structure to help them, so I started coaching people. I helped companies develop high-quality food products, then negotiated to get them in the supermarkets, who normally only sold imported products.
That's how I became the Co-Founder & General Secretary of the Chamber of Commerce.
While leading the Chamber, I led business delegations to France, Morocco, Uganda, Kenya, Tanzania, Zambia, Zimbabwe, and South Africa. I was in charge of drafting our national strategic plan. We advised the government on how to stimulate development in each sector: agriculture, energy, education, tourism, and infrastructure. I advised the government to organize international salons – or conferences – for each sector. Last year, DRC held the first International Salon on Tourism – I initiated that.
What brought you to Maine?
I like quiet, calm, clean places. I have been to Kentucky, Tennessee, Ohio, Iowa, Maryland, D.C., Pennsylvania, New York, and Massachusetts, and when I visited Maine, I fell in love. People here live a higher quality life and take more responsibility than in big cities. You don't see trash in the street. Here we have many trees and breathe cleaner air. I like that it's laid back, with less crime. As soon as I leave Maine, I miss it and want to come back. I feel safer in Maine than anywhere else in the U.S.
I came here because I believe in free speech, which wasn't supported in my home country. The regime wanted me to join them, but I wanted to stay neutral and not be part of a political party. I'm looking forward to bringing my wife and kids here to live a peaceful life.
How amazing that you led DRC's National Chamber of Commerce! Are you on any leadership committees here?
I've applied for a few, but they never got back to me.
Now that Chez Castel is doing well, many immigrants come to me and ask for advice on how to start their own business. Newcomers also ask for advice on how to process their asylum application (I tell them to get a lawyer), about the health system, car insurance, etc. I also translate for them when they get letters.
Residents are supposed to contribute to the economy of the state where we live, but so many African immigrants who come to Maine end up leaving for other states. I don't see any initiatives from the State trying to retain them. I'd like to help the State develop techniques to retain them here.
What's next for you?
I would like to be part of the first generation of successful Black entrepreneurs in Maine. Maine is mostly white. If there are more prominent Black entrepreneurs in Maine, then other minorities will feel that they too can make it here.
Once my family arrives – my wife is also skilled in running businesses – I want to move into real estate and learn how to flip houses, then open an art gallery and a restaurant. Many people rent for years, but they can use that same money to buy their own properties. Owning one's own land brings stability and increases retention.
Visit Chez Castel at 799 Forest Ave, Unit C, right next to Saigon Restaurant, (207) 618-2909.
---
PelotonLabs is a coworking space in the West End of Portland, Maine with a mission to connect and encourage people working on their own to manifest their visions without fear.