The West End Neighborhood Association (WENA) and Western Promenade Neighborhood Association (WPNA) hosted a candidates' debate for District 2 City Council on October 20th.
All three young progressive candidates were on hand, Rob Korobkin, Wells Lyons and Spencer Thibodeau. Along with the candidates about 50 neighbors attended to hear what they had to say.
WENA Secretary Liz Parsons moderated. She kicked the evening off with a lighting round where we got to the know a few more personal things about the candidates.
For instance, you probably didn't know that Spencer Thibodeau used to collect beanie babies, or that Wells Lyons was a huge fan of the Teenage Mutant Ninja Turtles as a kid. Also revealed, Rob Korobkin is the drummer for a "psychedelic gutter blues" band called Dixon Pendejo Trash-DPT.
It didn't take long to get into the more serious stuff. The candidates agreed in a general way on pretty much every issue. Some attendees left the debate saying they would be happy with any of them. The candidates' differences came out in leadership style and specific policies.
Rob was the most casual of the candidates, at least in his laid back presentation of himself and his ideas. He was not afraid to be personal. When asked what he would do if he lost, he joked, "I'm probably going to have fun."
Rob believes the role of the Councilor is to be a community organizer. Time and again he suggested bringing the community together, using everyone's skills to find solutions, and listening to effected populations.
For Rob the answer is to ask the community, listen to them, and figure out how to harness their collective power to accomplish the big tasks at hand. Whether improving public schools, developing transportation or improving livability, Rob would engage and empower residents.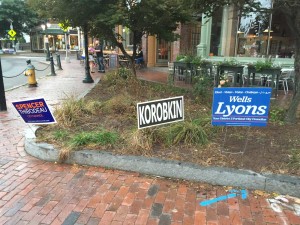 Wells seemed more reserved, calm and prepared. He had the most specific policy responses throughout the debate.
He supports taxing and regulating Air B&B. He said it was time for real time GPS displays for the METRO. He suggested working with the fire department to reduce spending, and said he personally witnessed two fire trucks responding to an emergency that seemed to only need one ambulance. He also supports incentives from the City for homeowners and landlords to build "environmentally stable" housing.
Wells sees the role of the City Councilor to "listen hard" and work within proper channels.
Along the same lines, Spencer believes the Councilor's role is to be a good "team player." He started to sound a bit like Mayoral candidate Ethan Strimling, touting a plethora of endorsements from elected officials who think "collaboration is low" among the current crop of Councilors. Spencer wants to be a new voice in a Council that works well together.
Spencer was incredibly polished for being the youngest candidate, but was stuck on the word "infrastructure."
"We have big city problems. We have to address them, and it comes down to funding," Spencer says.
He suggested more than once the need to take out municipal bonds to improve and develop infrastructure.
It was an excellent debate from three serious young candidates. Voters would do well to study the candidates before making a decision. Each would represent the district's more left-leaning tendencies, but their leadership and organizing skills do offer some contrast. It won't be an easy decision.