The story of how West End jewelry designer Patricia Daunis became known around the world.
by Tony Zeli
A lot has changed in the jewelry world since husband and wife team Patty Daunis and Bill Dunning started over 30 years ago.
"I think it's important to point out, when Patty started with her shows in New York, times were different," says Bill, "Buyers would come by and say, 'Hey, honey, when does the boss get back?''
Patty recalls those early jewelry shows, "When I looked around, I realized I was one of a handful of women. All the people selling jewelry were men. All the buyers were men. The only people who were not men were models, modeling jewelry."
At the time, Patty was worried that nobody was going to take her and her work seriously. So she started entering jewelry contests, and sure enough she started winning.
The turning point for Patty Daunis happened when she won a World Gold Council design contest that netted her budding business $500,000 worth of media advertising. It was around that same time that her husband Bill Dunning joined the team, and they opened up their showroom and workshop on the third floor at 616 Congress Street, where they are still located today.
The contest prize afforded them full page ads in national publications like the New York Times. With that kind of exposure the unique style and craftsmanship coming out of Patty's workshop was bound to get noticed.
The timing couldn't have been better. The industry was changing. Buyers were looking for a fresh approach and new designers.
"We were part of a group of young designers at that time that got a lot of help from the industry," says Patty.
Now Daunis is a destination. Customers from Massachusetts, New York, Atlanta, and the Midwest are ordering custom jewelry from their West End shop.
"Maine products have a great cache. People expect good quality— they don't even expect, they know it's good quality, if it's coming from Maine," says Patty.
A few years back an investment banking company from the Midwest decided an18-karat gold egg would make the perfect retirement gift for their CEO. They gave the artists at Daunis five weeks to craft it.
"It wasn't enough time," says Bill.
"Totally impossible," adds Patty.
Luckily their metalsmiths — including a MECA student, who was given a once in a lifetime opportunity — were armed with the latest in 18th-Century technology and a little Maine know-how.
The egg was designed to be hollow and hold beautiful little items that would remind the client of things from his life. The gold walls of the egg were not even a millimeter thick.
Just as they were nearing completion, they realized that they didn't know how to seamlessly put together the top and bottom halves of this hollow egg. The halves had to line up perfectly, and the process required heating the gold just enough without melting the finely shaped gold.
"The whole thing was very intense," Patty remembers.
It was Bill whom figured it out. As a welder working at Bath Iron Works, he had seen the same problem, only on a much larger scale.
Patty recalls fondly how Bill came up with the solution, "[At the iron works] they would have these gigantic sheets of steel that they would have to line up and weld together. [The steel sheets] couldn't shift and had to line up perfectly, so the same problem as with the egg… By putting flanges on the inside so the top lined up and didn't shift, we were able to solder it together."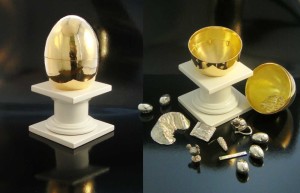 "It doesn't matter how long you do this, and how much experience you have, there is always a project that requires you to jump off a cliff," says Bill.
But it worked, and the egg was done on time, "And it was amazing. … And they loved it," says Patty.
And that is what matters most. Like any artist, Patty wants the customer to love the piece.
"We're not for everybody. We're not trendy, but we're distinctive. People recognize our work when they see it worn by others… It's something that you can wear for twenty or thirty years and still love. It's still distinctive and wonderful, and it never goes out of style. Good design never goes out of style."