POLICE BEAT
Armed Robbery at Cumberland Farms in West End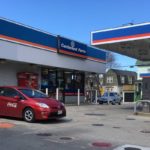 Police were called to the store shortly after 4:18 a.m. on May 2nd. A male armed with a knife approached the cashier, who was alone in the store. The perpetrator threatened the cashier with the knife and demanded that he open the cash register.
The clerk opened the register allowing the man to take an undisclosed amount of cash from the drawer. Before leaving the store, the subject continued to threaten the clerk. He poked the clerk several times with the knife before finally leaving with the cash.
Fortunately, the clerk was not injured. He immediately called 911 to report the robbery and provided a detailed description of the robber.
A few minutes later an officer saw Tek walking near 705 Congress Street. The officer stopped Tek because he matched the description of the suspect. Then, the officer quickly took Tek into custody without incident.
Tek was arrested for Robbery, Assault, Criminal Threatening with a Dangerous Weapon, Reckless Conduct with a Dangerous Weapon and Theft. He was taken to the Cumberland County Jail.
Police remind residents that incidents like these are infrequent. They state that Portland remains a safe city to live and visit.
According to police, the worker handled this incident in a safe, calm and effective manner. In fact, his actions deescalated the situation and avoided injury. Also, he provided responding officers with an accurate description of the suspect. As such, police were able to quickly capture a potentially dangerous individual.