By Mary Alice Scott
As businesses begin to carefully re-open, the challenges they face are immense.
Portland Buy Local overwhelmingly represents micro-businesses. Two-thirds of our membership are businesses that have five employees or fewer, frequently making the business owner-operated.
Local business owners worry for the health and safety of themselves, their staff, and their customers. As they look to re-open, they are purchasing equipment, conducting training, and re-thinking their entire business models.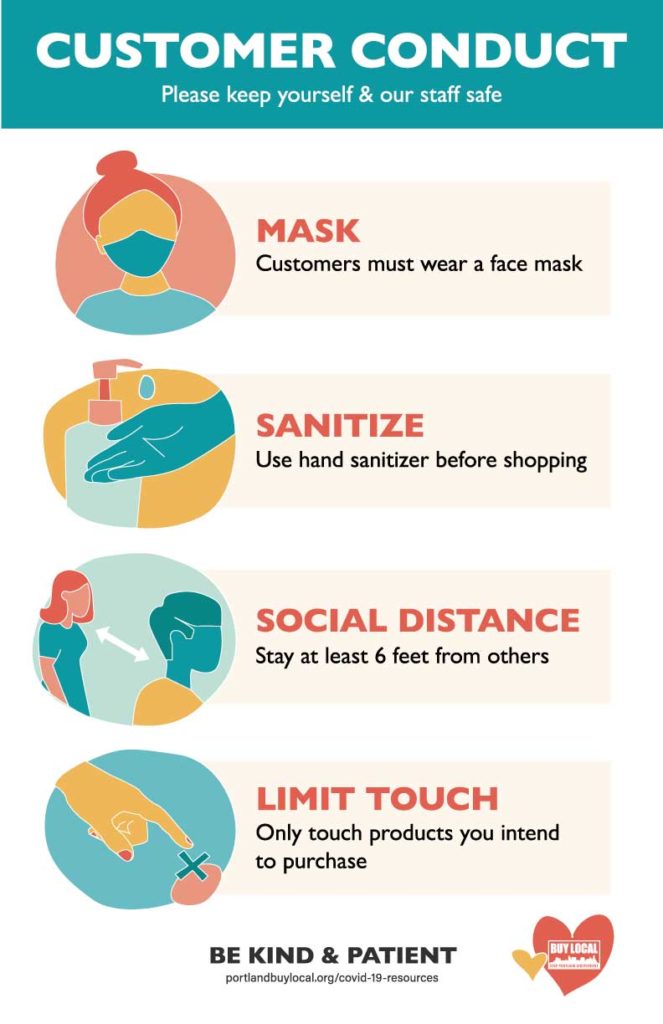 COVID-19 CUSTOMER CONDUCT INFOGRAPHICS
One of the biggest challenges for local businesses looking to re-open is for the employees of these stores. They are the ones who must communicate Covid-19 customer conduct rules and expectations.
Therefore, Portland Buy Local identified the need and created flexible infographics that can be used across our business community. Now customers have recognizable, cohesive guidelines as they start returning to businesses.
Working with a local designer, we created infographic packages to save local businesses time, money, and effort communicating with their customers.
Each sticker set contains 10 stickers that businesses can use individually: Customer Conduct, Mask, Maximum Occupancy, No Cash, Curbside Only, Social Distance, Sanitize, Gloves, At-risk Hours, and Limit Touch.

Soon you may start to see these stickers across town, with businesses each displaying the stickers that are relevant to their location. Hopefully, these graphics make it easier for you, as a customer, to know what is expected of you at any given store.
SPONSOR A BUSINESS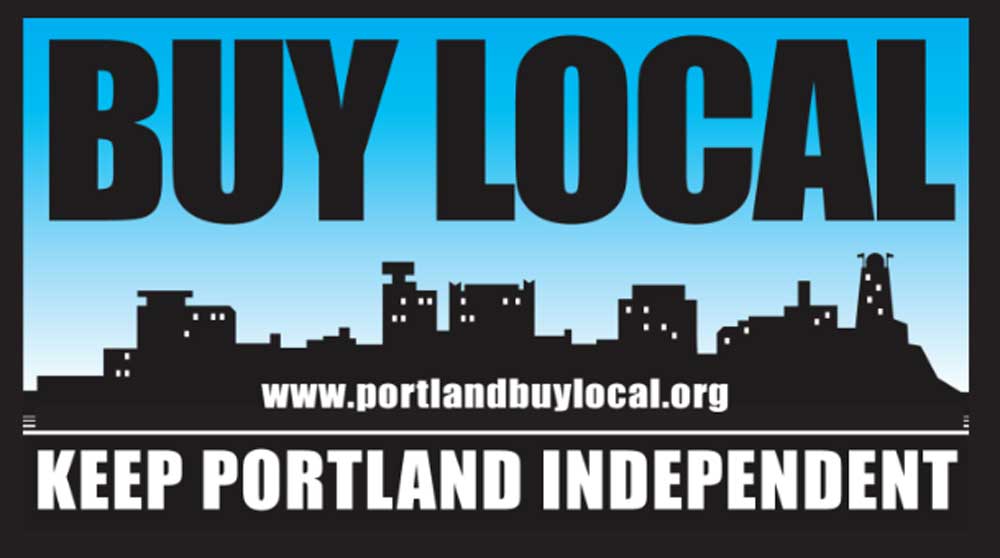 The infographic project is just the latest that we have been working on. Over the last two months, Buy Local and our staff of one has been working harder than ever to support our local business community.
We're advocating for local businesses on the local, state, and Federal level. We've pushed for micro-business grants with the City of Portland. Rallied for non-essential businesses to be able to ship and deliver. Held a town hall with Senator Angus King, and so much more.
To further our support of local businesses during the Covid-19 pandemic, Portland Buy Local is introducing a community-based sponsorship program. If you are interested in supporting the work we do to lift up local businesses, consider sponsoring a business for membership.
Each sponsorship supports a business by providing:
Access to critical digital resources
Ongoing education and consulting
Promotion through Portland Buy Local's website and social media
Connections to financial assistance
Local, state, and federal advocacy efforts raising awareness for the needs of local businesses.
As always, we hope you will keep supporting local businesses, and now, more than ever, please be patient with them. Above all, please consider extending an extra measure of kindness. Owning a small, locally owned business has never brought more uncertainty. Still, our business members are doing everything they can to safely serve our community.
---
Local independent businesses may order Covid-19 customer conduct infographics at https://www.portlandbuylocal.org/covid-infographics/
Mary Alice Scott is Portland Buy Local Executive Director.
Discloser: Publisher Tony Zeli is president of the board of directors and a media partner.