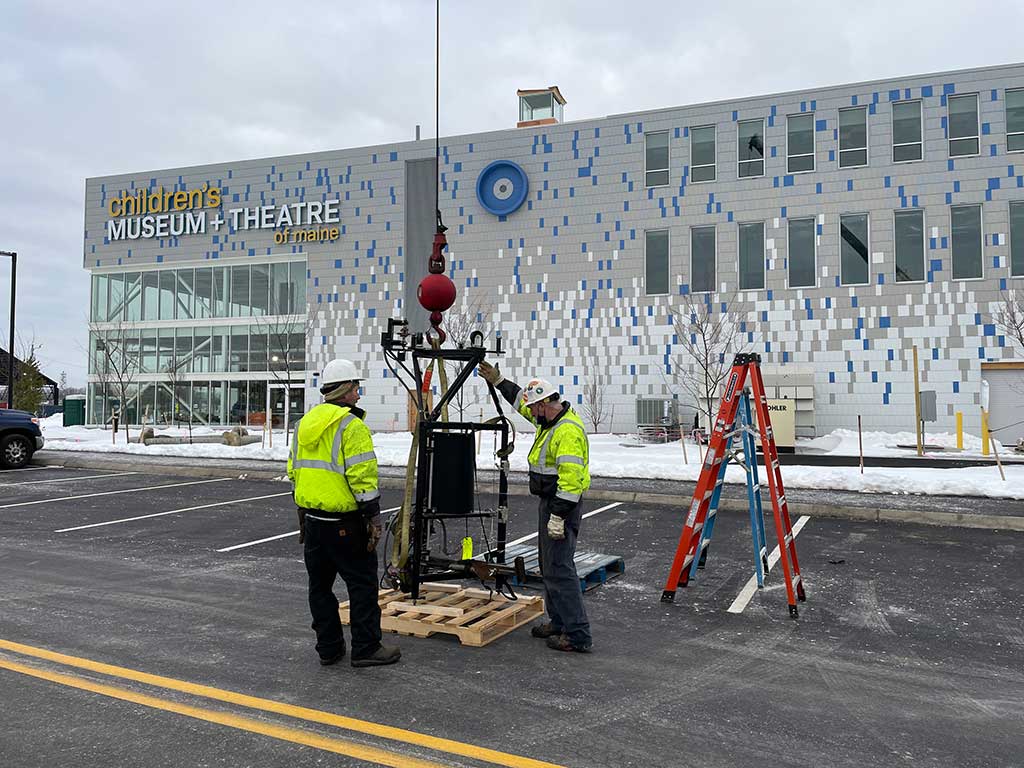 Whether you were out walking the Western Prom on Christmas Eve morning to catch some views or dashing down I-295 to finish up holiday errands, you might have noticed a tall crane at work on Thompson's Point. That crane was making an exciting delivery! As Board members and executive director of the Children's Museum & Theatre of Maine, we are excited to share that, with construction nearing completion, we have passed a huge milestone.
Installing Exhibits
December 24th marked the beginning of exhibit installations at the new facility with the raising of our rare camera obscura onto the roof! When we open this spring and families visit the third-floor science center, they will be able to enter the Illuminate exhibit that is devoted to playing with color and light. The camera obscura offers panoramic views of the Fore River and the city of Portland skyline, as well as Amtrak Downeaster, Portland International Jetport, Concord Bus Lines, and Interstate 295 traffic. Visitors will be able to turn and focus the large camera in any direction.
Also, on the third floor, families will be able to explore how Maine's waterways – from mountain lakes to the sea – are all connected and vibrant with exciting creatures. Children will be able to "meet" frogs, turtles, sharks, horseshoe crabs, and many more species native to Maine. They will also be able to explore gravity through ball and water play exhibits.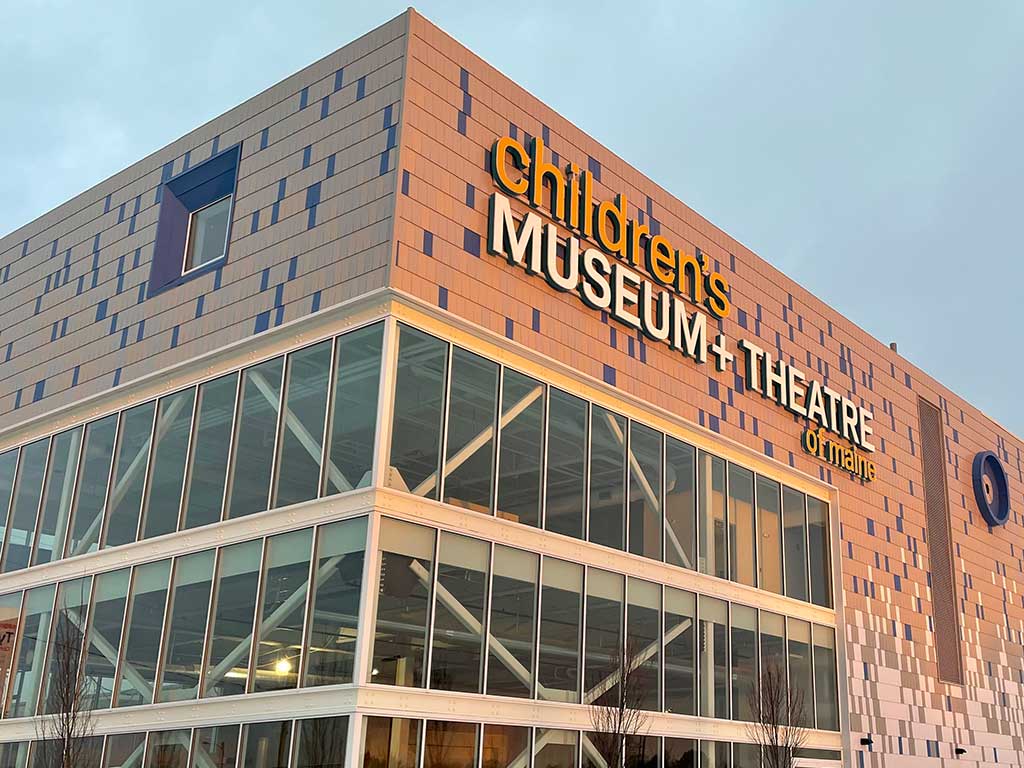 We hope you are as excited as we are about this move from the Arts District to Thompson's Point. The Museum & Theatre's relocation further develops the former railroad site into a cultural hub and popular destination. Our exhibits, theatre performances, and events will join an already growing cluster of businesses and event venues there. The facility's design carefully takes its cue from the proportions of the historic industrial buildings and yet communicates the devotion to children with playful and colorful metal shingles.
Our children, our grandchildren, and our visitors will have a 100-seat state-of-the-art theater; a 10,000-square-foot science center; an entire floor devoted to arts, culture, and community; and a half-acre outdoor play area with a giant climber at their fingertips. All of this will be just a short drive down the road.
Learn More
We've been lucky and grateful to count many West End residents as supporters. If you would like to learn more about this exciting project or get involved through volunteering, partnering, or donating, please feel free to reach out to any of us or to email Julie at julie@kitetails.org. You can also read more at www.kitetails.org.
Submitted by:
Patti Butler, Board Member
Kate Malin, Board Member
Marci Murphy, Board Member
Julie Butcher Pezzino, Executive Director
Kristin Valdmanis, Board President