West End People
Mercy's New President Charlie Therrien
by Tony Zeli
The snow was just staring to fall on a Thursday morning in February. I met Charlie Therrien in the President's office located in the basement of Mercy Hospital's State Street building. More on the future of this building later.
I expected the President's office to be on the top floor, corner room with a view. Honestly, I was pleasantly surprised to be meeting in the professional, but understated administrative offices downstairs from the emergency room.
Charlie Therrien was only a couple months in as President. Still he felt welcomed in the new position.
Charlie Therrein – A New England Guy
I asked what excited him most about this new opportunity at Eastern Maine Healthcare Systems' only Catholic hospital.
He told me that he considered himself a "New England guy" and that while he was very excited for a great career opportunity, he was also happy to come back to Portland.
Charlie grew up in Massachusetts, but lived in the Portland area about twenty years ago. Later, he moved to Connecticut and spent sixteen years as a chief executive at a hospital there. After Connecticut, Charlie became president at Maine Coast Memorial Hospital in Ellsworth, also a member of Eastern Maine Healthcare Systems.
Charlie has thirty-five years of experience in health care and is proud of his new position at Mercy. He accredited Mercy as always having a great reputation, and he looks forward to working with the Sisters of Mercy, who play an important role at Mercy.
What does a hospital president do, anyway?
Well, he definitely does not attend to patients. But, just about anything else you can imagine that a hospital administrator would deal with, he does have some hand in.
"The best thing about being a hospital CEO is the diversity of things that you do. And that's kinda the fun part, because you have to be a little of everything," Charlie said.
By example he related what he had done so far that morning. Keep in mind, it was only nine o'clock. His day began with a 7 a.m. meeting with orthopedic surgeons at the Fore River Campus. I'm sure he wants to keep them happy, Mercy is well-known for their orthopedics department. People travel from far away to have their joints replaced by some of the best.
Following that Charlie worked with a management team on strategic goals. Then he had just finished interviewing a candidate for a position. All this before interviewing with me. By comparison, this meeting was my first of the day.
In general, Mercy's new president says he plans to spend a lot of time making rounds to interact with staff, and making rounds in the community to build key relationships in both healthcare and non-healthcare fields. There is also plenty of development and philanthropy work, facility planning (yes, we will get to the future of the State Street building), contracts, and plenty of regulatory review and compliance (did you know, health care is heavily regulated?).
"You think you've got your day lined up," said Charlie, "but by mid-morning so many different things have come up that refocus you in a different direction."
Jumping from strategic visioning to getting down in the weeds is all part of the fun said Charlie.
A Catholic Hospital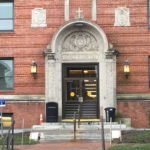 So what does it mean to be a Catholic hospital?
"Very important is the ministry here at Mercy. The Sisters of Mercy have a very strong presence and have been the backbone of what has made this hospital a special place."
Ultimately, being a Catholic hospital means being mission-driven and taking care of all of the people in the community. Something every hospital does, but perhaps is a bit more of focus at Mercy.
Catholic social teachings impact all that they do. It is about taking care of people in need, and it is about being warm and welcoming.
As Charlie put it, "Our people are very open, open to taking care of people at a level that I think is number one."
Charlie spent a lot of time discussing how social issues can impact people's health care and how it is important to impact positive change in their lives outside of acute situations.
Problems such as substance abuse, homelessness, lack of access to food and health care are part of the mission. So Mercy has to work in partnership with other organizations, as they strive to impact people's lives in order to impact their health.
Into the future, all hospitals are grappling with how to package services holistically. Mercy is doing several things on this front. For instance, they have care managers that can oversee patients with chronic situations. Think of it as more of a social services model rather than just treating acute episodes.
Mercy is also building their networks for primary care providers in South Portland, Windham, Gorham, Falmouth and Yarmouth. They are implementing new ways to shift services into the community with less emphasis on traditional hospital activities.
Primary care going forward will be all about packaging with additional services. You won't just see your doctor at their office, Charlie explained, but also your pharmacist, behavioral health specialist and an entire care team.
Future of Mercy on State Street
I told you we'd get here. So, with the Fore River Campus growing, what does Mercy need with an aging location on State Street? Both locations have operating rooms, both have in-patient units and both have plenty of duplicative costs.
Charlie was frank, "We need to consolidate to be more efficient."
He explained that they are still in the planning process.
"We are going through now a very detailed planning process on what would we look like at Fore River… What size hospital are we going to have there? What services are we going to have there? And then we go through a very detailed financial analysis looking at over ten years. Based on the services that we have there, what's the volume, what's the reimbursement and what's our operating costs of what our vision is going to look like there? We are in mid-process of doing it all right now."
For a rough timeline, the planning will continue throughout this year, then there will be regulatory approvals and detailed architectural and construction planning. At the earliest they wouldn't break ground until next year (2018), and then expect two years of construction.
"We're two to three plus years out before anything really happens and before we would be out of State Street," Charlie said.
"There'll be a lot of time to figure out what is going to happen."
But, he said that he will personally, along with others from the hospital, get out to the neighborhood associations and into the community to explain their plans as they take shape.
"We do anticipate and recognize that the community will be anxiously waiting to see what happens."
But he reassured, "There's not going to be a for sale sign going up next week or anything like that…"
Charlie said the Board and the Sisters of Mercy recognize that State Street is very important to the community. In fact, they have determined to keep some presence in the West End, but what that will look like they do not know.
"Because it's emotional here just like it is emotional to the other people, it's very emotional to this community. And we've just have said that it would be nice if we could figure out a way to keep some presence here in this neighborhood. What it would like— It's not a formal commitment. It's just more of a kind of thirty thousand foot [view] as we look at options. Let's see if we can find a way to maintain a presence here and be a good steward of this facility and to the neighborhood."
For now the future of Mercy on State Street is up in the air. But I look forward to seeing Charlie Therrein soon at West End Neighborhood Association meeting with more details on their plans.
West End People Request
If you have someone in mind for a West End People feature, please email us at thewestendnews@gmail.com.
Tony Zeli
Tony is editor and publisher of the West End News. Contact him at tony@thewestendnews.com.