Layne's Wine Gig
CELEBRITY WINES
By Layne V. Witherell
MASSTIGE: Mass produced, relatively inexpensive goods that are marketed as luxurious or prestigious.
There are several reasons why I drink wine. First, I like to enjoy a glass or two with a meal. There is nothing quite like a perfect pairing. Second, of course, there is the relaxing buzz. This article is about nothing like that.
Pick up your smart phone and google up "celebrity wines." There are several things that you will notice beginning with the fact that wine is shamelessly, stupidly popular. There is a celebrity wine out there for you. It has you written all over it. The masstige people have already thought of that.
Now we will take a deep dive into two celebrity wines that may become wildly popular but are vastly different in their message and origin.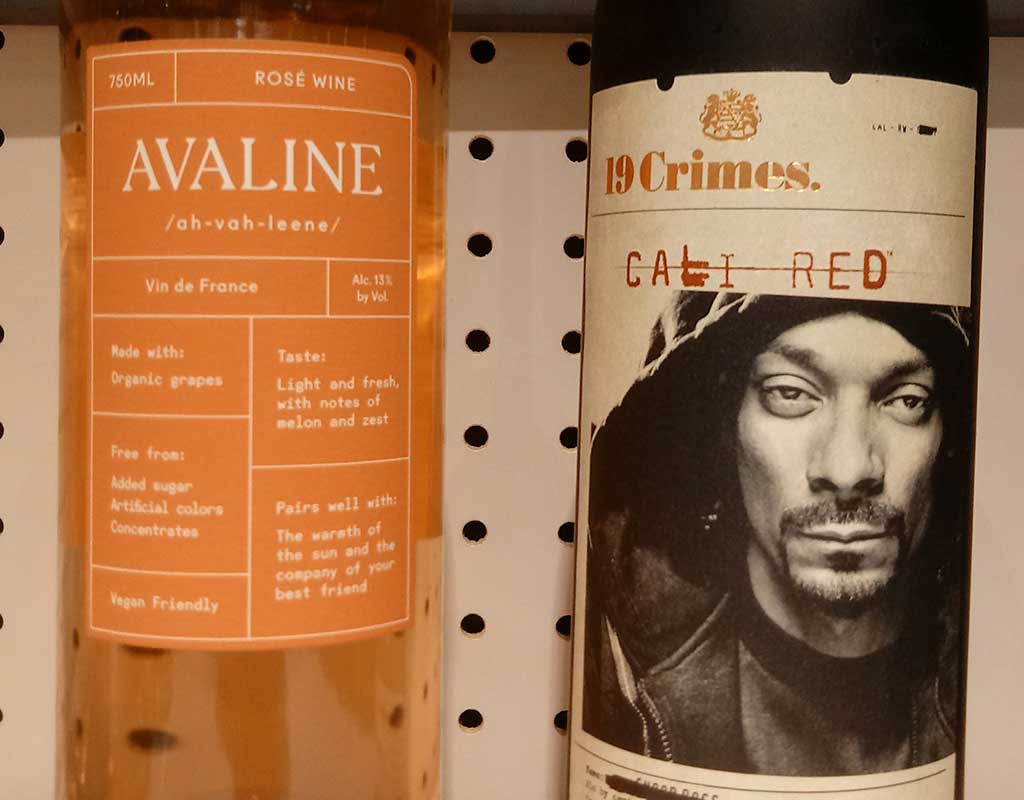 Cali Red Snoop Dogg, 19 Crimes, California, Treasury Wine Estates, $12.00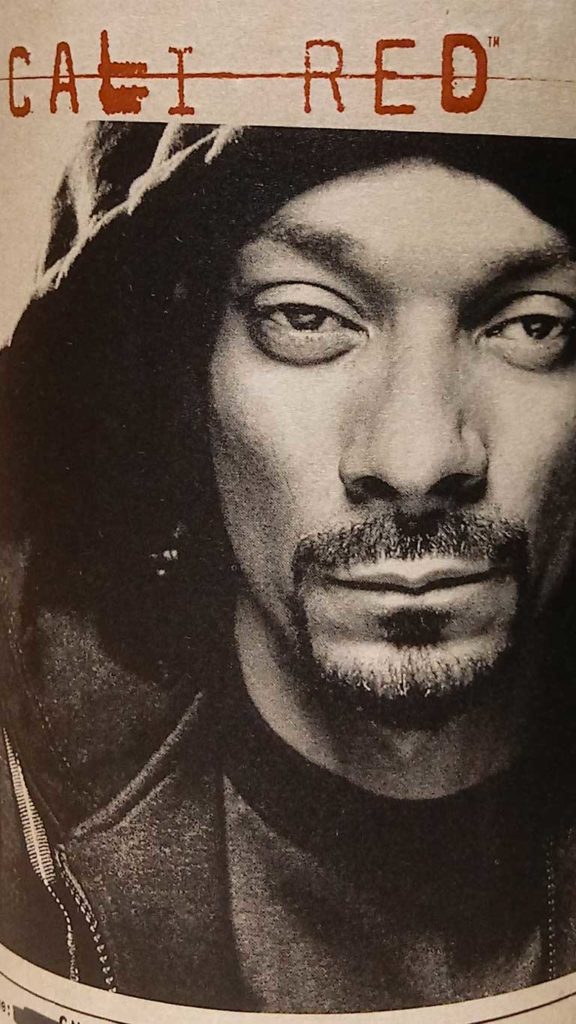 First, there is the label. To paraphrase my favorite writer, Tom Wolfe, "His eyes looked like two poached eggs engraved with a roadmap of West Virginia." There will probably never be a more stone-looking wine label portrait than this. It is a classic in their continuing masstige wine saga: the 19 Crimes.
The 19 Crimes series refers to offences committed in England in the late 1800's to mid-1900's that got offenders shipped to the wild penal colony of Australia. Each of the labels with their accompanying varietals are of an infamous character. Snoop Dogg personifies the modern rogue version of the characters depicted on their labels, webpage bios, and talking apps. FYI: Snoop Dogg's estimated net worth is a cool $150 million. Lots of rappin', lots of swag.
'Gummy bear' wine
The wine is interesting: Not that I do not like it, but it fits into a taste category that I conjured up years ago: "gummy bear, California." It is a familiar Lodi blend of Petite Syrah for roundness and alcohol, Zinfandel for a "background of candied fruit," add some toasted oak chips and a dollop of Mega Purple to round it all out. Perfect, in its own way. Beginner soft and semi-sweet.
He has a new Rose coming out that could take everyone by surprise. A combo of Grenache and Zinfandel from California, the classic Snoop gangsta' look on a bottle of well-made Rose just might be a hit. Rose is still everyone's darling, especially at twelve bucks a bottle.
Treasury Wine Estates is a multinational wine empire based in Australia and Napa, California. Their brands include: Penfolds, Wolf Blass, Beaulieu Vineyard, Sterling, Beringer, and Chateau St. Jean. Iconic stuff to say the least. They are a publicly traded company and live in a world where their stock price is everything.
There was a theory proposed ages ago by wine industry professionals referred to as "trading up." In other words, you start with the cheap stuff and as your wallet and taste buds matured you worked your way up to the great, expensive stuff. With Snoop Dogg's followers there might be an exciting upward path. By imagining a Beringer Snoop Dogg Reserve Cabernet with him poised atop the hood of a vintage Rolls Royce takes the game up a serious notch. Just sayin'.
Avaline Rose Wine, "Clean Wine," Vin de France, $20.00 bottle by Cameron Diaz
In 28 years of wine writing this is the only wine that I not only haven't tried for an article but do not intend to. I grew up immersed in a world of celebrity hype, raised in Los Angeles. The reviews of Cameron Diaz's wines are brutal, with the best quote coming from the San Francisco Chronicle, "the one great clean thing about it is, it is sure to clean out your wallet."
There are several other problems as well, such as meeting none of the natural wine specification standards. Let us look at what she calls "clean wine." Created by Diaz and her business partner, fashion entrepreneur owner of Versed Skincare, Katherine Powe, it is organic, supposedly free of any additives, and created for "discerning drinkers (and friends) in mind, who embrace the pleasures of a whole life and a relaxed approach to wellbeing."
Vin de France, Indeed
Cameron, you did not purchase a vineyard or shell out a ton of money building a winery. All you did was stick your name on an existing winery, go on talk shows, and hype an idea to your eager, craving audience. Great work. It is labeled with the most generic of French regions, "Vin de France." Couldn't we just get a decent Provence Rose instead of the bottom of the bistro barrel for our money?
It is always informative and fun to look at the tech sheet. Most wineries post one online. Her tech sheet is on the front label, announcing a form of mystical purity.
If you think you have a sulfur allergy this could be a problem. Vegan friendly. What does that mean? Although they claim so. If you must play to the whole audience, it is wise to say so, especially on the tech sheet.
If you repeat it often enough on talk shows, and the internet, people believe it is true.
"Pairs well with the warmth of the sun and the company of your best friend." Sadly, you and your best friend have just gotten taken for about $15.00 a bottle in hype. At least you could have said to have it with a "Salad Niçoise" while doing yoga.
What's in there anyway?
Carbs: not listed
Sugar: 0
Sulfur: not listed
Alcohol by volume: %13.00 (usually wines in the so-called "fitness category" run 8.5-9.5%)
Supposedly, Diaz and her business partner traipsed all over, tasting hundreds of wines daily to find the right producer, who is ironically not mentioned on the label. The duo hopes the clean wine will bring "lightness and positivity" to those who drink it.
Alongside the Rose, her White Wine at $20.00-$24.00 a bottle bills itself as, "An everyday, easy drinking white wine."
"I drink it as a spritzer; the white wine over ice cubes, topped off with sparkling water. A true refreshment," Cameron Diaz.
Now, are the ice cubes sent direct to Los Angeles from a pristine microclimate in the arctic and is the sparkling water from the same source? And, what in God's name are you doing making an adorable little spritzer out of a $20.00-$24.00 bottle of wine? I do not begrudge people, namely celebrities, just recently getting into wine, but this is paper thin stuff in a world of terrific wines made by lifelong committed generations of winemakers.
Final Verdict on Celebrity Wines
There are a zillion high-quality vegan or organic producers who sell their wines at a fraction of the price. I would rather spend my $20.00-$24.00 on a quest for great wines rather than these celebrity wines.
Or I could just wait around for a while until Snoop Dogg and Treasury Wine Estates do their Beringer Reserve Napa Gangsta Rapper Cabernet Sauvignon with a miniature Rolls Royce key chain necker on the bottle. That is worth waiting for… And it doesn't even need a pristine little piece of polar ice cube to cool it down.
Wine has always been a complicated subject. But when you reduce it down to #ZoomNights, #Keto, #Yoga, and #TooMuchTime on their hands, wine just becomes another adorable celebrity play toy.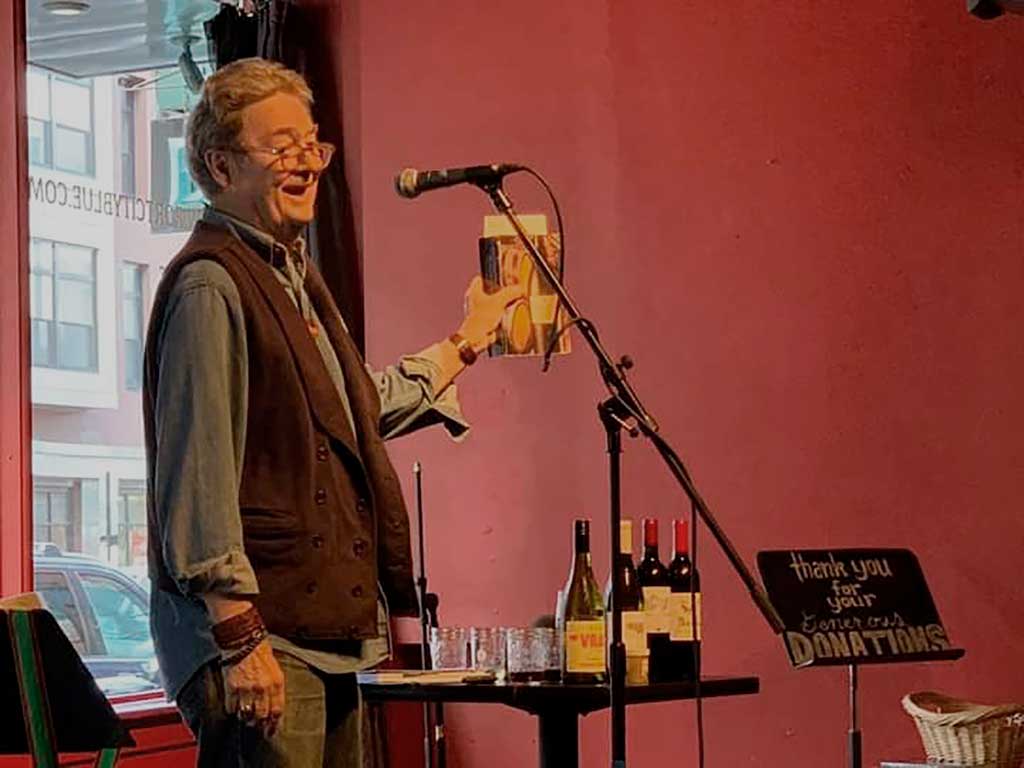 Layne V. Witherell has been a professional in the wine business for many decades as a teacher, importer, writer, competition judge, and winery CEO. He was awarded the Master Knight of the Vine for his pioneering work in the Oregon wine industry.
Read more from Layne at http://winemaniacs.wordpress.com/blog.