Every Month PelotonLabs founder Liz Trice interviews a Peloton member or artist for the West End News. This month Liz caught up with Christine Morgan (a.k.a Cam the Artist), whose abstract expressionist show "ARTmosphere" opens on February 1st at PelotonLabs (795 Congress Street, Portland), 5:30 to 7:30 p.m.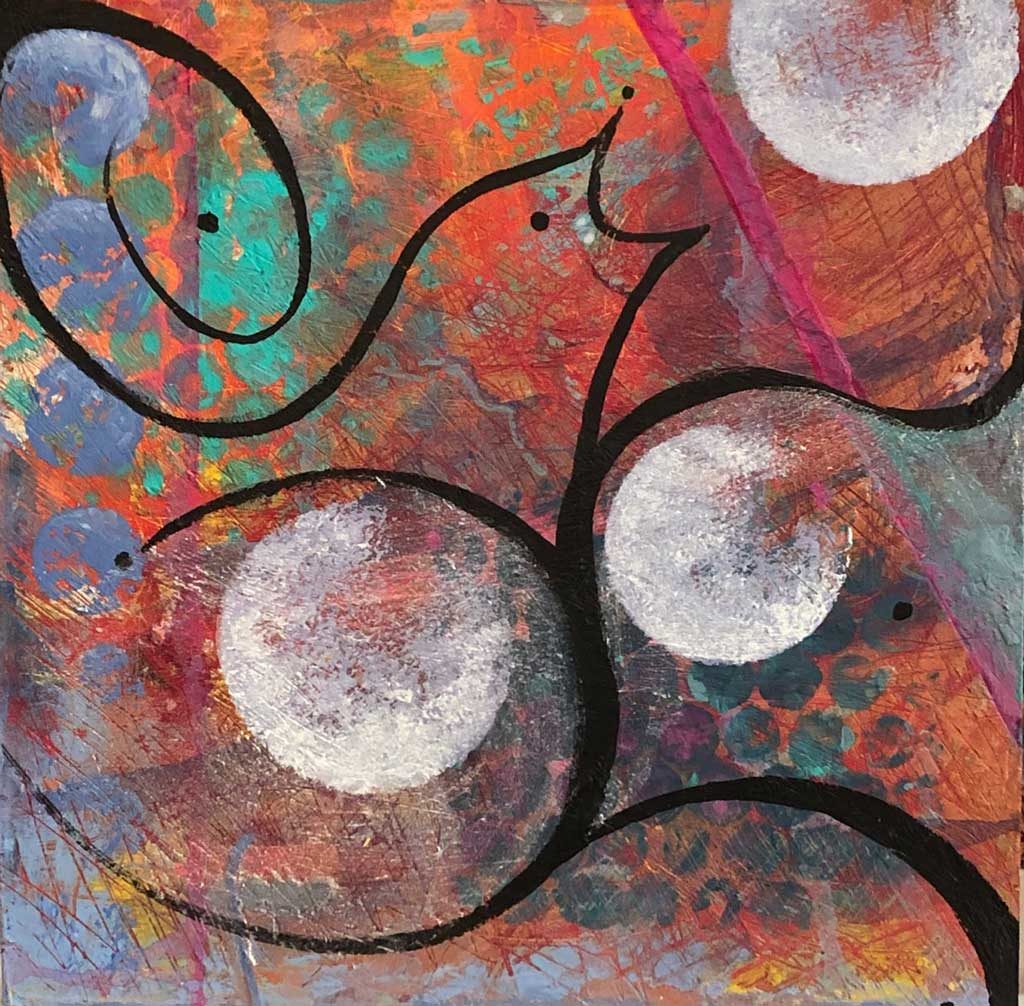 What's special about this show?
My love of Maine – sunsets, seasonal colors – inspires in me the desire to paint abstractions that lend themselves to interpretive communions between viewer and my paintings. I love painting with color palettes that stretch the boundaries of how texture works with oil and acrylic — a layering of color on color. As an artist, you're always looking for a unique color palette, and the use of texture – thick, knife paste-work — pushes the color to the surface. This technique is on display at my current show.
I love the Russian abstract painter Wassily Kandinsky – he's an artist who did textural and collage work and was one of the first artists that really made use of bright hues right out of the tube. His use of geometric shapes, such as associating circles with peaceful emotions and being representative of the human soul, was brilliant, in my opinion.
You started out as a graphic designer, correct?
Yes. I first worked for a newspaper, and then did graphic design campaigns, such as ad posters for banks for almost fifteen years. Unfortunately – or fortunately! – due to health problems I could no longer work a nine-to-five job, so I moved into financial planning, which afforded me more flexible hours. Part of my ongoing health issues were the result of several concussive car accidents. I get joy and creative relief from painting which helps me deal with my pain levels.
How does making art help you cope with pain?
Studies have demonstrated that art therapy can help with chronic pain. I agree. It actually changes my brain direction – literally displaces me, removes my mind, from the chronic pain cycle. If you can focus on something that gives you so much pleasure – it helps push the pain down and allows you to better concentrate on my art.
Would any focus bring relief from pain, or is there something special about art?
Art is all I've known. I've moved from creating art sitting at a computer all day as a graphic designer to now being allowed the freedom and flexibility to sit, stand, lie down, and let my whole body tell me how and when to create art. Whenever you focus on your passion, it makes whatever you do more enjoyable. In the studio, I like to put on a documentary about an artist, and I'll paint, and the outside world drops away. I can let it all go.
Tell me about your role as curator for other artists?
I was approached by Quincy Hentzel, chief executive officer of the Portland Regional Chamber. The Chamber has a wonderful space, and together she and I collaborated to take advantage of this gallery-like space to give local artists, especially new ones, the chance to show their work and hopefully gain visibility.
A lot of galleries in the area are closing. It's rewarding for me to help find Maine artists that have the talent and the drive to exhibit. I want to give them the help that I had starting out. And if I can be a mentor – even better!
You said galleries in Portland are closing?
In the last decade, at least a dozen or so prominent galleries in Portland have closed. Mortar and brick storefronts, like retail, are expensive, so many galleries are choosing the virtual, online route.
What Peloton is doing – businesses collaborating with artists to exhibit art – that's the way things are going. Thank you so much for allowing us to exhibit with you.
It's our pleasure. We occasionally have to go a few weeks without art, and it's always depressing. It really reminds us how much life and warmth art brings to a space.
You can see Cam the Artist's work at PelotonLabs during February and March, and online at http://www.camtheartist.com.
Her next new show of Maine Artists will be in the month of April at the Portland Chamber of Commerce.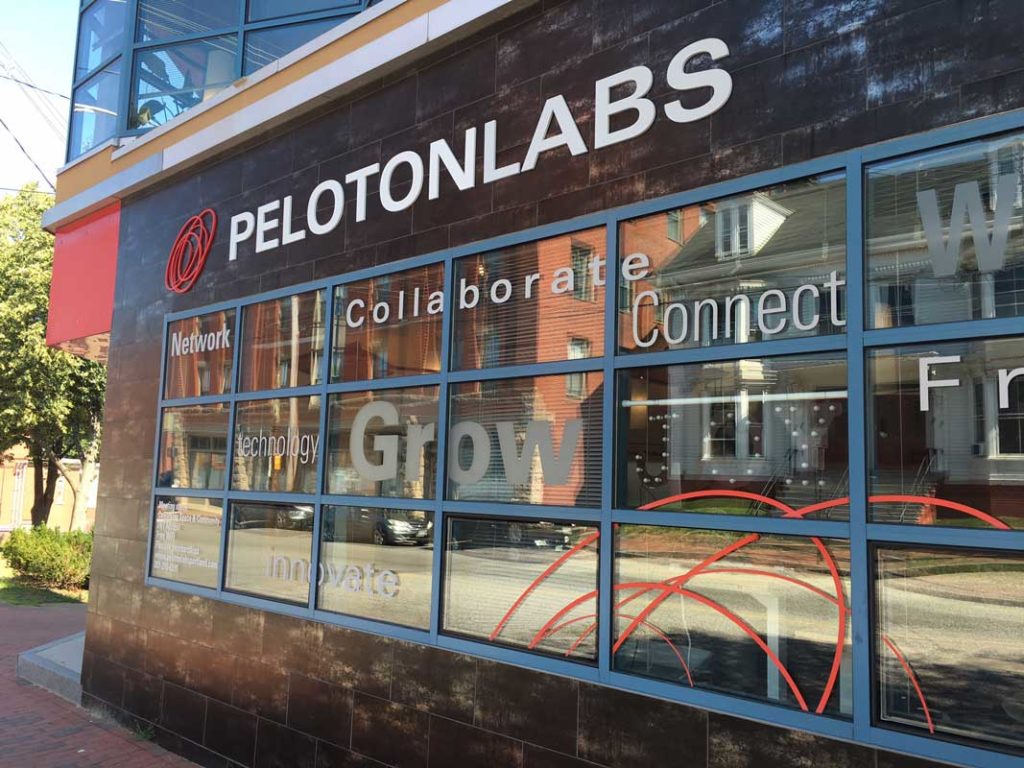 PelotonLabs
PelotonLabs is a coworking space in Bramhall Square in the West End of Portland, Maine with a mission to connect and encourage people to improve their lives and contribute to the world around them.