by Lindsay Sterling
One Saturday night, twenty people were gathered in a Portland kitchen for a hands-on cooking class. As head chef and host, I shared with the attendees my quest to learn how to cook an authentic dish from every country in the world from a native. Thanks to a whole bunch of kind immigrants in the Portland area, I was about seventy countries into my journey around the world, and had about 130 or so more countries to go.
When the attendees broke into groups to make components of the Bolivian meal I was teaching, a gentleman in his thirties came up to me and offered, "I'm from Trinidad. I can teach you a dish."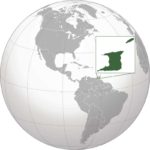 I was thrilled. Trinidad and Tobago (rhymes with Sebago) would be the next country in my culinary journey, thanks to South Portland resident, Steve Fortune, a software engineer at Tyler Technologies in Falmouth.
Two months later in Steve's condo, he filled me in on his homeland. Trinidad and Tobago is a country made up of two islands in the Caribbean. It's south of Barbados and Granada, and about six miles off the coast of Venezuela. Even though the islands were colonized for over four centuries by Spain and England, the food, he explained, is a blend of African and Indian cultures.
Large numbers of African slaves had been brought to the island to work on the sugar plantations. When slavery was banned in 1833, a light version of slavery, indentured servitude, continued for eighty more years. This lead at least 147,000 people from India to come to the islands to work in the sugar fields. Steve's dad's ancestors were African; his mom's were Indian. Today, there are no slaves or indentured servants, and jobs in agriculture are just three-percent of the work force.
Steve's favorite dish from Trinidad is a potato curry eaten with homemade flatbread. The dish is called, buss up shut, which is Trinidadian creole for "busted up shirt." The name refers to the worn look of the flatbread that you use to scoop up bites of the curry. As Steve showed me, you actually beat the flatbread in the pan to get it all broken in and soft like a pair of worn-in jeans.
The potato curry was easy to make and delicious. You cook garlic, onions, oil, water and curry powder into a paste. Toss in potato wedges. Add water to almost cover the potatoes, and cook them until they're almost soft. Add garbanzo beans. Your dish is done when everything's cooked, and there's no water left.
Because it was the tail end of a long winter when we cooked together, I couldn't understand: "Why would someone from a Caribbean island come to live in Maine?"
His response, "There's just too much sun and sand there. It's hot all the time. I prefer the cold."
When he was finishing up high school in Trinidad, he looked for colleges in North America with good engineering programs. He picked the University of Maine Orono. After studying electrical and computer engineering there, he got an MBA, and then a job in software.
He says he never misses the heat. He did miss buss up shut, though. On a trip home from college, he had his mother teach him how to make it. Now, he can have the best of both worlds: snow and his favorite Caribbean soul food.
Visit http://ImmigrantKitchens.com for favorite authentic recipes from around the world, live cooking classes and special events.
Lindsay Sterling
Lindsay is chef-author of ImmigrantKitchens.com, an online cookbook and cooking class series featuring authentic dishes from around the world.