Shipyard to Donate $20,000, Release Commemorative Cans for 20th Beach to Beacon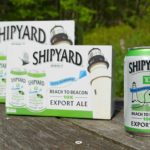 In honor of the 20th running of the TD Beach to Beacon 10K (held Saturday, August 5th in Cape Elizabeth), Shipyard Brewing donated $20,000 in gift cards to the 20 charities that have been annual beneficiaries of the iconic Maine road race.
Shipyard will donate $1000 in gift cards to each of the Maine-based non-profits. Gift cards can be redeemed at Shipyard and Sea Dog Brewing establishments in Maine and New Hampshire. The charities will auction off these items on their respective Facebook pages, websites and social media outlets. Thus, they can use the funds to further their various efforts. The auctions run through Monday, August 7th.
A list of the charities can be found at http://www.beach2beacon.org/history-of-race-beneficiaries.
Shipyard and Beach to Beacon – 20 Years of Sponsorship
The race was founded in 1997 by legendary Maine athlete Joan Benoit Samuelson, winner of the gold medal in the 1984 Olympics women's marathon and Maine's most famous athlete.
"The Beach to Beacon has a twenty-year history of helping Maine charities," Shipyard co-founder Fred Forsley says. "In honor of that fundraising history, we want to offer some extra financial help and shed some additional light on all of the groups that Joanie and the race have helped over the years."
Shipyard sponsored the first Beach to Beacon 10K and has been a sponsor ever since.
Commemorative Cans
In tribute to the race, Shipyard has released a special TD Beach to Beacon Export Ale can in Maine. The commemorative cans are available in six-packs and twelve-packs in select stores in Maine.
TD Charitable Foundation
The race supports a different Maine charity each year by providing a $30,000 donation from the TD Charitable Foundation, the charitable giving arm of TD Bank. This year's beneficiary – Let's Go! – is a program of the Barbara Bush Children's Hospital. The program helps prevent childhood obesity by increasing physical activity and fostering healthy eating.
More information on the race can be found at http://beach2beacon.org.