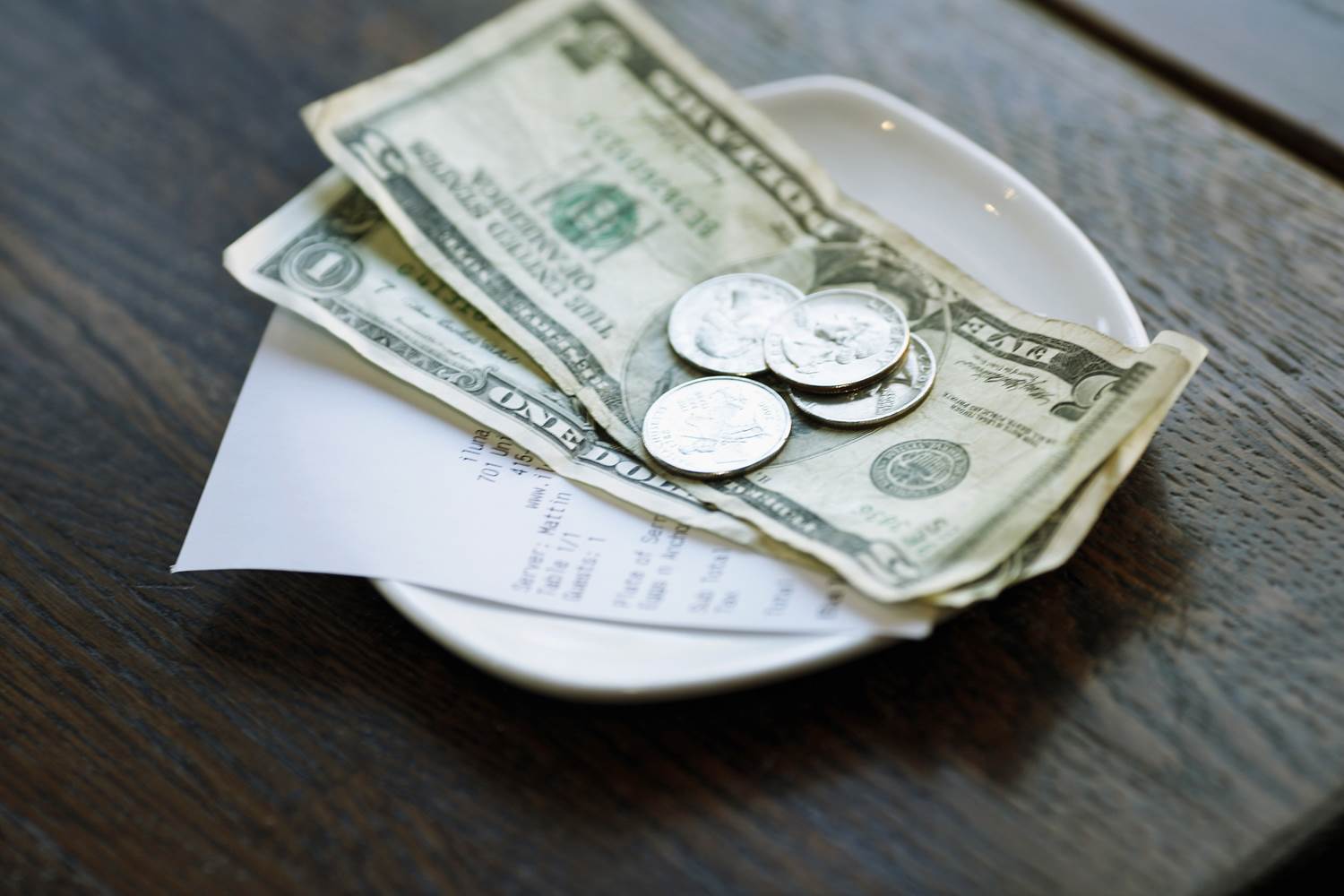 by Adam Marletta
I enjoy eating out in Portland's exceptional dining scene, and do so frequently. But when it comes time to calculate the server's obligatory tip at the end of the meal, I begin to feel a bit like Steve Buscemi's "Mr. Pink" in the opening scene of Reservoir Dogs.
"I don't tip," he flatly informs his incredulous criminal co-conspirators when their breakfast bill arrives. ". . . Alright, I'll tip if somebody really deserves a tip. If they really put forth the effort, I'll give 'em something extra. But I mean, this tipping automatically . . . It's for the birds."
Don't get me wrong: I have great admiration for anybody who works in a restaurant—especially the waitstaff.
As a teenager, I spent most of my summers working in the kitchen of an overpriced, seasonal restaurant in Kennebunkport. I did not work for tips, but it was probably the most labor-intensive job I have ever had, nonetheless. The kitchen was frequently loud, hot, and marked by the constant chaos of people wrestling their way through small, narrow spaces. Most of my co-workers were high-school dropouts, drug addicts, former military enlistees, or some combination of the three. They would routinely lock me inside the walk-in freezer while they ritualistically covered my car in Saran Wrap.
(My boss, incidentally, did nothing to halt these adolescent shenanigans, which inevitably took the place of the kitchen prep-work we were ostensibly being paid for. Yet people legitimately cannot understand why I hate work and bosses . . .)
But in the absence of a flat base wage (ideally at least $15 an hour), customers are essentially forced to subsidize the restaurant's employees.
Yet, the restaurant industry is one of the few commercial venues where this occurs. We do not, for instance, tip the clerk at the grocery store, the coffee shop, or at Wal-Mart or McDonald's. (Mr. Pink points out this contradiction as well: "Society says, 'Don't tip these guys over here, but tip these guys over here.' It's bulls@&$!")
Should we be tipping our nurses, teachers, and firefighters, too? Not only are these erratic distinctions between tipped and non-tipped work inconsistent, given that the majority of restaurant servers are women, they are inherently sexist as well.
(According to a 2014 story in Truthout.org, the restaurant industry is the "single largest source of sexual harassment charges" filed with the Equal Employment Opportunity Commission [EEOC].)
Of course, the reasoning behind servers' insultingly low wages (in Maine they make $3.75 an hour) is obvious: This is how the restaurant makes a profit. And let's get real: For all a restaurant's lofty marketing about providing customers an "intimate atmosphere," with "innovative cuisines," it is still a business. It exists for the same reason any business does: To make money.
Restaurant employers can justify these dirt wages because servers also receive tips. But the problem with tipping, as Mr. Pink makes clear, is it is completely optional. As such, it is not a guaranteed form of income. Restaurant waitresses are completely beholden to customers' highly subjective good graces just to make ends meet.
Another problem with tips is they can be subject to wage theft, which is rampant throughout the restaurant industry. Including a server's tip on a debit or credit card — as is increasingly becoming common practice for perennially cashless customers — can result in a delay in her receiving the money—or not receiving it at all. Such practices are far more common than I suspect the public realizes. (As such, it is recommended diners tip in cash, whenever possible.)
And this is to say nothing of the erratic, hit-or-miss schedules waiters and waitresses regularly work. With no guarantee of a full-time schedule from week to week, how is one able to be assured of making the rent, or paying for childcare and other necessities?
The topic of the minimum wage is back in the local spotlight again. The liberal advocacy group, Maine People's Alliance (MPA) has placed a statewide referendum to raise the minimum wage to $12, on the November ballot. If passed, the measure would gradually increase the state's minimum wage until it reaches $12 by the year 2020. It would also increase the sub-minimum wage for tipped workers "on a gradual basis," according to an MPA press release.
MPA's initiative is a positive step in the right direction, though it should be pointed out that $12 is still not a livable wage for a city as increasingly expensive as Portland.
The Portland Chamber of Commerce and its bourgeois allies in the business community crushed a similar referendum to establish a $15 minimum wage, last November. Those same anti-worker forces are, predictably, wasting no time mounting their opposition to this latest referendum question.
Michelle Corry, owner of the high-end Five Fifty-Five on Congress Street fired the first salvo.
In a widely read March 22 "Maine Voices" op-ed in the Portland Press Herald/Maine Sunday Telegram, Corry denounced MPA's minimum wage referendum, claiming it would "wipe out" the restaurant industry's "margins."
She is, actually, correct if we assume by "margins," Corry is referring to her restaurant's profit margins.
Corry, sounding like a typical right-wing bourgeoisie, goes on to claim her waitstaff would prefer to "hustle and create their own destiny," rather than rely on a "set wage."
"The employees at my restaurant would always choose their own initiative," she writes.
Never mind that the psychology of tipping is, again, completely subjective and, as such, varies from one customer to the next. In other words, a first-rate waitress could bust her hump delivering exceptional, over-the-top service, and still receive a lousy tip—or, for that matter, none at all.
This is precisely what happens to author, Barbara Ehrenreich, in her landmark expose on the plight of minimum-wage workers, Nickel and Dimed. While working "undercover" as a waitress in Florida, Ehrenreich finds the "Visible Christians,"—"all jolly and sanctified after Sunday night service"—to be among the worst customers when it comes to tipping. They "run me mercilessly," she explains, "and then leave me $1 on a $92 bill. Likewise, there is the "guy with the crucifixion T-shirt who… leaves no tip at all."
What Corry does not disclose in her op-ed is that she is the vice chairwoman of the Maine Restaurant Association, the state chapter of the National Restaurant Association, or what some activists refer to as "the other NRA." (MRA secretary and restaurant owner, Steve DiMillo, has been equally vocal in his opposition to raising the minimum wage.)
The NRA has been the chief proponent for maintaining the tip credit, which keeps the restaurant industry's national sub-minimum wage as low as $2.13 per hour. Additionally, according to the aforementioned Truthout article, the NRA has "actively opposed legislation like the Pregnancy Discrimination Act and the Family Medical Leave Act."
"In general, the trade group is not pleased with the advancement of women's equality in the workplace," the article states, ". . . they've even opposed the Paycheck Fairness Act."
Colleen Kelley, owner of Silly's Restaurant, likewise opposes raising "tipped peoples wage [sic]," according to a meandering, seemingly haphazardly written post to her "fans and friends," on the restaurant's website and Facebook page.
In the post, Kelley informs readers she prefers a "training wage" (whatever that is…) and a wage for "students/working papers/teenagers." (I'm assuming "working papers" is a veiled reference to undocumented immigrants . . . ? Whatever she means by the phrase the sentiment is highly out of step with Silly's overall liberal, environmentally-conscious eatery atmosphere.)
Again, Kelley is taking her talking-points directly out of the right-wing playbook. "Minimum wage jobs are not 'real' jobs, therefore, those who work them do not deserve a 'real' wage," these capitalists maintain. Or, "Minimum wage jobs exist merely for teenagers, high school or college students, so they can get work experience." Never mind that the average age of a minimum wage worker, according to the National Employment Law Project, is 29. This elitist argument is not only false, it smacks of a reverse form of ageism.
But it's all good, because below her poorly written "letter," Kelley assures patrons Silly's "buys & supports local maine [sic] family owned business' [sic] plus we recycle big time!!"
Well, that's a relief! She may not pay her workers what they are worth, but dammit, at least she is doing her part for the environment!
Workers should not have to rely on charity in order to make ends meet. In the words of the late author, Eduardo Galeano, "I don't believe in charity. I believe in solidarity."
Keep in mind, any discussion of the minimum wage is still one of reform over a complete economic restructuring of society–which should, I believe, be the ultimate goal of the left. Workers should own and control their own workplaces, and, as a result, their own economic and political destinies.
But until that broader, far-reaching goal is achieved, raising the minimum wage to a living wage, indexing it to the cost of inflation, and abolishing the practice of tipping (not just for restaurant workers, but from all industries) are concrete, tangible measures we can and should pursue in the here and now.
So, chant along with me, now: "City Council/Paul LePage/Workers need/a living wage!"