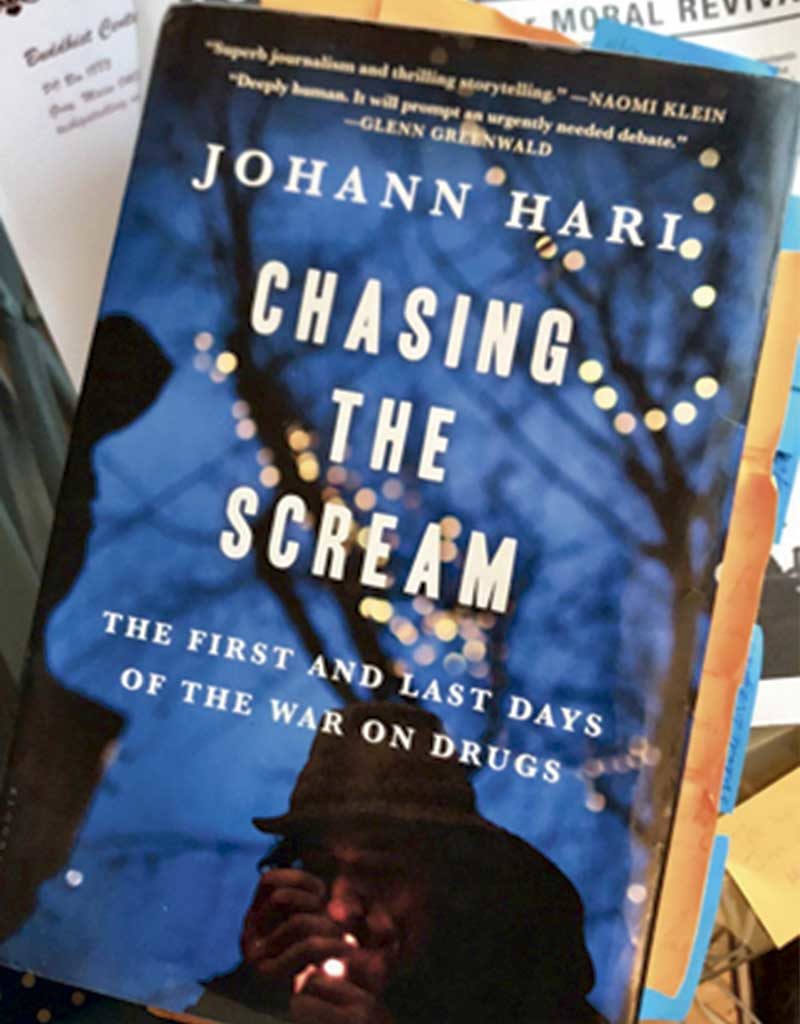 By Kelly F. Merrill
The harm reduction movement is creating a buzz in Portland with its compassionate and evidence-based approach to addressing the opioid crisis. Last week the Coalition for Sensible Drug Policy hosted the Lead with Love event, an educational and awareness initiative held in Monument Square as part of a state-wide effort to mitigate the harm wrought by the Opioid Epidemic and the failed 100-year War on Drugs.
In addition to preventing overdose deaths, the Lead with Love campaign seeks to eradicate the systematized discrimination inherent to our current system, which criminalizes substances and the people who use them.
The Coalition, made up of the Portland Overdose Prevention Society, Maine Family Planning and Maine People's Alliance, has instituted a multi-faceted approach to addressing what it calls a humanitarian and public health crisis. In particular, the initiative favors decriminalization of drug possession as well as expanded access to syringes and safe injection sites.
HUMANITARIAN & PUBLIC HEALTH CRISIS
How many reasons are there to support harm reduction policies? In 2017, there were 72,287 in the U.S., when there were more lives lost to the opioid epidemic than to the Vietnam, Iraq, and Afghanistan wars combined – drug overdoses driven by illicitly manufactured fentanyl, which now can be found in heroin, cocaine, methamphetamine, and illicit anxiety drugs.
But that's just where the casualties begin. Each of those 72,287 people leave behind parents and children, grief-stricken families, and eviscerated communities. There isn't a place in America that is not reeling from the violence of it.
According to the 2012 report by the Global Commission on Drug Policy, in addition to overdoses, deaths, mass incarceration and trauma, the War on Drugs specifically is driving the epidemic spread of HIV among drug users. Additionally, rates of Hepatitis C infection, described by the World Health Organization as a "viral time bomb," were found in Maine to be four times the national average in 2015.
IN MAINE
Our state has been particularly hard-hit by all facets of the crisis, which are pervasive and far-reaching. At one end of the spectrum, pain patients can't get access to care, and at the other end of that continuum, more than one person dies of drug overdose in Maine every day. In addition, rates of incarceration have skyrocketed as prisons fill with patients who should be receiving treatment. The impact of this approach further marginalizes and ostracizes people, who then experience barriers in access to housing, education, and employment.
In addition, these approaches create the most susceptible of invisible victims – children who have been traumatized, displaced, and unmoored. Their circumstances and ACE scores (Adverse Childhood Experience) indicate that without significant support systems in place, they themselves are set up for a whole host of devastating health consequences, including susceptibility to substance use disorder itself.
A PATH FORWARD
Successful decriminalization of simple possession would mean that Mainers could come out of the shadows and openly seek help for issues pertaining to safe substance use and the treatment of substance use disorder – without ripping apart the fabric of our communities.
"It's time," says Lizzy Handschy, one of the co-Executive Directors of Portland OPS, "for elected officials to rethink how to address the opioid crisis. Instead of criminalization, we need to embrace compassion," urged Handschy. "Instead of relying on outdated policies that lock people away, we need to embrace smart, evidence-based reforms that save lives."
Such reforms include needle exchange programs and overdose prevention sites, where people will be able to use substances in a safe space with access to sterile equipment, trained personnel to administer Narcan in the event of overdose, and immediate, seamless access to support should they wish to stop using drugs.
WILDLY SUCCESSFUL HARM REDUCTION MODEL
The harm reduction movement is not some far-flung theory. It is modeled after the incredibly successful system of decriminalization instituted in Portugal in response to their own public health crisis. In the late 90's, overdose deaths were rising, the country had the highest rate of drug-related AIDS in the European Union and the second highest rate of HIV among IV drug users.
And the results of Portugal's comprehensive drug decriminalization program are stunning. Since Portugal decriminalized drug use, the number of people voluntarily entering treatment has increased significantly and incarceration for drug-related offenses have plummeted. In addition, HIV and Hepatitis C infections, overdose deaths, and problematic drug use have all sharply declined.
So it is no surprise that the American Public Health Association, the leading public health organization in the country, called for an about-face with regard to drug policy in the U.S., condemning it as a "severely flawed engine of mass incarceration" that has only increased the harms of drug use while contributing to the alarming violence created by the criminalization of substances and people. And that was at the end of 2013, when the opioid crisis was just rearing its head.
If our lawmakers are interested in protecting the public health, these are the measures that work.
Kelly Merrill
Merrill is an activist and artist. She has navigated medical systems and pursued relief in the U.S. and South America and is informed by her experience consulting with experts. She has worked as a paralegal at an FDA law firm in Washington, D.C., where she also wrote for Dietary Supplement & Food Labeling News.