By Charlie Therrien
While hospitals and providers are always innovating and looking ahead to the next cure and newest procedure, it's important to look back at how far medicine has come. For Mercy Hospital, the year to reflect on is 1918. That's when our hospital was founded by the Sisters of Mercy. Healthcare looked very different back then, but it's interesting to see how some things remain the same.
A century ago…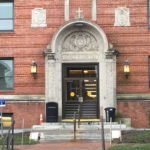 As Portland was battling a Spanish flu pandemic, the Sisters of Mercy answered the call to help. They cared for the sick, but around every corner they found the need outpaced capacity. Their work eventually led to what Mercy Hospital is today. First opening as "Queen Anne's Hospital" on the corner of Congress and State Streets, it moved a few blocks to 144 State Street in 1943. Since that time, Mercy has added programs, services, and new campuses.
Fast forward to this year…
Our region witnessed an extremely difficult flu season — exactly 100 years after the founding of the hospital. While medical advances have dramatically improved our ability to fight disease, the mission and values of the Sisters of Mercy are as critical to healthcare today as they were at the turn of the last century.
Founded out of a deep concern for the needs of all people, regardless of their station in life, the Sisters' and their dedication to the community remain unwavering, and their values are amplified and carried forward by all who work at our hospital. Today, our mission-based programs provide our neighbors shelter, care, and hope. Gary's House offers an affordable and comfortable home-away-from-home to families in their time of greatest need, and McAuley Residence offers women and their children safe housing and a supportive, results-based road to recovery.
The Community Hospital
Mercy is proud of its unique role serving as "the community hospital" in greater Portland. Our doors never close, and we never stop caring for our patients. Moving forward, there will undoubtedly be new medical innovations that will help advance the health of our community. But something that will remain a constant is the personal and compassionate approach to care that Mercy will continue to provide to our families as it has done for generations.
One only has to look at the incredible dedication and commitment of every Mercy employee, nurse, and provider to know that the future is bright. There's a special spirit at Mercy. It's not just a hospital. It's really about our Mercy family — our community. We're excited to have you join us as we enter our next century of care.
Content Provide by Mercy Hospital