by Tony Zeli
The salt marshes of Upper Fore River are polluted with nitrogen leading to a host of problems for the birds, fish, crabs, clams and other marine life that find food and shelter there.
Despite the proximity to urban green spaces such as the Fore River Sanctuary and Capisic Pond Park, Upper Fore experiences poor water quality. Contributing factors include road runoff, fertilizers from lawns, and sewer pipe overflows.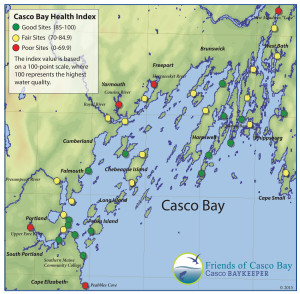 Matters have gotten bad enough that the Friends of Casco Bay list Upper Fore as a "Poor Site" in their Casco Bay Health Report.
The report is put together with the help of between 75-100 volunteers, who give up ten Saturdays per year to take samples at precisely 7 a.m. and 3 p.m. Some volunteers have participated for 20 years, and others have handed down the role to a second generation of bay monitors.
Volunteers collect data on pH-level, oxygen content, water clarity, salinity and temperature from 40 sites.
"The health of the bay overall is good, but there are places that could use improvement," says Will Everitt, Development Director for Friends of Casco Bay.
One of places that could use improvement is Upper Fore River. What monitoring volunteers have discovered around Stroudwater bridge is alarming.
The report blames a "double whammy" of climate change and nitrogen pollution. Nearly a third of carbon dioxide released by burning fossil fuels is absorbed by marine water, making the oceans more acidic. But it is not just global warming causing trouble.
"China and Ohio have zero to do with this… It's fertilizing our lawns, sewer overflow, and dog waste on the beach… [Vehicle] exhaust doesn't travel far," said Will Everitt.
A decrease in nitrogen levels as testing moves away from the shore demonstrates that land-based sources are contributing factors. Road runoff, fertilizers, and other pollutants from Portland neighborhoods like outer Congress Street, Rosemont and Libbytown, as well as from surrounding communities, drain into Fore River.
Nitrogen is an essential nutrient for plants and animals, but in sea water too much nitrogen can cause algae and phytoplankton to go crazy.
The imbalance caused by nitrogen overdose goes like this: First, excessive nitrogen causes nuisance algae to grow exponentially. As the algae decays, bacteria take oxygen out of the water and release carbon dioxide. The carbon dioxide and seawater combine to form carbonic acid, lowering the pH level of coastal waters. This is Ocean Acidification.
It gets worse. Research by the Friends of Casco Bay shows a disturbing link between acidic mud and clam flats where it is no longer profitable for clammers to harvest shellfish.
As coastal waters become more acidic, clams, mussels and other shellfish have a harder time building and maintaining their shells.
"It's kinda like your trying to build a house and someone keeps stealing your bricks," explained Will Everitt.
Too much nitrogen means too much acid, and that makes it hard for clams to to do their thing. The shells of clams that are placed in acidic mud become heavily pitted within just one week.
When the health of clams is threatened, the economy in turn is threatened. There are thousands of diggers in Maine, who support a $17 million per year industry.
This is not a death knell for marine health, bur rather a warning sign. There are ways for individuals and communities to take action.
Those interested can calculate their nitrogen footprint using a nitrogen calculator, such as the on found at n-print.org.
To mitigate the amount of nitrogen in the bay, start by driving less. The summer is a great time to walk or bike to work. Consider using public transit or carpooling.
Reduce energy use at home. Conserving energy means less carbon in the atmosphere and less in the water.
Use less water. It takes a lot of energy to move, clean and dispose of water and sewage.
Be mindful of the sewers. Do not dump anything down a storm drain, and pick up pet poop. Neighbors do not appreciate the pet poop, anyway.
Keep water from running off into storm drains by redirecting downspouts from hard surfaces into lawns or gardens. Plant rain gardens to absorb rain. Use rain barrels to catch runoff from roofs.
Your diet plays an important role, too. Locally grown food travels less and has a smaller carbon footprint. Eat organic and use less fertilizer. Consider meatless Mondays — eating meat generates 2.5 times more greenhouse gases than eating vegan (no meat and no dairy).
Communities can also act collectively. A recent ordinance in Ogunquit banned pesticide use. Portland, South Portland and Falmouth are considering similar bans.
The Fore River may be in trouble today, but it does not have to be tomorrow. Learn more at CascoBay.org.