At Mons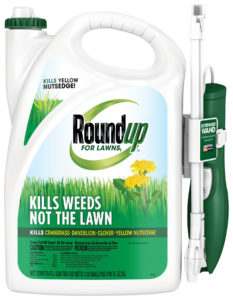 anto, corporate responsibility is embedded in our values, which guides our path to helping make farming more sustainable through modern agriculture innovations and practices. Pam Strifler, Monsanto Vice President of Global Sustainability, Stakeholder Engagement and Corporate Insights
The internal correspondence noted by Johnson could support a jury finding that Monsanto has long been aware of the risk that its glyphosate-based herbicides are carcinogenic, and more dangerous than glyphosate in isolation, but has continuously sought to influence the scientific literature to prevent its internal concerns from reaching the public sphere and to bolster its defenses in products liability actions. Johnson vs. Monsanto Order of   May  17, 2018 p. 45
Glyphosate is a non-specific (kills everything) systemic (is taken up by the plant) herbicide first discovered by a Monsanto Company chemist in 1970 and brought to market in 1974 under the name Roundup. Since it's introduction 9.4 million tons of it have been applied globally, nearly enough to spray a half-pound of it on every acre of cultivated land; it is now the most heavily-used agricultural chemical in the history of the world. With a 100-fold increase in the application of this herbicide between the late 1970's and 2016, an increase exacerbated by the introduction of genetically engineered (GE) "Roundup Ready" glyphosate-resistant crops super weeds that are also resistant to Roundup have become so prevalent they've resulted in the miserable failure of glyphosate-resistant GE crops- so much so that the Environmental Protection Agency (EPA) is currently considering the approval of a genetically engineered seed designed to survive dousing of glyphosate and the highly toxic, older 2,4-D. It's funny that GE technology was initially touted as a way to reduce chemical use on food crops… even though between 1996 and 2011 GMO technology actually increased herbicide use by 11% or 527 million pounds.
January 28, 2016 Dewayne Johnson, an employee of the @Benicia United School District in Solano County, California filed his complaint against Monsanto alleging that exposure to Roundup in the performance of his duties as a grounds keeper were substantial and contributing factors to his 2014 diagnosis with terminal non-Hodgkin lymphoma. Despite the fact that Roundup's been on the market for 44 years, this case is the first alleging what many have believed for years, that Roundup is toxic to humans. More than that, it's alleged that Monsanto/Bayer knew of the detrimental effects of Roundup yet deliberately spent decades hiding the carcinogenic properties of Roundup and, in fact, suppressed evidence and had bogus studies performed to prove the "safety" of glyphosate. Things like that, and a 2009 study by the University of Caen (France) which found that Roundup's "inert" ingredients amplified it's toxic effect on human cells—even at concentrations much more diluted than those used on farms and lawns.
This get's confusing, so let me spell it out: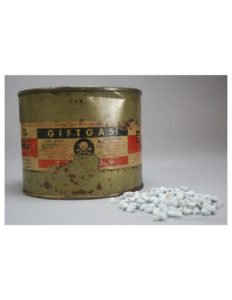 Monsanto, founded 1901 in St. Louis, Missouri (think Ferguson) first produced food additives; saccharin, caffeine and vanillin. By the 1920's they expanded production to include industrial chemicals such as the persistently carcinogenic PCBs. In 1944 Monsanto broadened their repertoire by beginning production of the insecticide @DDT (see @Rachel Carson's groundbreaking 1962 book @Silent Spring, oft heralded as the beginning of the environmental movement). Later in the 1960's and 1970's Monsanto was one of the producers of Agent Orange. In 1983 Monsanto was one of the first to publish their results on genetically engineered crops and conducted the first field tests on them in 1988. In 2015 Monsanto controlled 26% of the global seed market and is the only manufacturer in the U.S. of white phosphorus, an incendiary anti-personnel weapon. Finally, in 2016, Monsanto agreed to be acquired by Bayer Corp. for $66 billion. The Monsanto name will be dropped in favor of Bayer Branding.
Bayer AG is a German company with the motto "science for a better life." Their first product was @Aspirin, they then trademarked the name "Heroin" for diacetylmorphine and marketed it as a cough suppressant (including for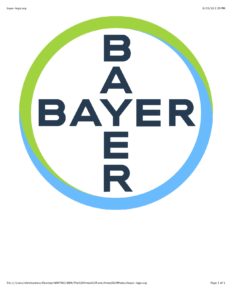 children) and non-addictive substitute for morphine. In 1925 Bayer became a portion of the German chemical company IG Farben. IG Farben used slave labor in factories it built adjacent to Nazi concentration camps, purchased prisoners for human experimentation of a sleep-inducing drug, of which all test subjects died and it is reported that IG Farben employees frequently said, "If you don't work faster, you'll be gassed."
Oh, yeah, and they produced Zyklon B poison gas used to murder Jews during the Holocaust. In the late 1970's Bayer purchased Cutter, the company that produced the clotting agent Factor VIII using donated blood. In 1983 persons with hemophilia were found to have higher rates of AIDS, which, according to the New York Times, was "one of the worst drug-related medical disasters in history."
Well, what about Roundup? Who knows, we'll see what the court finds… but then again, higher courts have held that: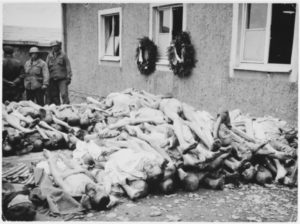 They had for more than a century before been regarded as beings of an inferior order, and altogether unfit to associate with the white race, either in social or political relations; and so far inferior, that they had no rights which the white man was bound to respect; and that the negro might justly and lawfully be reduced to slavery for his benefit.  He was bought and sold, and treated as an ordinary article of merchandise and traffic, whenever a profit could be made by it.  This opinion was at that time fixed and universal in the civilized portion of the white race.  It was regarded as an axiom in morals as well as in politics, which no one thought of disputing, or supposed to be open to dispute; and men in every grade and position in society daily and habitually acted upon it in their private pursuits, as well as in matters of public concern, without doubting for a moment the correctness of this opinion. Dred Scott v. Sandford, 60 U.S. 393 (1857)
Just this week, in fact, the Supreme Court determined that the twice struck down travel ban is legal, despite the fact that Donald Trump's presidential campaign website had a page entitled "DONALD J. TRUMP STATEMENT ON PREVENTING MUSLIM IMMIGRATION", on which the following was posted "Donald J. Trump is calling for a total and complete shutdown of Muslims entering the United States until our country's representatives can figure out what is going on." (12-7-2015).
No impermissible racial animus or discrimination based on national origin there, is there?
"Given the standard of review, it should come as no surprise that the Court hardly ever strikes down a policy as illegitimate under rational basis scrutiny. On the few occasions where we have done so, a common thread has been that the laws at issue lack any purpose other than a "bare . . . desire to harm a politically unpopular group." Trump v. Hawaii, 585 U.S. 33 (2018)
Corporate Responsibility Magazine (CR Magazine) named Monsanto Company #25 to its "100 Best Corporate Citizens" for 2018. This is the eighth time Monsanto has been in the magazine's ranking of top corporate responsibility performance of major U.S. companies."
Resources:
Business Insider 11-17-11: Yes, Bayer Promoted Heroin for Children — Here Are The Ads That Prove It 
Data.gov Estimates of herbicide use for the 20 most-used herbicides in the conterminous United States 
Environmental Sciences Europe 2-2-2016 Trends in glyphosate herbicide use in the United States and globally
How Much Toxic Roundup Are You Eating? Rodale's Organic Life, 3-13-17
The Superior Court of California; County of San Francisco
DEWAYNE JOHNSON VS. MONSANTO COMPANY ET AL CGC16550128
Newsweek 2-2-2016 Glyphosate Now the Most-Used Agricultural Chemical Ever
Scientific American 6-23-2009 Weed-Whacking Herbicide Proves Deadly to Human Cells
Time Magazine 10-26-2017 A Weed Killer Is Increasingly Showing Up in People's
Bodies