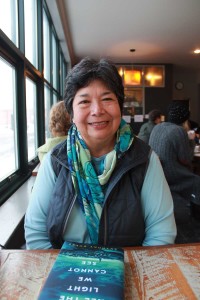 "I was born in Texas and didn't speak English until I was six or seven and living in a Ohio farming community with my family.
"The first book I remember was The Secret Garden by Frances Hodgson Burnett. My second grade teacher would read a chapter a day, and I couldn't wait to get to school and would sit there and wait for the next chapter. Being read to was a real luxury and being read to in English English rather than American English was magical.
"I'm a voracious reader and usually have two or three books going at the same time. When I travel, I pack four books – paperbacks – two I know I can leave behind and one or two that I think I will want to keep or pass on. Visiting bookstores when traveling is always a treat."
Looking for a good book? Check out the Reiche Community Room Book Nook (www.wenamaine.org). Lending shelves open Monday through Thursday, 8 a.m.-10 a.m. Borrow books from the lending shelves without a library card or pick up books that you've requested from the Portland Public Library with your library card. Done reading? Don't forget the Portland Public Library Return Bin, right outside the Book Nook door.