By Mary Alice Scott, PBL Executive Director
It's the most "local-ful" time of the year!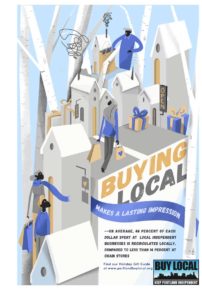 It's the time of year when many of us are looking for something unique and special to gift to loved ones. It should be no surprise that Portland Buy Local encourages you to visit a locally owned and independent store for these gifts.
Every dollar spent at a locally owned, independent store returns an average of 3.5 times as much to our local economy as that same dollar would if it were spent at a chain store.
On our website (www.portlandbuylocal.org), you'll find a Buy Local Holiday Gift Guide with more than fifty local gift ideas, including decadent sweets, cozy scarves, beautiful totes, board games, and more. You can also check out our searchable business directory if you're looking for something specific.
For something really unique, we co-hosted an event with our friends at Creative Portland: a "Buy Local Art" holiday pop up on First Friday, December 7th from 5-8pm. Held at Creative Portland's offices (84 Free Street, right behind MECA) the event embraced what makes Portland special and gave shoppers a chance to share thoughtful gifts of fine crafts, while supporting locally owned and independent businesses in Portland.
Your participation is such events helps to maintain our unique community character, provide arts advocacy and continuing opportunities for entrepreneurs, and build the community's economic strength.
There are also several opportunities to buy local art at the many holiday pop ups and craft fairs:
Check out the East End Holiday Stroll (December 8th), Picnic Holiday Sale (December 9th), Running with Scissors Holiday event featuring 45 artists (December 14th and 15th), and the Portland Print Crawl (December 14th and 15th).
If material goods aren't your gift of choice, think of gifting experiences, or donating to a local non-profit in your loved ones' name. We have some suggestions for experiences in our holiday gift guide (like a guided kayak tour to Fort Gorges from Portland Paddle), and local non-profits in our directory (like Wayside Food Programs, Portland Trails, and more).
There are literally hundreds of options for gifting locally all year long – explore your neighborhood to discover something new, connect with your neighbors, and lift up our local economy.
WEN is a Portland Buy Local media partner, and publisher-editor Tony Zeli serves on the organization's board of directors.