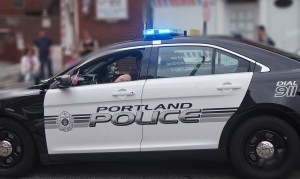 Three Arrested for Murder
 
Three local men were arrested on the afternoon of Thursday, August 13th, in connection with the murder of 49 year old Fred Akoa.
Fred Akoa's body was discovered Tuesday, August 11th, in his Parkside apartment at 457 Cumberland Avenue. The discovery was made by representatives of the building management company, who were checking on his wellbeing at the request of a family member. 
Twenty three year old Abil Teshome, 36 year old Mohamud Mohamed, and 31 year old Osman Sheikh are each charged with murder. All three were in custody at the Cumberland County Jail on unrelated charges.  They are all from Portland, but currently have no fixed address. 
The suspects are being held without bail pending arraignment in court. Arrest photos are not being released at this time because the incident is still under investigation.     
Nason's Corner Robbery and Arrests
On Tuesday, August 11, 2015, at 1:28 AM, officers responded to the Travel Lodge, 1200 Brighton Avenue, after an employee was notified of a disturbance in one of the rooms.
The victims were identified as a 43-year-old male and a 27-year-old woman, both from Portland. They reported that two male suspects and a female suspect assaulted and robbed them of medication, a wallet, money, and a cell phone. It was reported that one of the suspects used a handgun to threaten one of the victims.
The victims were treated for injuries at the scene and did not require further medical treatment. 
Officers observed the suspect vehicle fleeing at a high rate of speed on Capisic Street. The vehicle was stopped on Fore River Parkway and three suspects were taken into custody. 
The suspects were identified as Benjamin Jackson, a 26-year-old male, Stephen Kubari, a 26-year-old male, and Kristeina Marbuk, a 21-year-old female.  All three suspects reside in Portland.  All three suspects were charged with Robbery class A. 
Jackson was additionally charged with assault, criminal threatening with a dangerous weapon, trafficking in prison contraband, and unlawful possession of schedule w drugs.  No firearms have been recovered at this time.