by Rosanne Graef, Past President – WENA
Today's Topic: Trash!!!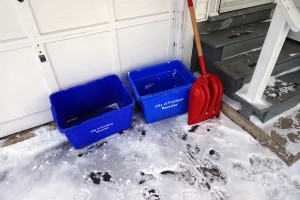 Garbage, refuse, waste, litter, junk, debris, detritus, rubbish—no matter what you call it, our unwanted, cast-off stuff is a problem. According to the University of Utah College of Architecture and Planning, Americans represent 5% of the world's population, but generate 30% of the world's garbage. We throw away enough everyday to fill 63,000 garbage trucks. In a lifetime, the average American will personally throw away 600 times his or her body weight, which for an average adult would leave a legacy of 90,000 pounds of trash.
From the taxonomy of trash I'm going to select three basics: Recyclables, Food Waste and True Trash that either gets incinerated or land-filled. (We won't even consider waste water here, that's a story for another time.)
Recyclables and Food Waste will be covered in more detail in a few months, but in the meantime, be sure you're using your blue bins (put your street address on your box so you can claim it again) or recycling dumpster if you're in a large apartment building. For food waste you can check out composting services such as Garbage to Garden, Resurgam Zero Food Waste or do it yourself in a backyard compost bin. Otherwise you'll just have to put your food waste along with the true trash into your blue bag—and this is where many of the West End's trashiest problems begin.
Ahhh, the blue bag – a step in the right direction? A contentious campaign issue? However you look at them, blue bags are a fact of life as well as a dinner bell for sea gulls, skunks, possums, rats, etc. It is permitted to have trash cans! The contents inside must be in a blue bag to be taken away, but having a trash can or bin with a lid will help immensely in keeping the raiders from strewing pizza, fries, chicken bones, and other delicacies in the street. Just don't tie the lid to the can or bin – this safety request is from the trash collectors themselves.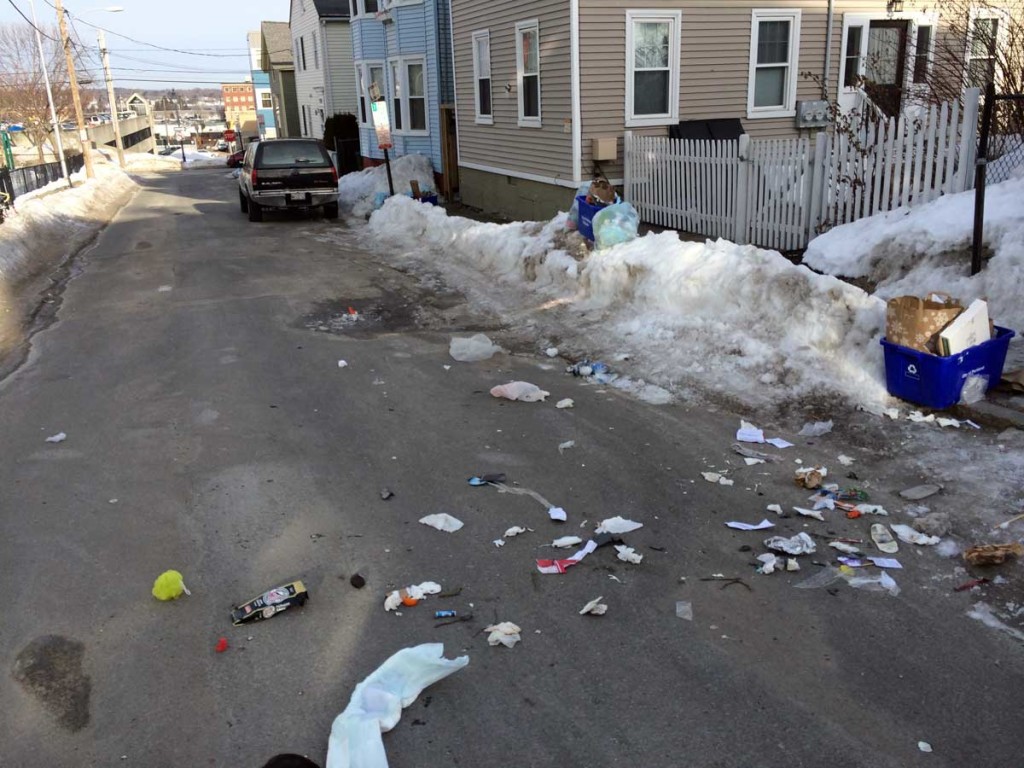 Next we come to some pesky stuff – construction and demolition debris, electronic waste, bulky waste and organic material such as yard, tree and hedge trimmings. You can dispose of this by transporting it to Riverside Recycling. Learn more at http://riversiderecycles.com/ . There are fees involved and you'll either have to take it there yourself or hire someone to do it for you.
Public Services also runs a Bulky Waste Collection Service through the E-card or the Tag-It Bulky Sticker Collection program from April through November. More about this at http://portlandmaine.gov/490/Trash-Recycling.
Whatever you do, please don't take the irresponsible step of leaving your mattress, broken bookshelves, microwave and other assorted unwanted possessions on the sidewalk in front of your or anyone else's home. Remember—that garbage, refuse, waste, litter, junk, debris, detritus, rubbish is part of your legacy, it all adds up.