Portland Buy Local Elects New Officers and Prints Record Number of Directories
by Jenn Thompson, PBL Executive Director
Portland Buy Local held our annual meeting at Rising Tide on Wednesday, June 21st. At the meeting, we updated our members  on the work we achieved over this past year. Also, members voted in our new Board officers: Heather Caston-Talbot (President), Hannah Wolken (Vice President), Tom Gangewer (Treasurer), and West End News' own Tony Zeli (Secretary).
As our organization begins a new year (our fiscal year ended on June 30th), I would like to take this moment to reflect on some of our accomplishments. We held the biggest and most well attended Indie Biz Awards to date, where we raised $17,000. Please save the date for our 2017 Indie Biz Awards, which will take place on Thursday, October 12th, at the Portland House of Music and Events.
We were awarded a grant from the Portland Development Corporation to host a community forum coming up on Thursday, September 28th. At this event we will engage the Portland community, including economic stakeholders, in a dialogue about how we can protect Portland's local and independent business as our community faces an influx of chains. Registration will open in the coming months. So please keep your eyes out!
The 2017/2018 Buy Local Guide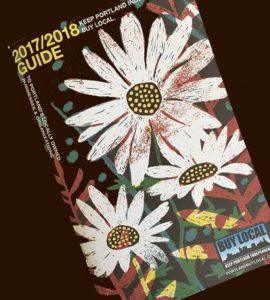 Plus, this year we printed 25,000 copies of our Buy Local Guide to independent businesses, a record for us. That is 5,000 more than last year. And we held our first ever Buy Local Guide release party. After the party, volunteers delivered our the guides to members. They can be found across town in member businesses.
In addition, our media partnership program launched. This program allows our members to access discounts to local media outlets, including the West End News. Members can find more information and current discounts on our website.
Also, we launched a new online member forum (a closed Facebook group). Now, our members can talk directly with one another. If you need an invite, please email me at info@portlandbuylocal.org.
Knack Factory produced mission-based videos for us. In fact, one was aired on ESPN reaching 670,000 viewers!!
Executive Director Search
As many of you know, I will be leaving Portland Buy Local to relocate to Indiana in the Fall. I am staying on as an advisory Board member, so I will continue to be involved. We are currently accepting applications to fill our newly formed Executive Director role, and a full job description can be found on our website. Please pass along to anyone you know who may be a good fit.
Finally, for a full update on the 2016-17 year, our annual report can be found on our website at http://portlandbuylocal.org.