THE DAILY DUMPSTER WHERE WE THROW ALL THE STUFF WE DON'T KNOW WHAT TO DO WITH.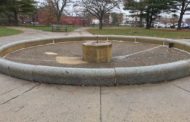 THE DUMPSTER
WHERE WE THROW ALL THE STUFF WE DON'T KNOW WHAT TO DO WITH…
Lincoln Park fountain removed for restoration over winter… Portland High freshman Kameron King is first deaf mascot for the Bulldogs… Jenn Thompson promoted to Executive Director for Portland Buy Local… Sherri Mitchell of the Land Peace Foundation speaks in Monument Square for the Stand with Standing Rock gathering… New drop-in, pay-as-you-go Aqua Aerobics class at Reiche Pool on Thursdays from 8 to 9 am… Barbara Ripley of Riverton donates a beautiful 40' blue spruce to be the city's Holiday Tree… Carol McCracken of Munjoy Hill News blog moves to the West End… Peter Hall reignites debate on a leaf blower ban at the Annual District Meeting… Residents of 75 State Street join in the 7th annual State Street Stroll selling homemade arts and crafts to benefit their activity fund… District 2 School Board member Holly Seeliger explores running for Governor… Reiche BookNook Knitters offer dozens of homemade knitted hats and gloves for any in need on Veterans Day… Hill House offers free flu shots to Munjoy Hill neighbors… Casco Bay High principal Derek Pierce wins leadership award and $5000 from expeditionary learning organization… Anti-Trump demonstrators march from Monument Square to City Hall…  Maine Brew Bus and Dispatch Magazine offer free Election Day beer shuttle between polling places and local breweries… Eric Poulin returns to WMPG airwaves to co-host live election coverage…  Councilor Ed Suslovic on hand for a tour of the nearly completed Capisic Pond Enhancement Project to restore the pond as an open freshwater wildlife habitat…  Portland Buy Local hosts mixer at Maine Historical Society… Bernie Sanders spotted having dinner at Little Tap House… Human rights activist Lt. Col. Ann Wright tours Maine after release from an Israeli jail for attempting to break through the Gaza blockade…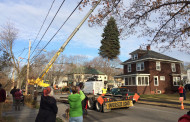 The Dumpster
Where We Throw All the Stuff We Don't Know What to Do With…
Metro will offer free bus service on Election Day… City receives its 100,000th cruise ship passenger this year breaking its previous record… In a surprise move Mayor Strimling endorses Pious Ali for Council over incumbent Jon Hinck… Rep. Bruce Poliquin touts New Balance but is caught wearing a pair of Nike's… Tree man arrested at Congress Square for obstructing the public way… Portland Downtown asks residents for the perfect 60-foot holiday tree for Monument Square… Maine Historical Society honors Mary Bonauto who argued successfully for marriage equality before the Supreme Court… Travel show host Rick Steves stumps for legal marijuana while Nirvana bassist Krist Novoselic stumps for ranked choice voting… WMPG hosts their 14th Annual Bluegrass Spectacular at One Longfellow Square… A punctual pileated woodpecker has got the attention of some Deering neighbors…  City plants 75 trees in Riverton Trolley Park… Donn Fendler author of Lost on a Mountain in Maine dies at 90… Louie the Longfellow Books cat signs his toothy autograph to create a truly unique edition of Lily King's Euphoia…  MHNO supports protecting Fort Sumner Park's vista of Back Cove and downtown… City plants yellow tulips at Lincoln park on Mental Health Awareness Day… Viking ship visits Congress Square Park for Leif Erickson Day… Fire House Museum open house features Percheron draft horses… Eric Blumrich sells uranium glass during First Friday Art Walk… Climate activists call for the demilitarization of the arctic outside Senator King's Arctic Council meeting… Studios open across the state for Maine Craft Weekend… Local photographer Justin Levesque exhibits in an Eimskip shipping container hosted in Congress Square Park…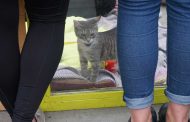 THE DUMPSTER
Where We Throw All the Stuff We Don't Know What To Do With…
'90s Comedy producer Dinah Minot named new head of Creative Portland… Kitten Therapy and Dance Party for Everyone highlight a day of activities at Congress Square Park… Ed Rock retires as GM of Shawnee Peak… Portland Flea-for-all will open at former Paul's Food Center on October 6th… Peaks Island Elementary staff plunge into Casco Bay to celebrate the new school year… Captain Bill Linnell announces run for School Board… Downtown Cadet Program wins national award for excellence for improving downtown life… West End Halloween Parade will feature the return of the Shoestring Theater puppets… Sacred Heart hosts African Gala in Guild Hall due to overflow crowds… Friends of Lincoln Park host fundraiser at Shipyard's tasting room… Mayor Strimling holds office hours outside of Aurora Provisions… Maine's annual Open Lighthouse Day draws thousands for free tours... Noyes Street Fire Memorial Committee gears up to host Stars of Light 2016 to remember six fire victims… Maine Narrow Gauge Railroad open sales for Polar Express tickets… Locks of Love will be replaced by a public art installation… St. Lawrence runs double feature in tribute to Gene Wilder… Eric Blumrich joins the WEN team doing pagination and design… Fire Department participates in National Preparedness Month… Portland Food Co-op signs onto boycott of Driscoll's berries to support farm workers' labor dispute…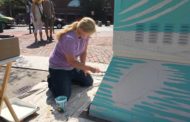 THE DUMPSTER
Where We Throw All the Stuff We Don't Know What To Do With…
Presumpscot River's Wessie is confirmed to be an anaconda… Construction at 17 Carleton St will begin in October… Steven King says Paul LePage is a racist… Anthem of the Seas is largest cruise ship of season with 6,000 onboard…Maine Historical Society leads walking tour with Pokestops… Maine artist & photographer Ann Tracy invited to show in Berlin… Angus King says climate change is scary… Artist Sarah Sze selected to develop public art at Congress Square…  Mayor Ethan Strimling and Councilor Nick Mavodones attend benefit concert to send humanitarian aid to Greek sister-city Mytilene, arrival site of more than 600,000 refugees… Rosanne Graef tells the Nate Libby Masonry team to ditch the "There's Nothing We Can't Lay" tshirts at Reiche construction… Spencer Thibodeau hears about crosswalks and median strips at Constituent Coffee at Tandem…  Urban Farm Fermentory celebrates National Mead Day… Jamaican Independence Day celebrated in Deering Oaks… Kerrin Parkinson paints a downtown street utility box… Ed King plying his trade at the August First Friday Art Walk… WMPG celebrates the first birthday of Radio Astronomy show… Congresswoman Pingree tours urchin processing plant in Portland… Technologist-in-Residence Cristos Lianides-Chin helps WEN get data savvy at Peloton Labs… Henry Isaacs opens August show at Gleason Fine Art in Boothbay Harbor…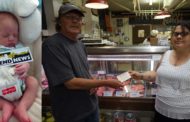 THE DUMPSTER: Where we throw all the stuff we don't know what to do with…
Travel TV host Rick Steves donates $50k to Maine marijuana legalization effort… Diane Russell speaks at DNC in Philly… Sam Pelletier makes the quarter-finals of the Empire's Couch Comedy Summer Classic… Justin Alfond keeping busy with coffee meeting at Yordprom… Penny Rich planning a big 70th birthday trip… Ice Cream Train returns to the Maine Narrow Gauge Railroad running select Friday evenings… Knightville parking goes from head-in to parallel but still plenty of spots for SoPo shoppers… Nancy Dorrans stars in Pecha Kucha Night at the Portland House of Music… Jenny Anastasoff acts in a national transgender rights TV ad… Greenhut Galleries sold to John Danos and Kelley Lehr of Los Angeles…. Emily Figdor and the Portland Democrats hold their first Annual Community Picnic at Deering Oaks Park… Rev. Kenneth Lewis of Green Memorial AME Zion Church and City leaders host hundreds in a community gathering for peace… Rosanne Graef hosts meetings on water safety at the Reiche Book Nook… Chellie Pingree meets with local craft brewers to discuss local ingredients in Maine brews… Anna Trevorrow will seek a second term on School Board… Kathryn Manson wins the WEN decal photo contest and receives a gift card courtesy of Fresh Approach Meat Market… Portland Buy Local celebrates its 10th Birthday at the Monument Square Farmers' Market… New Munjoy Hill Observer goes online…  Jon Hinck will seek a second term on City Council… Westin hotel opens a new outdoor café called The Patio on Congress Square… Maine Historical Society opens exhibit for the 150th anniversary of the Great Portland Fire of 1866… Famed election predictor Nate Silver says Donald Trump may win Maine in November….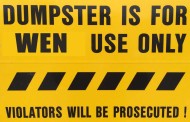 Maine Historical Society opens exhibit for the 150th anniversary of the Great Portland Fire of 1866… Famed election predictor Nate Silver says Donald Trump may win Maine in November…. Garbage to Garden wins $100,000 on the business competition TV show Greenlight Maine… Marijuana legalization is Question 1 out of 5 citizen initiatives on the November ballot… Manager Charlie Mitchell and owner Justin Alfond celebrate six years of bowling downtown at Bayside Bowl… Rogue arborist spotted trimming lilacs without permission in the West End… Harlan Baker joins the Portfringe lineup with two short plays…  Peter Hall holds annual Summer Solstice Party… City's Environmental Health & Safety Program Manager Michael Russell selected to head new Department of Permitting & Inspections… City sells $2.3 million in real estate to advance Bayside's Midtown Project… WGAN host Mike Violette leaves station after 12 years… Jessica Lockhart returns to WMPG after 14 years to be Program Director… Grace owner Anne Verrill says assault rifle owners can eat somewhere else… Spanish team #123 Tales II captures the 2016 Atlantic Cup in Portland Harbor… Little Jamaica food cart trucks up to Point Sebago for Reggae Fest… Steven Scharf snaps a photo of Holly Seeliger using her smartphone during a School Board meeting… Nancy Dorrans' bike stolen from inside her car…  Foley's Bakery one of 500 small businesses that support raising the minimum wage… Urban design firm WRT of Philadelphia selected as the design team for the Congress Square Redesign… Holy Donut sells out on National Donut Day… Christopher Branch, former public works director in Lewiston, selected to head Portland's Public Works Dept… Presumpscot second-graders plant a pollinator garden… Former mayor Michael Brennan takes a job with Common Dreams… Tall ship El Galeon returns for two-week visit… King Middle School students compete in National Underwater Robotics competition…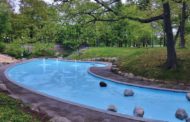 Memorial Day Parade cancelled due to weather… Deering Oaks Ravine splash pool opens with a newly repainted and textured ravine floor… The Hanging Gardens is first Arabic newspaper in Maine… School Board approves Xavier Botana from Indiana as the next superintendent…  Portland Protectors introduce their Bee Safe yard signs at the March Against Monsanto… City eliminates Assistant Bike-Ped Coordinator position and celebrates National Bike to Work Day in Monument Square… West End resident Mel May makes headlines by capturing city workers mixing trash with recyclables… Portland Public Schools named Confucius Classroom and will expand Mandarin classes at Deering and Casco Bay high schools… Christine McHale and out of town guests from the Midwest, Rod and Greg, are the first to sit on the patio at Becky's this Spring… ServiceWorks volunteers Ron and Ryan turn over the soil for soon to be installed pollinator gardens on York St… Mayor Ethan Strimling rappels down One City Center… Congress Square Redesign Project selected to receive $25,000 NEA Our Town grant… Portland High wins grant to start a steel drum band… Emily Cain and entourage enjoy lunch at Little Tap House before the Democratic State Convention…  Circus Maine performs for Worker Appreciation Day… Portland's newest alt paper WTF hits shelves… India Street patient David Jon Timm collects over 2100 petition signatures calling on the Council to save the clinic… City switches to organic herbicides over chemical Roundup on downtown streets and sidewalks… Raymond Reid starts Wednesday morning Tai Chi Chih/Qigong classes in Congress Square Park… March to save India Street Clinic starts at Lincoln Park former site of Occupy Maine… Spring arrives as Portland Little League starts their 2016 season…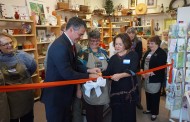 Shred Fest 2016 held free at the Sheriff's Office to destroy sensitive documents and help residents protect against identity theft… Harlan Baker hosts wine and cheese fundraiser for short play Gran Via… Neal St neighbors use Fix It Portland to complain about undulating sidewalks… Congress St location of Coffee By Design remodeled and reopened… Coyote seen in the parking lot behind Park Row… West St neighbor digs up and gives away 10-foot lilac bush… Mayor Strimling cuts the ribbon at the reopening of Still the Good Cause thrift shop… Urban Earth Day celebrated with performances and family activities at Congress Square Park… Turkeys are Bayside Bowl league champs… Friends of Shinagawa celebrate Earth Day with Taiko drumming at City Hall… Holly Seeliger is astonished by coffee inflation at Vaughan Street Market… Victoria Mansion celebrates its 75th year as a museum… Tax day gathering at Congress Square Park to rally against military spending… Maine Wildlife Park in Gray reopens for the 2016 season… Contemporary belly dance and classical organ music at First Parish… Nancy Dorrans in NYC sees "Hamilton" twice… Wynne Wirth and the Reiche School Green Team prep the gardens for the removal and reconstruction of the Clark St entrance ramp… Salt Institute will continue as a program of the Maine College of Art… Porcupine statue stolen from Jetpot… Courts rule marijuana legalization back on November ballot… King Middle Athletic Director Duke Madsen wins award for excellence… East End Launch will become the first-ever public motor launch to shuttle folks to boats moored in Casco Bay… One Eye Open Brewing opens this summer in Yeast Bayside and promises to be Portland's smallest brewery… South Portland gives initial approval for a pesticide ban… Good Cause Thrift Shop reopens as Still the Good Cause… School Board members unanimously endorse Pious Ali for City Council… Rick Ness enjoys an Oscar Tango Tango Oscar by Rising Tide at Otto's…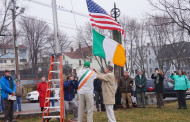 Co-owner of Vena's Fizz House Steven Corman speaks in favor of raising the minimum wage… Casco Bay High School's Derek Pierce named Maine's Principal of the Year… Jason Shedlock hired as Special Assistant to the Mayor… Troy Moon helps to return the Solar Belly trash can to Clark Street Park… Pingree slams Sweden for proposing to ban Maine lobster… Interfaith Washing of the Feet ceremony held at the Cathedral of the Immaculate Conception… Hafid Lalaoui is leaving Portland to return home to Marrakesh, Morocco… Ethan Strimling driving a scooter down Congress St sans helmet… Paul's Market sold to Portland Flea-For-All and many worry about the future of the only downtown market of its kind… Eddie Murphy remembered on St. Patrick's Day… Peter Mills assures everyone that he is only a temporary resident of the West End… Emily Figdor is running for chair of the Portland Democrats… Jon Hinck fails to turn in signatures and won't be on the ballot for State Senate… Chellie Pingree "determined to solve problem" of urchin and sea cucumber inspections… Rosanne Graef invites knitters and crocheters to join her Thursday mornings at the Book Nook to create scarfs, hats and gloves for those in need… Mark Wakefield nominated at the Green Party caucus to be an election clerk… Anonymous reader hopes to read local coverage of West End Mayor Ethan Strimling… Donors helps save Good Cause Thrift Shop from closing, proceeds from the store will benefit the McAuley Residence for single mothers… Christine McHale is Figgy's first customer of the season… Bramhall Square gets electricity… Vinny O'Malley named interim director of Irish Heritage Center… Skyline Farm Carriage Museum celebrates Portland's era of the horse with photographs of still existing West End carriage houses… Jenny Anastasoff spotted bargain hunting at Good Cause… After 20 years, Jack O'Brien announces that he will retire as Cumberland County Register of Probate… The S&P updates their outlook for Portland from "stable" to "positive," let the bonding begin…
Jump Into the Dumpster – Where We Throw All the Stuff We Don't Know What To Do With
Fort Gorges set to receive some much needed safety improvements with some help from the Army Corps of Engineers… Yale grad Anna Kellar faces former State Rep Herb Adams in the Dem primary for Parkside's State House seat… Worker cooperative Farm Truck Juice opens on Brackett St… Maine Historical Society celebrates Henry Wadsworth Longfellow's 209th birthday… Jed Rathband flashes a peace sign to the Google car and is forever googlized… Bernie Sanders' "Backwoods Headquarters" opens in Piscataquis County… Charlie Mitchell of Bayside Bowl named Bowling Proprietor of the Year for 2015… City Council creates a historic district at 58 Fore Street… School Board member Pious Ali explores a City Council run… Four Democrats join the hunt for Justin Alfond's Senate seat that is open because of term limits… Side x Side and the library exhibit handmade animal books by local first graders in the Children's Room… Solar powered trash compactor removed from Clark Street Park and never replaced… WMPG celebrates Fat Tuesday with a Cajun Cook-off… Nancy Dorrans volunteers at Loon Mountain as a ski coach for New England Disabled Sports… Team Thibodeau member Eamonn Dundon supports Chris Christie… Hula hoopers spotted on a cold February afternoon in Congress Square… Chellie Pingree wants to exempt sea urchins and sea cucumbers from federal inspections… Rachel Horton White leaves position as Director of the Parkside Neighborhood Center to be an intuitive consultant… Luke deNatale swing dances at the Mechanics Hall… Max from Houlton is the new field director for the Maine Senate Democratic Campaign Committee… Optimal Self Gym celebrates its two-year anniversary… Spencer Thibodeau announces safety improvements for street crossings on Brackett and Clark coming soon…